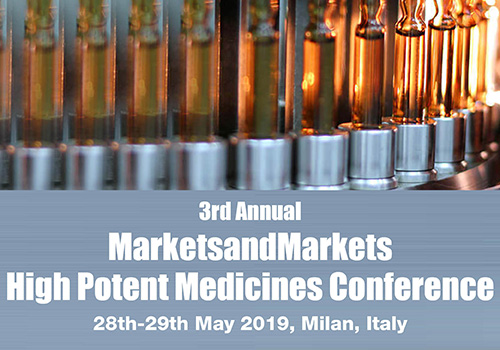 3rd Annual MarketsandMarkets High Potent Medicines Conference

The Hight Potent Medicines Conference will take place on 28 and 29 may 2019 in Milan, Italy.
The 2-day event will share the latest industry trends, advancements and future growth in the highly potent medicines market where leading industry experts will discuss the strategies for both pharma and CMO's by presenting expert keynote presentations, live case studies, and breakthrough panel sessions.
Drug product development for highly potent APIs (HPAPIs) can be challenging. Complications with the interface between operations in drug substance and drug product handling can result in increased program complexity and cost. The growth in this market is driven by factors such as increasing demand for oncology drugs, growing demand for antibody-drug conjugates, increasing focus of leading pharmaceutical companies on HPAPIs, advancements in HPAPI manufacturing technologies, and growing focus on precision medicine.