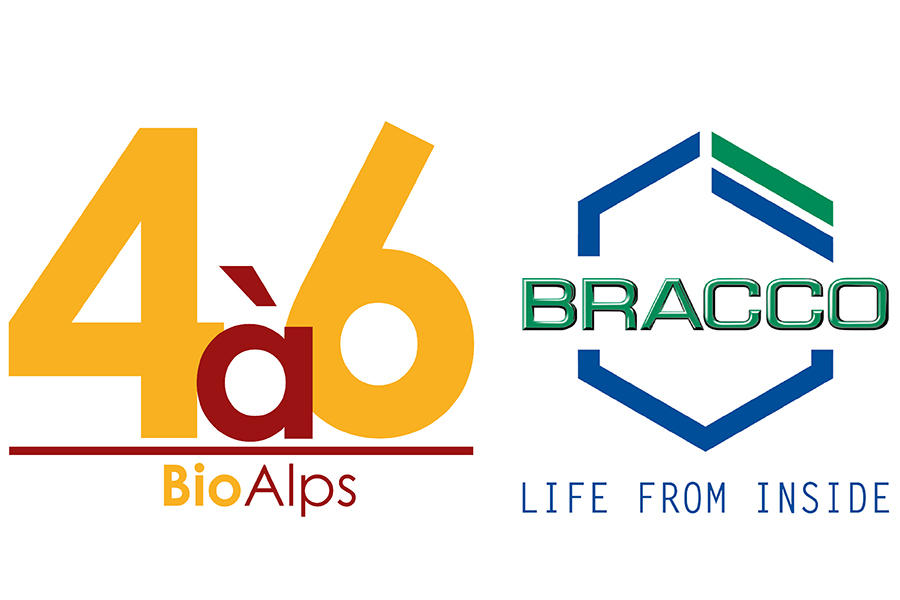 Join the BioAlps community for the 4à6
@ Bracco Suisse SA
The event will take place from 4PM to 6PM on Wednesday 18 September 2019 @ Bracco Suisse SA (Route de la Galaise 31, 1228 Plan-les-Ouates).
BioAlps' 4à6 are a series of events organized in each of the 7 cantons of western Switzerland and are a perfect opportunity to visit some of the major regional actors in the biotech, medtech, pharma and digital health fields.
DESCRIPTION
Bracco Imaging S.p.A., part of the Bracco Group, is one of the world's leading companies in the diagnostic imaging business. Headquartered in Milan, Italy, Bracco Imaging develops, manufactures and markets diagnostic imaging agents and solutions that meet medical needs. Bracco Imaging offers a product and solution portfolio for all key diagnostic imaging modalities: X-ray Imaging, Magnetic Resonance Imaging (MRI), Contrast Enhanced Ultrasound (CEUS) and Nuclear Medicine.
In Switzerland, the Plan-les-Ouates R&D and manufacturing site employs more than 100 highly specialized people in the field of contrast ultrasound. This specialized activity has been successful with the commercialization since 2001 of the Bracco CEUS contrast agent (SonoVue®/Lumason®), already approved in more than 30 countries (for radiological, cardiological and vesicoureteral reflux applications).  Its use allows detection and characterization of pathologies in various organs.
Recently, Bracco Imaging R&D activities are directed towards the use of these gas microbubbles for molecular imaging application in oncology and in the therapy field to improve the local delivery of drugs or genes. More importantly, a second production line is being built to support the strong growth of our CEUS product. In this context, the proximity of the R&D and manufacturing units is essential to develop synergies and implement new agents.
Learn more about Bracco Imaging
PROGRAMME
Welcoming remarks from Bracco Suisse, BioAlps and Canton of Geneva representatives
Bracco group and activities
Visit of the Geneva site facilities
Networking session
REGISTRATION
Registration to the event is mandatory and free of charge. If you are interested in joining us for the event, please register using the below link.