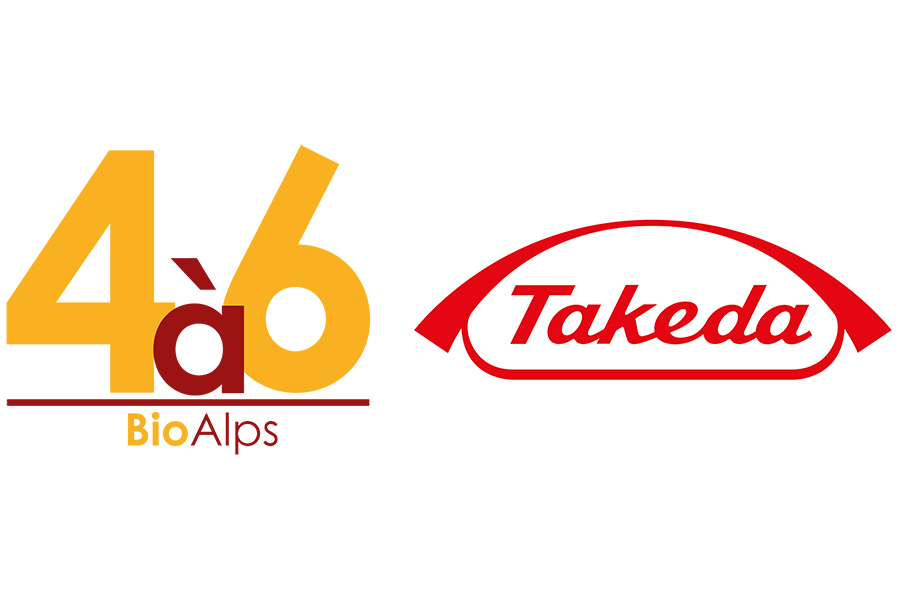 Join the BioAlps community for the 4à6
The event will take place from 4PM to 6PM on Tuesday 19 November 2019 @ Takeda Neuchâtel (Route de Pierre-à-Bot 111, 2000 Neuchâtel).
BioAlps' 4à6 are a series of events organized in each of the 7 cantons of western Switzerland and are a perfect opportunity to visit some of the major regional actors in the biotech, medtech, pharma and digital health fields.
The event's official language is French. 
About Takeda Pharmaceutical Company Limited
Takeda Pharmaceutical Limited (TSE:4502/NYSE:TAK) is a global, values-based, R&D-driven biopharmaceutical leader headquartered in Japan, committed to bringing Better Health and a Brighter Future to patients by translating science into highly-innovative medicines. Takeda focuses its R&D efforts on four therapeutic areas: Oncology, Gastroenterology (GI), Neuroscience and Rare Diseases. The Pharmaceutical Company also makes targeted R&D investments in Plasma-Derived Therapies and Vaccines. Takeda focuses on developing highly innovative medicines that contribute to making a difference in people's lives by advancing the frontier of new treatment options and leveraging its enhanced collaborative R&D engine and capabilities to create a robust, modality-diverse pipeline. Takeda employees are committed to improving quality of life for patients and to working with its partners in health care in approximately 80 countries and regions.
About Takeda Neuchâtel Biotech Manufacturing Site
With over 600 collaborators, Takeda Neuchâtel is one of the major biotech manufacturing sites in western Switzerland. The Neuchâtel plant is dedicated to manufacturing three hemophilia treatments. For the past twenty years, the site has been manufacturing the first ever commercialized recombinant "Factor VIII" treatment free of blood and plasma proteins. "Factor VIII" is a protein that is missing or deficient in patients with hemophilia A coagulation deficiencies. A long-lasting version of "Factor VIII" is also manufactured in Neuchâtel. More recently, Takeda Neuchâtel has initiated the production of the first and only "recombinant" treatment for Von Willebrand disease, a rare form of hemophilia. This new product is now entering international markets. Manufacturing such products requires a wide range of competencies and industrial skills due to their high sensitivity. This is what you will discover during this 4à6 event.
More about Takeda Neuchâtel Manufacturing Site (French)
About your visit at Takeda Neuchâtel
The 4à6 event at Takeda Neuchâtel will provide a brief introduction about Takeda and its biotech production site in Neuchâtel. The presentation will be followed by a discovery tour through the main manufacturing stages and site functions. Throughout the tour, brief dynamic presentations will be delivered by Takeda's experts through didactic visual supports. The following site's functions will be introduced: Manufacturing, Warehouse, Quality Control Laboratory, Manufacturing Science Laboratory, Quality Assurance, Energies and Maintenance.
PROGRAMME
Welcoming remarks from Takeda, BioAlps and Canton of Neuchâtel representatives
Introduction to Takeda and its manufacturing site in Neuchâtel
Visit of the site facilities
Networking session
REGISTRATION
Registration to the event is mandatory and free of charge.