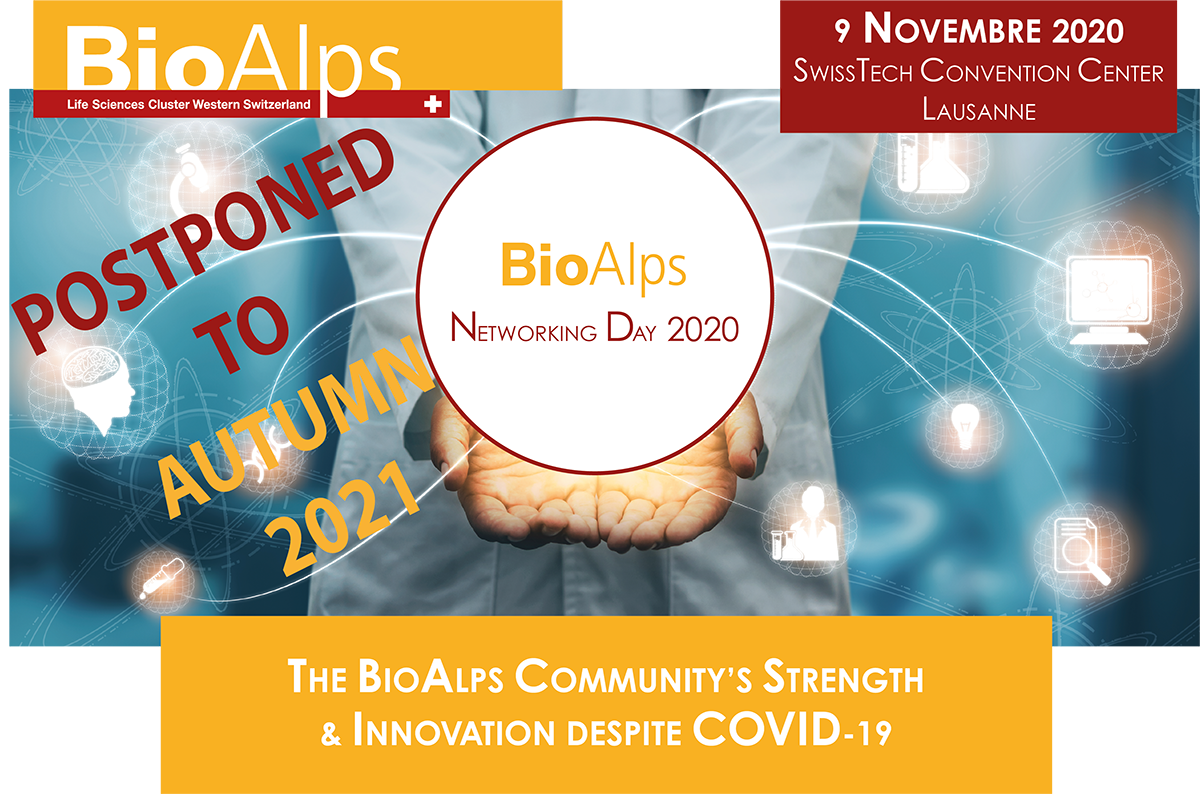 BioAlps Networking Day 2020 | Postponed to Autumn 2021

The BioAlps Community's Strength & Innovation despite COVID-19
Out of concern for the health and safety of our Life Sciences Community, and in line with recent "shelter in place" orders by the Canton of Vaud and the Swiss Federal Council, we sadly will not be holding the BioAlps Networking Day on 9 November 2020 and have to POSTPONE it  TO AUTUMN 2021.
The programme and the format will not change, the event will still take place at the STCC. We will definitely continue to do everything we can to help our Community stay safe, informed and connected.
The event's official language is French.
Full programme in French here / Programme complet en français ici
PROGRAMME
The event will be moderated by Mrs Annick Chevillot, Journalist at Heidi.news
12h30 – 13h30 | REGISTRATION
13h30 – 13h50 | WELCOME ADDRESS
13h50 – 14h30 | KEYNOTES
14h30 – 15h00 | BREAK
15h00 – 17h00 | SESSIONS
15h00 – 15h55 | Session 1 – Innovation applied to treatments and therapies – Ferring Pharmaceuticals
16h00 – 16h55 | Session 2 – Innovation applied to medical device technologies – Moderated by Mr Jens Krauss | VP Systems | CSEM
All together: Discussion on the implementation of medical device regulations
17h00 – 17h25 | BIOALPS AWARD CEREMONY 2020
17h25 – 19H00 | COCKTAIL RECEPTION
BIOALPS PARTNERS
You will be able to meet and discover the partners of the BioAlps Networking Day 2020 in the Networking Area at the SwissTech Convention Center. Participants who are accessing the streaming platform will be able to discover presentations from the different partners digitally. We wish to thank our partners for their support, especially in these challenging times.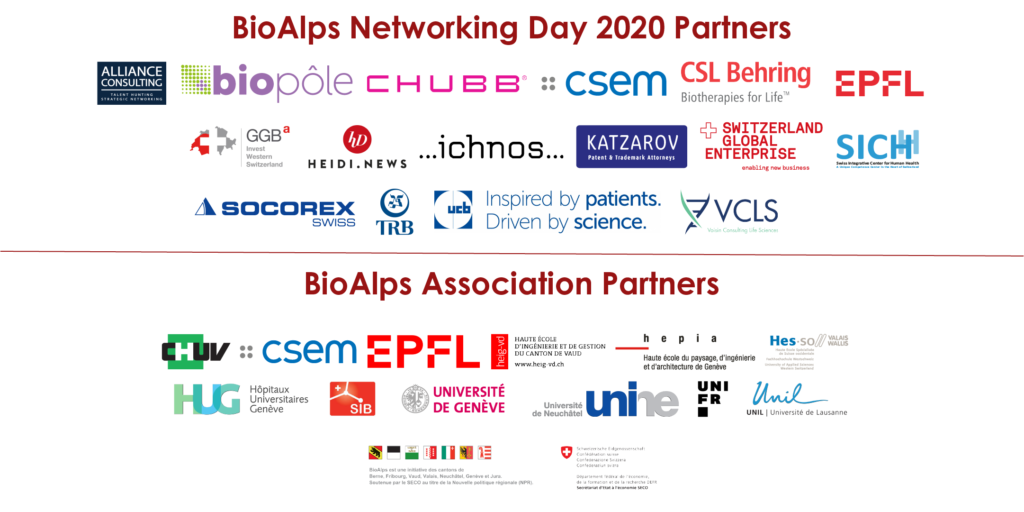 Alliance Consulting Switzerland | Biopôle | CHUBB | CSEM | CSL Behring | EPFL | GGBa | Heidi.news | Ichnos Sciences | Katzarov | SGE | SICHH | Socorex | TRB Chemedica | UCB | Voisin Consulting Life Sciences
INNO2
After a successful first edition in 2019, the INNO2  is back in Lausanne. It is the perfect opportunity to meet top entrepreneurs from Western Switzerland. One startup of honour, Abionic, and four cross-sectoral startups Artiria Medical, Bloom Biorenewables, Coat-X, and OneDoc, which combine life sciences with technologies from ICT, cleantech and micro- and nanotechnologies, will present their technologies at the BioAlps Networking Day 2020. These startups are also part of our regional partners' communities Alp ICT, Cleantech Alps and Micronarc. Participants who are accessing the streaming platform will be able to discover presentations from the different startups digitally.