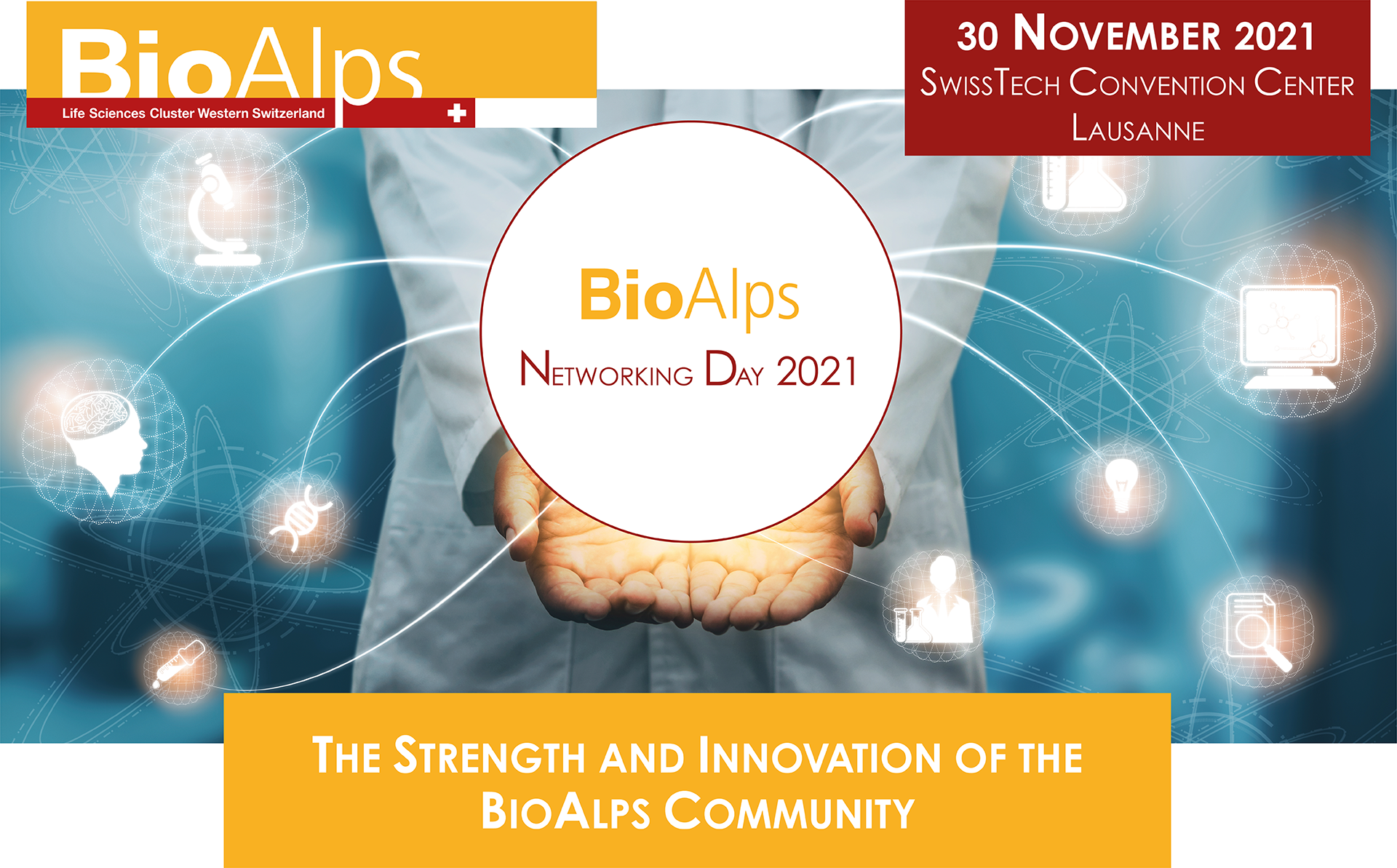 BioAlps Networking Day 2021 | 20 years anniversary

The Strength & Innovation of the BioAlps' Community
The event will take place on Tuesday 30 November 2021 at the SwissTech Convention Center in Lausanne.
This year the BioAlps Association will celebrate its 20th anniversary! We look forward to celebrating this important milestone with you.
Our afternoon event will focus on the strengths and innovation in the BioAlps' community and its ability to grow and develop innovative healthcare solutions in medtech, biotech and digital health.
The BioAlps team has chosen to echo a very successful 2019 edition by maintaining a dynamic format combining with keynotes, one-on-one sessions and round tables. The programme initially planned for the 2020 edition has been postponed to 2021. Keynotes from Life Sciences and innovation experts will focus on the regions' challenges and opportunities, followed by two sessions concentrating on two innovative collaboration success stories between academic institutions, industries, research institutions and startups from the region in medtech and biotech. Networking opportunities as well as an InnoSquare space where key startups will present their cross-sectoral Life Sciences, ICT, cleantech and microtech innovations. During the event, the traditional BioAlps Awards will also be presented to prominent academic and industrial actors from the Health Valley. The event's official language is French.
More information about the programme and registration will be updated on this page.
Full programme in French here / Programme complet en français ici
COVID | Access Guidelines
To ensure the health and safety of our participants, all the relevant COVID measures will be put in place during the BioAlps Networking Day 2021. We wish to offer a safe networking environment to enable you to reconnect with the Life Sciences community of Western Switzerland. Access to the event will therefore only be granted to participants who have a:
Valid COVID certificate (paper or digital)
Identification document
COVID access guidelines at the BioAlps Networking Day 2021
Directives COVID d'accès au BioAlps Networking Day 2021

PROGRAMME
The event will be moderated by Mrs Annick Chevillot, Journalist at Heidi.news
12h30 – 13h30 | REGISTRATION
13h30 – 13h50 | WELCOME ADDRESS
13h50 – 14h30 | KEYNOTES – Innovation in Western Switzerland and its contribution to the future of medicine
14h30 – 15h00 | BREAK
15h00 – 17h00 | SESSIONS
15h00 – 15h55 | Session 1 – Innovation applied to treatments and therapies – Ferring Pharmaceuticals
16h00 – 16h55 | Session 2 – Innovation applied to medical device technologies – Moderated by Mr Jens Krauss | VP Systems | CSEM
Digital Health Technologies @CSEM

Mr Jens Krauss | VP Systems | CSEM
Transfer of medical device technologies to innovative products
A conversation with CSEM partners

Cardiac therapy with electrocardiographic imaging
Dr Matthias Egger | CTO | EP-Solutions
Neuro-disorders treated with a long-term outpatient brain monitor
Dr George Kouvas | CTO | Wyss Center
Hypertension and how to easily track blood pressure
Dr Mattia Bertschi | CEO | Aktiia
All together: Discussion on the implementation of medical device regulations
17h00 – 17h25 | BIOALPS AWARDS CEREMONY
The BioAlps Networking Day is also the opportunity that the Association has chosen to present the BioAlps Awards. This distinction is intended to thank an academic representative and an industrial player for their participation in the development of Life Sciences in Western Switzerland.
17h25 – 19H00 | COCKTAIL RECEPTION
BIOALPS PARTNERS
You will be able to meet and discover the partners of the BioAlps Networking Day 2021 in the Networking Area at the SwissTech Convention Center. We wish to thank our partners for their support, especially in these challenging times.
Alliance Consulting Switzerland | Biopôle | CHUBB | CSEM | CSL Behring | Institut et Haute Ecole de Santé La Source | EPFL | GGBa | Heidi.news | Huberlab | Ichnos Sciences | Katzarov | SGE | SICHH | SIX | Socorex | TRB Chemedica | UCB | Voisin Consulting Life Sciences
INNO2
After a successful first edition in 2019, the INNO2  is back in Lausanne. It is the perfect opportunity to meet top entrepreneurs from Western Switzerland. One startup of honour, Abionic, and cross-sectoral startups Artiria Medical, Coat-X, OneDoc and SwissDeCode, which combine Life Sciences with technologies from ICT, cleantech and micro- and nanotechnologies, will present their technologies at the BioAlps Networking Day 2021. These startups are also part of our regional partners' communities alp ict, Cleantech Alps and Micronarc.