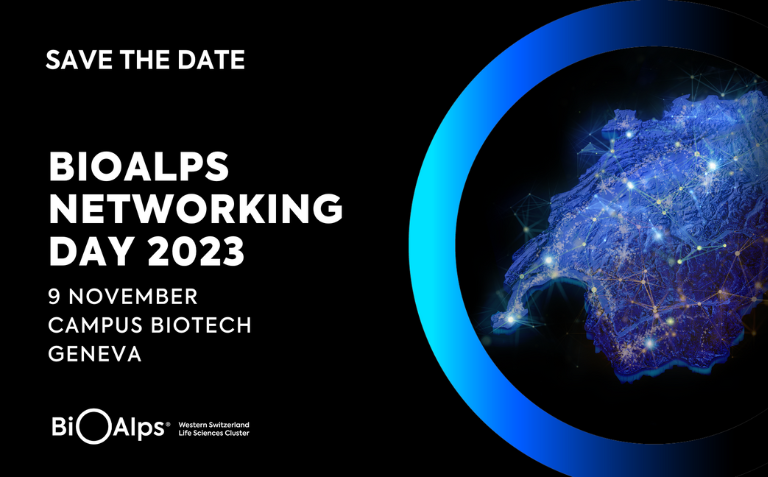 BioAlps Networking Day 2023

Precision Medicine and Digital Health
The BioAlps Networking Day will take place on 9 November 2023 at the Campus Biotech in Geneva
BioAlps' annual meeting attracts each year around 300 key players from the Swiss Health Valley region: representatives from academia, startups, government, and media gather to share the latest trends in Life Sciences and to connect with each other. The 2022 event will focus on the innovations in the BioAlps' community that are shaping the future in medtech, biotech and digital health.
Programme and speakers to be announced. 
Registration will open in a few weeks.
PROFILE OF PARTICIPANTS
CEO, CMO, CSO, CBO, COO, CTO
University and University of Applied Sciences professors
Biologist
Software Engineer
R&D Director
Startup Founder
Project Manager
Innovation Manager
Communication and Marketing Manager
Master and PhD Students from local Universities and Universities of Applied Sciences
The BioAlps Networking Day attracts a very broad spectrum of participants from academia, industry, media, government. Participation in the cluster's annual event is highly representative of the Swiss Health Valley ecosystem with experts from biotech, medtech, pharma, digital health, cosmetics, nutrition.
Sponsors
Alliance Consulting Switzerland | CHUBB | GGBa | Katzarov  | Socorex | Swiss Global Enterprise | TRB Chemedica | Voisin Consulting Life Sciences
Institutional Members
CHUV | HUG | UNIGE | UNIFR | UNIL | UNINE | HEIG-VD | HES-SO Valais Wallis | HEPIA | SIB | Institut et Haute Ecole de Santé La Source | EPFL | CSEM | Wyss Center