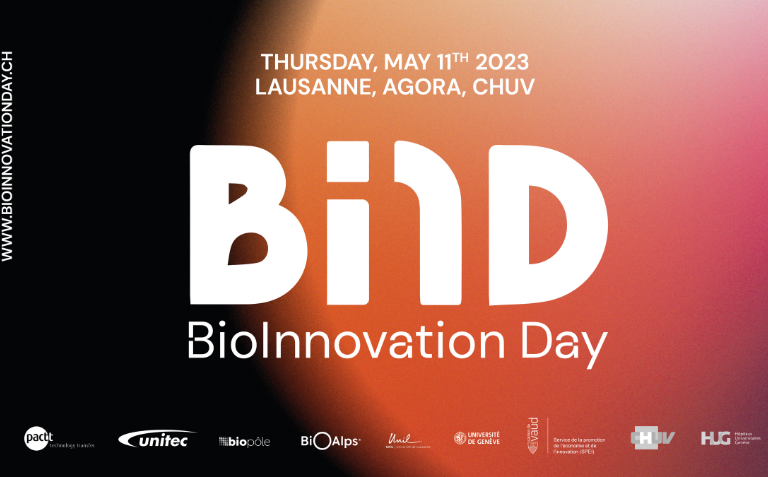 Bringing together life sciences innovators and investors
BioInnovation Day 2023 is taking place on 11 May 2023 at the Agora of the CHUV in Lausanne
This event will feature 35 project grouped in 4 thematic sessions by start-ups from Western Switzerland and researchers from CHUV, University of Lausanne, HUG, University of Geneva and others.
Held for the first time in 2006, BioInnovation Day (BIND) is a one-day event that offers researchers, scientist-entrepreneurs and start-ups the opportunity to present innovative projects in the life sciences to an audience of peers, industrial partners, service providers and investors. The next meeting will take place on Thursday, May 11th 2023 in the AGORA building, Lausanne.
The BIND is a renowned meeting in the Health Valley and contributes to its biomedical innovation ecosystem. It aims to increase visibility of the most recent research achievements issued from academics institutions and spin-off companies of the region, bringing them together in the same network and allowing them to meet investors and potential partners.
About the Organisers
BioInnovation Day 2023 is organized by the knowledge transfer offices PACTT and UNITEC representing the Universities and the University Hospitals of Lausanne (UNIL and CHUV) and Geneva (UNIGE and HUG).
The mission of PACTT and UNITEC is to facilitate the valorization of research results by bridging the gap between new discoveries made by research institutions and their translation into innovative medicines, devices or practices to reach patients, benefiting the public interest.
They support collaboration between innovation stakeholders such as research institutions, startups, industry players, investors.
📅 When: 11 May 2023
📍 Where: Agora, Rue du Bugnon 25A, 1005 Lausanne
▶️ Registration:  here