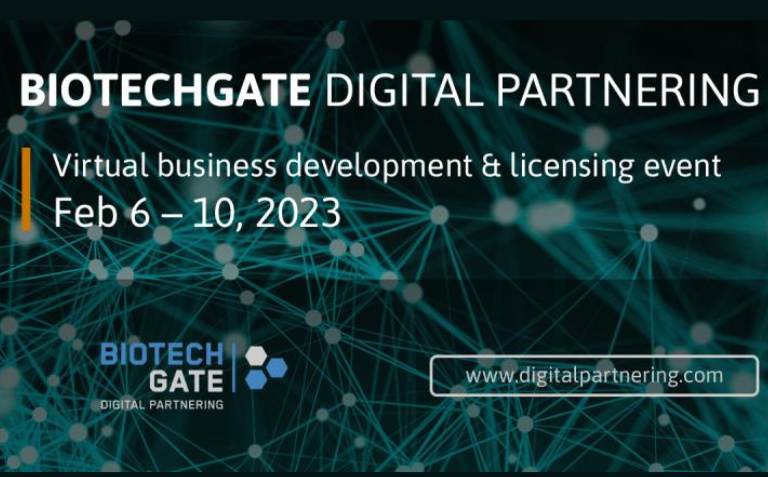 Biotechgate Digital Partnering

Biotechgate Digital Partnering is taking place virtually on 6-10 February 2023
Biotechgate Digital Partnering is designed to support the business development & licensing of Pharma, Biotech, Medtech and Digital Health companies. Five days of virtual partnering to establish new connections thanks to pre-arranged one-on-one Zoom meetings in a forum.
Biotechgate Digital Partnering offers a complete conference program as a virtual experience, including virtual one-on-one meetings, Pop-up Coffee sessions as well as workshops and presentations.
WHAT TO EXPECT
5 days of Digital Partnering: Contact and arrange meetings with representatives of leading companies active in the Biotech and Pharma industry. See who is attending »
Attend your pre-scheduled meetings via Zoom video calls. Learn more about the partnering »
Privacy is guaranteed: Every virtual meeting takes place in its own, secure virtual room.
ABOUT THE PARTICIPANTS
4,500 delegates representing more than 3,000 participating companies joined the last seven Biotechgate Digital Partnering events. Representatives of 14 out of the top 20 big pharma companies were attending, 45% of the participants were Biotech companies. We had participants from over 60 countries with a majority being business development (40%) or CEOs (30%). There were over 6,500 meetings scheduled.
OPPORTUNITY FOR VALAIS LIFE SCIENCES ACTORS
As supporting partners of the event, Swiss Biotech Center is glade to offer to the Valais Life Sciences stakeholders an upgrade promo code to participate and enhance their business opportunities !
Promo code: vv12-BDP0223-99e6d86
📅 When: 6-10 February 2023
📍 Where: Online
▶️ Registration:  here