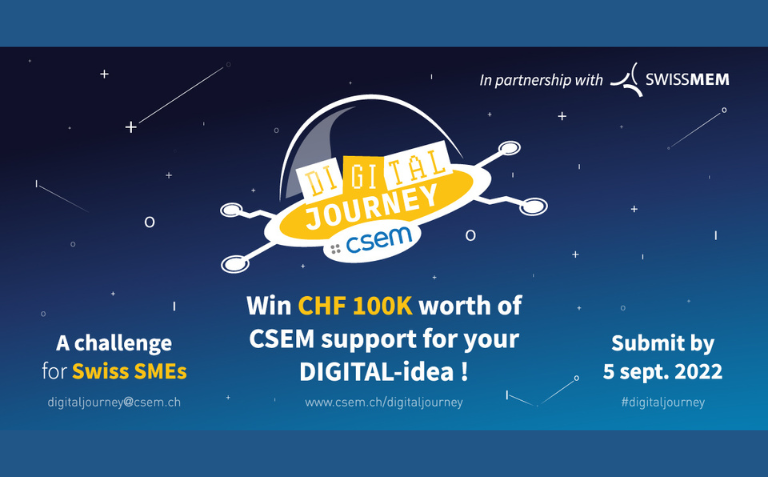 CSEM Digital Journey : win CHF 100,000 worth of technical support

CSEM launches the fifth edition of its "CSEM Digital Journey" competition. T

he innovation center will support a c

ompany trying to realize its digital project with technological support worth

CHF 100,000. 



 The "Digital Journey" started in 2018 and provides companies with fewer than 250 employees an opportunity to access CSEM's technological expertise to implement an important digitalization project. "To make further advancements in the digital world, the economy needs networked, miniaturized, autonomous, and intelligent systems that simultaneously use less energy," explains Bahaa Roustom, (acting) Head of Marketing & Business Development and President of the Jury. "Based on many years of experience, for example in micro-technology, CSEM has the required expertise for the development of such systems."
"We provide various technologies for SMEs," explains Alexandre Pauchard, CEO of CSEM. "These include machine learning for industrial applications, health platforms, additive manufacturing techniques,
wireless networking for the Internet of Things (IoT), as well as networked and intelligent laboratory solutions, to name just a few."

Last year, CSEM awarded the prize to Digitel, a company specializing in refrigeration systems based in Cugy (Switzerland), as well as to the national sugar and salt producer, Swiss Sugar and Swiss Saltworks, who submitted a joint application.
Applications can be submitted from 13 June until 5 September 2022. The winners will be announced on 3 November 2022, as part of CSEM's Business Day.