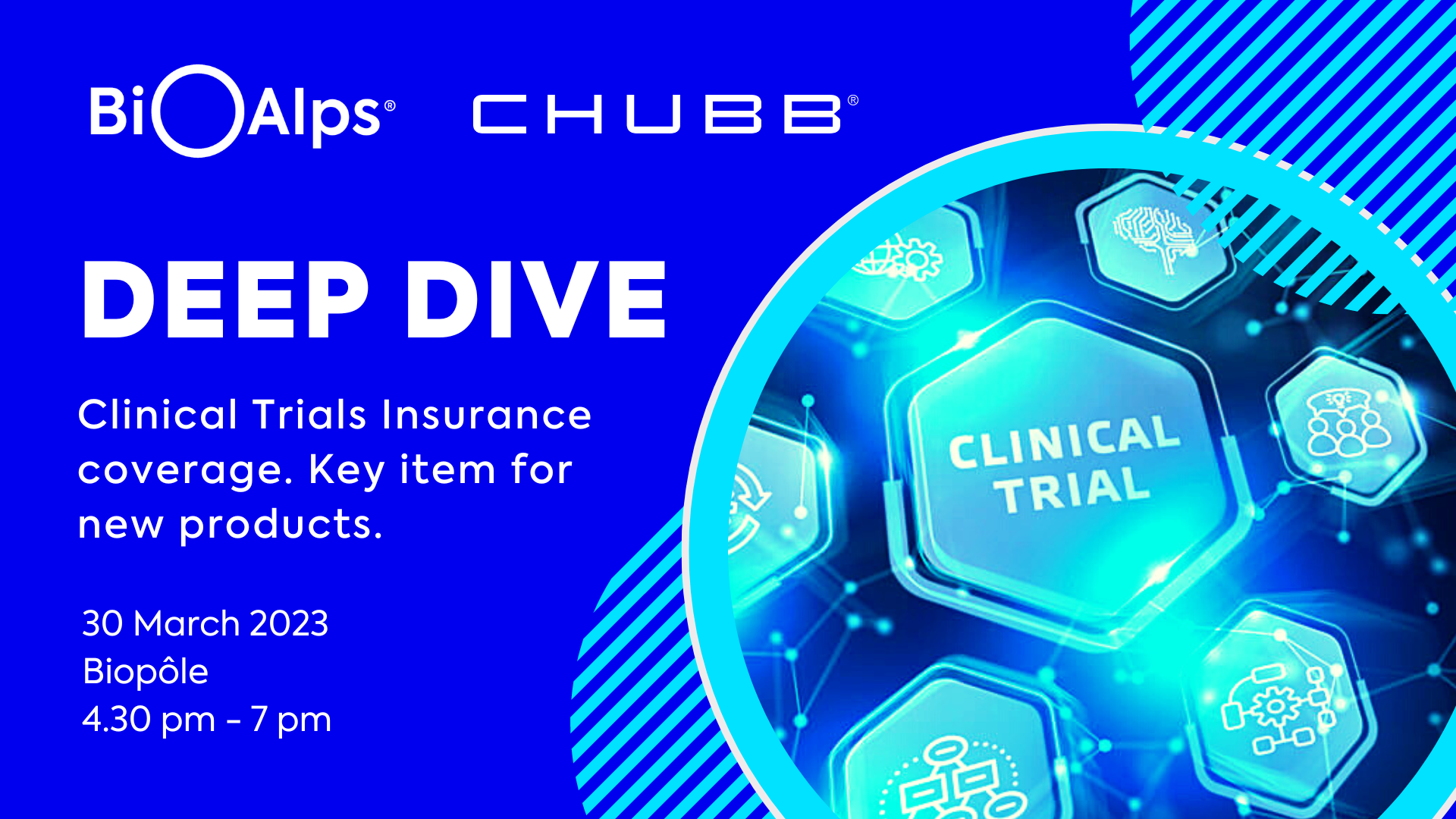 Deep Dive: Insurance for Clinical Trials

The journey from a startup to a multinational company 
Life Sciences businesses operate in an ever-evolving, complex and highly regulated industry where the cause of a future claim could be occurring right now, but the company may not be aware of this for months or even years. As your company expands, your insurance policies should adapt with flexible coverage tailored to your needs and the risks your company may face. In this Deep Dive session, we will cover each phase of the companies and invite a startup and a CRO so that we can complete the cycle of the insurance journey.
Join BioAlps, Chubb Insurance and Kessler for a Deep Dive at Biopôle Lausanne on Thursday 30 March 2023, from 4.30 pm to 7 pm.
⏰ When: 30 March 2023, 4.30 pm – 7 pm
📍 Where: Biopôle Lausanne, Alanine Room (ground floor), Route de la Corniche 5, 1066 Epalinges
🗣 Language: English🇬🇧
⚠️ Registration is free but mandatory. Please fill the form at the end of the presentation or clic here. Limited seats available. ⚠️
Programme 
16.00 -16.30 | Welcome of participants (please join by 16.15 for a timely start)
16.30 – 16.45 | Opening
Magali Bischof

, Secretary General BioAlps

Pierre-Jean Wipff

, Innovation and Partnership Director at

Biopôle

 
16.45 – 17.45 | The lifecycle from a startup to a multinational company
Each speaker will have 10 minutes to present and share their experience. 
CRO


Galser

Insurance-Broker
Sam Mason

, Kessler & CO Inc

Insurer
Renate Pochert,

Senior Risk Engineer & Life Sciences Practitioner




Chubb European Group, Frankfurt am Main

Insurer
Christoph Meier,

Senior Underwriter Life Sciences




Chubb Insurance (Switzerland) Ltd, Zurich

Moderation
Magali Bischof

, Secretary General BioAlps
Q&A from audience
17.45 | Key Take-aways
18:00 | Networking-Apéro
18:00 | StartLab Tour with Pierre-Jean Wipff, Innovation and Partnership Director Biopôle 
About Chubb

Chubb Insurance (Switzerland) Ltd operates since 2003, a subsidiary of Chubb Limited, currently employs 100 people, worldwide there are more than 35'000 employees. Chubb Insurance (Switzerland) Ltd is domiciled in Zurich and Lausanne and has an AA rating from Standard & Poor's. Tailor-made solutions in property, liability, transport, cyber and environmental insurance, financial lines, and personal and accident insurance cover the needs of companies and organisations of all size. For more information: chubb.com
About Kessler

Kessler is the leading Swiss company in the fields of risk management, insurance, and pension fund consulting. Our team, which is based in Switzerland has now grown to 300 staff and manages a good one third of the 500 largest Swiss companies from the services sector, trade, industry, and the public sector. As their dedicated partner in all risk, insurance, and pension issues, we offer our clients customized risk analyses, modern risk financing concepts and optimized insurance solutions. We also support our clients if they need legal advice or require assistance in the event of a claim. For more information: kessler.ch