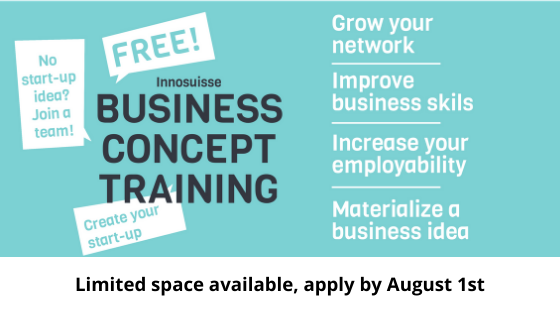 EPFL Innovation Park | Fall Innosuisse Business Concept Training

Make your 1st steps in the entrepreneurial world
The Business Concept program is part of Innosuisse Startup Training, run by EPFL Innovation Park in western Switzerland. This free training provides you with the practical tools to transform your idea into a strong business project. Get introduced to entrepreneurs and industry experts, and meet other talents like yourself all over Suisse romande.
This training is free of charge to anyone studying, working from a Swiss university regardless of the academic level or field of study. R&D workers are also welcome! Applications are subjected to selection based on motivation, ambition, and experience.
3 months of training
Get familiar with the major challenges of launching a start-up company and learn how to deal with them, through weekly evening sessions during one semester. A focus will be put on validating your business idea through intensive customer discovery process and interaction with industrial experts & coaches.
One-day bootcamp
At the beginning of the training, all participants from all training cities gather in Lausanne for a full day of entrepreneurship immersion. This day includes pitching, forming teams around a project idea, challenging activities, and a lot of fun.
Award study trip
Each semester, a jury panel awards the best project teams with a 2-day study trip in a European capital. The trip aims to discover the local entrepreneurship ecosystem and business opportunities, meet entrepreneurs, angel investors and visit incubators! Our last destinations were London and  Berlin.
Registration
Limited space available.
Apply by 1 August 2021.