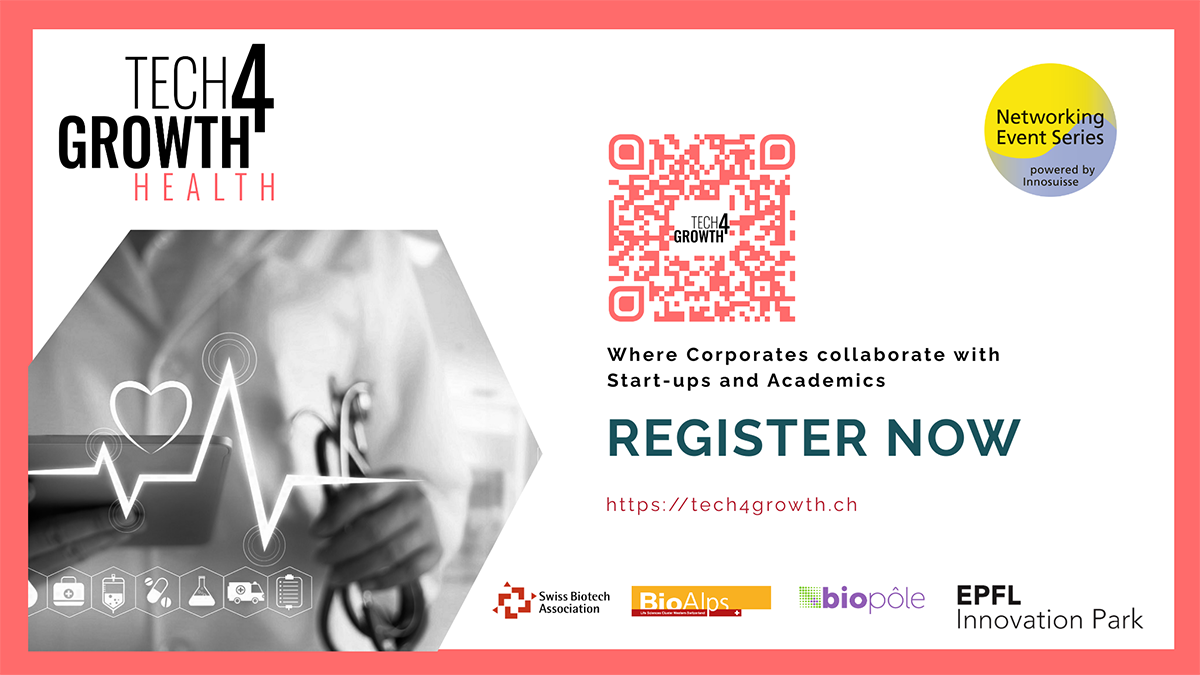 EPFL Innovation Park | Tech4Growth: Health

Building impactful partnerships between start-ups – corporates – academia
"TFV – Networking Events Series 2021-2024" empowered by Innosuisse will cover 4 verticals: Health, Industry 4.0, Energy and Finance.
Tech4Growth Health
Tech4Growth Health will be the 1st in this series and will take place on March 9, 11, 16, 18 & 23, 26, 2021.
Given the speed of innovation and the shorter technology lifecycles, both large companies and start-ups have a vested interest in partnering. Successful alliances can significantly speed up time to market and scaling up, amongst others. However, there are many reasons why such partnerships could go wrong.
EPFL Innovation Park created the series of 6 hybrid workshops with dozens of company executives as speakers, to talk about their best practices and lessons learned from their own experiences. There will be case studies as well as group discussions. Start-up CEO/CTOs and Corporate innovation managers will have the possibility to work side by side to help each other, to achieve better understanding and to build a powerful business and personal network.
The program consists of 5 online sessions & a networking & peer to peer session in a physical location at the end, to easily fit into one's schedule. Participants who cannot attend the 2 consequent workshop days can invite a colleague from his/her team to attend, in order to ensure the continuity and the quality of exchange with other participating companies.
Confirmed Speakers
Prof. Dr. Jürgen Burger, University of Bern
Haide Alleg, Ferring
Jurgi Camblong, Sophia Genetics
Ata Tuna Ciftlik, Lunaphore
Angelo de Rosa, Boston Scientific
Susan Herbert, Merck
Tana Dowe, Debiopharm
Hervé Lebret, Inria Start-up Studio Paris
Nicolas Loeillot, Groupe Mutuel
Rana Lonnen, Novartis / DRX Capital
Massimo Lucchina, CySec
Raphael Rollier, Swisstopo
Robert Scott, Novartis
Riad Sherif, Oculis
Lan Zuo Gillet, EPFL Innovation Park
More to be confirmed soon…
Registration
As a BioAlps affiliated member, you are entitled to a 20% discount (pls contact us at contact@bioalps.org to receive the discount code).