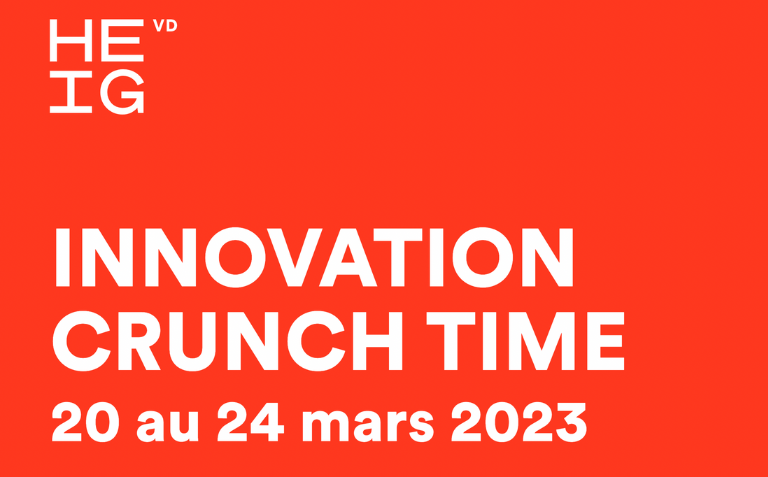 Are you looking for Innovative solutions to your problems? HEIG-VD engineering students and business economists are helping you from 20 to 24 March 2023 during the CRUNCH 2023. Submit your project before 6 February 2023
WHAT IS THE CRUNCH?
The Crunch Time Innovation offers a new collaborative learning format to foster encounters, exchanges and innovation between students and the economic and industrial world.
Students in engineering and business economics of the University of Engineering and Management of the Canton of Vaud (HEIG-VD), as well as a delegation of students from the University of Technology of Belfort-Montbéliard (UTBM), our French partner and event initiator, will gather for 5 days in multidisciplinary teams.
About thirty coaches from teaching and research staff are involved and support students in their approach to bring innovative solutions to your problems.
SUBMIT A THEME
The themes can be varied: new needs, uses or user experiences, new products, new opportunities, development of connected objects, productivity improvement
or reinvention of organisational processes. The problems you can entrust to students affect all fields (computer science, energy, electrical engineering, mechanics, geomatics, UI/UX, economics…).
The subjects will be approached from an interdisciplinary point of view, by groups of students from different backgrounds. They will lead to possible solutions and a materialization of the idea chosen.
PRESENTATION OF THE SOLUTIONS
At the end of the week, companies receive a book of ideas, a physical or digital model, a presentation and a list of potential solutions.
PARTICIPATION
You will be invited to participate in various highlights during the week, including the launch of the event and the closing ceremony.
A participation of CHF 500. – you will be asked for each selected subject.
📅 When: 20 to 24 March November 2023
📍 Where: HEIG-VD
⌛ Project submission deadline: 6 February 2023
▶️  More information: here