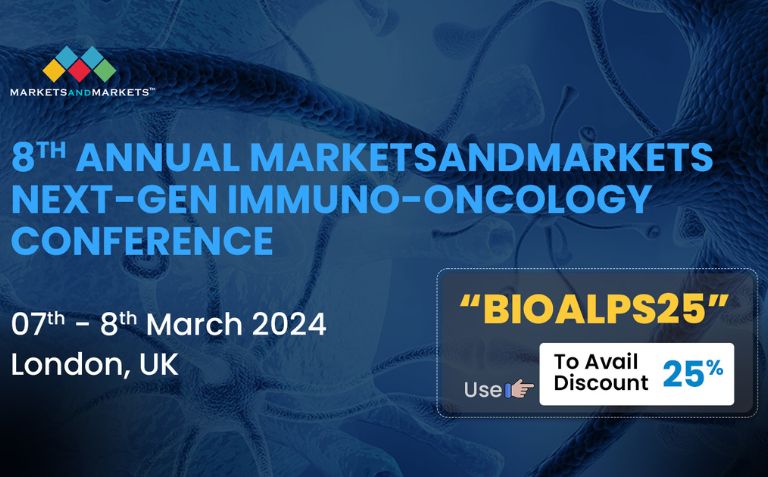 MarketsandMarkets Next-Gen Immuno-Oncology Conference

The 8th Annual MarketsandMarkets Next-Gen Immuno-Oncology Conference, is taking place from 7 to 8 of March 2024 in London, UK
This event promises to be a pivotal gathering for distinguished professionals, thought leaders, and innovative partners in the field of immuno-oncology. As the premier event in the sector, this conference will offer an exclusive platform for the exchange of cutting-edge insights, transformative strategies, and groundbreaking research within the dynamic realm of cancer immunotherapy.
This year's conference will feature an exceptional lineup of keynote speakers, expert panel discussions, and interactive sessions, providing attendees with a unique opportunity to explore the latest advancements in immuno-oncology, share their own experiences, and establish collaborative relationships with influential stakeholders. Moreover, it will serve as an invaluable hub for sponsors and partners to showcase their state-of-the-art solutions, forging key connections within the immuno-oncology community.
With its unwavering commitment to fostering innovation, the 8th Annual MarketsandMarkets Next-Gen Immuno-Oncology Conference is poised to be a transformative event that propels the field towards new horizons, ultimately advancing the fight against cancer through cutting-edge immunotherapeutic interventions. Join us in London in March 2024 to be part of this dynamic and inspiring journey towards a future free from the burdens of cancer.
📆 7 to 8 of March 2024
📍London (UK)
💰 Ticket: 599 British Pound
ℹ️ Information and Registration