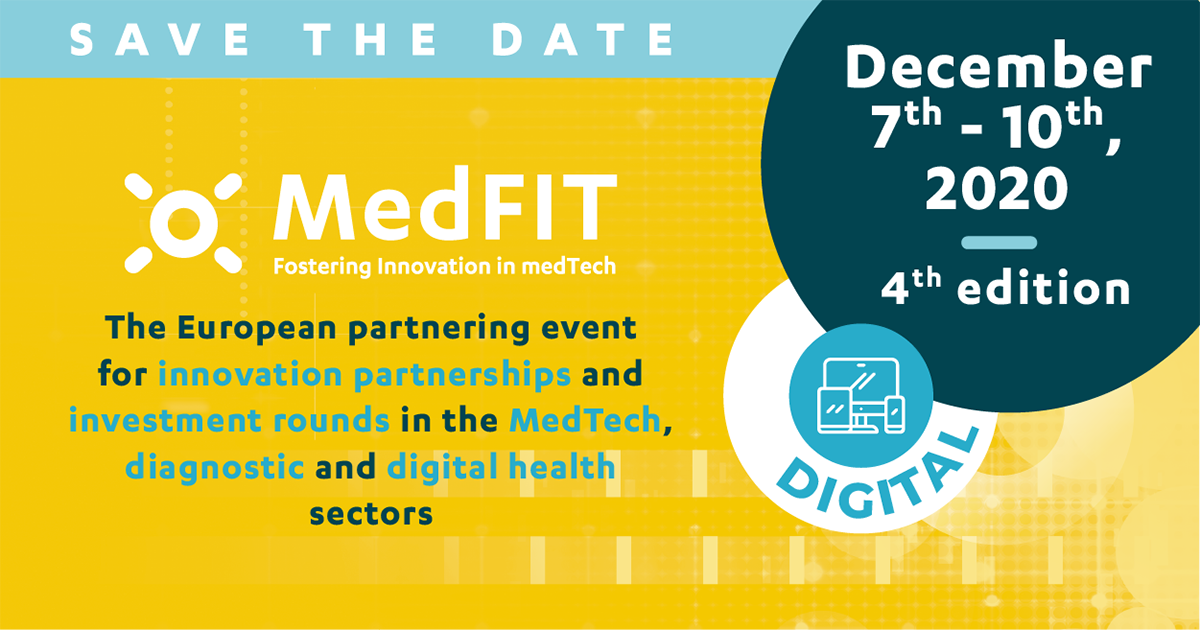 MedFit | Fostering Innovation in medTech

European business convention for innovation in medtech and diagnotics
The European partnering event for innovation partnerships and investment rounds in MedTech, diagnostic and digital health sectors will take place digitally from 7 to 10 December 2020.
MedFIT is your opportunity to connect with international key innovators in MedTech, diagnostic and digital health sectors with more than 750 delegates in more than 25 countries.
As a leading European partnering event, MedFIT provides the ideal environment to build partnerships for all public and private actors, to source innovative and competitive early-stage R&D projects, to facilitate the emergence of collaborative projects, to increase licensing opportunities, to obtain funding and to facilitate market access.
WHO WILL YOU MEET?
MedTech, digital health and diagnostic companies: 35%
TTOs, research institutes, academics: 17%
Suppliers & subcontractors: 16%
Professional and consulting services: 14%
Clusters, associations, non-profit organisations: 13%
Investors: 5%
MEDFIT FEATURES:
Business convention: schedule one-to-one pre-qualified meetings
Conference program: discuss collaboration, financing, market access and digitalisation
Pitch sessions: Startup Slams (new!): Collaborative and Licensing Opportunity Presentations & Service Presentations
Would-be CEO: dedicated to entrepreneurs seeking projects/projects seeking a CEO
Meet the experts: sessions to address your strategic needs to specific experts
Exhibition: showcase compagnies
PROGRAMME
More information about the Programme 
REGISTRATION
BioAlps affiliated members are entitled to a
discounted rate
. To benefit from the reduced participation fee please use this
code: MFBioalps20022020.
Please note that discounts always apply on the regular price, except during the "late fee" period. Discounts cannot be combined with any other offer.
More information about the Registration