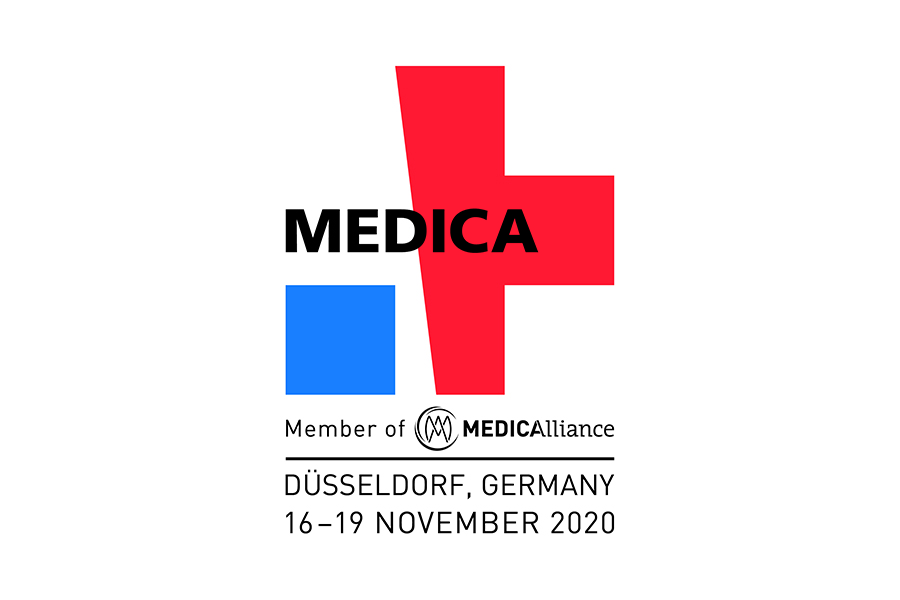 MEDICA | The world's largest medical trade fair
The event will take place from 16 to 19 November 2020 in Düsseldorf, Germany.
In 2019, the event attracted more than 5'100 exhibitors from 70 countries. Leading individuals from the fields of business, research and politics, alongside tens of thousands of national and international experts and decision-makers from the sector. An extensive exhibition and an ambitious program await you in Düsseldorf. As an affiliated member of the BioAlps cluster, you can benefit from representation services through the BioAlps World Visibility Package 2020.
In addition, the professional MEDICA Forums and Conferences have become an integral part of the trade fair. Five forums and several special shows are presented in the halls.
Why attend MEDICA?
The event is the perfect opportunity to meet all the key global players in the following fields.
Topics
Electromedicine, medical technology
Information and communication technology
Physiotherapy, orthopaedic equipment
Laboratory equipment, diagnostics
Disposables, commodities and consumer goods
Visitors target groups
If you are part of the following areas of expertise, this event is for you.
General practitioners
Hospital doctors
Hospital technical managers
Laboratory managers
Medical industry
Your participation on the Swiss Pavilion
Swiss Medtech and Switzerland Global Enterprise (S-GE) collaborate in the organization of the Swiss Pavilion at MEDICA. BioAlps will be present on the Swiss Pavilion for the fourth time.
The Swiss Pavilion is a token of swissness, recognition and efficiency. Your presence on the Swiss Pavilion enables you to explore new horizons and showcase your products and services while benefiting from BioAlps' presence and support.
Consider all the business you can get done in four days including forums, conferences, networking events, one-on-one meetings, finding partners, exploring new markets, meeting influential decision makers, presenting your products and/or services.
This is a great way to reach out to a global audience and to increase your company's visibility in the medtech world.
All booth space booking is handled by S-GE and Swiss Medtech
More information about the event
Be visible with the BioAlps Community on the Swiss Pavilion
If you do not wish to have a booth of your own on the Swiss Pavilion, as an affiliated member of the BioAlps community, you may subscribe to the following package to be visible in our dedicated area.
BioAlps "Be Seen" Package | CHF 900
Your logo and a short description of your company on one global poster in our BioAlps area
Your company represented by BioAlps, if required
If you are interested by our "Be Seen" package, please register via our BioAlps World Visibility 2020 page.
Please note that none of the packages include the exhibition entry fees.