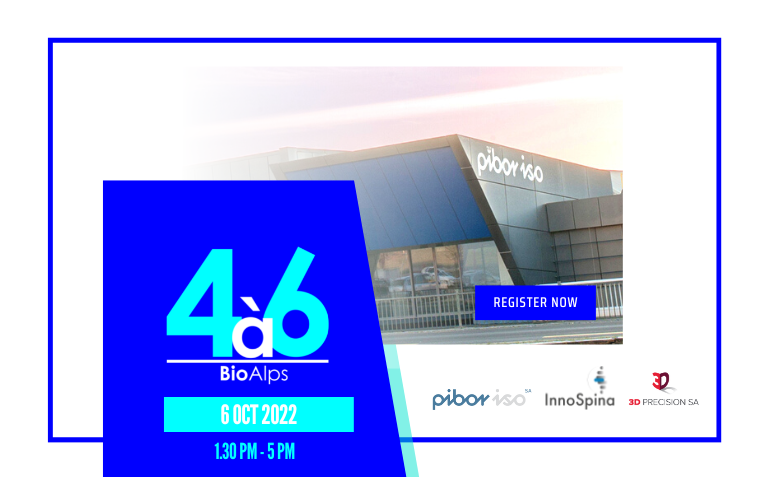 Special 4à6 Edition at Pibor ISO SA

 4à6 @ Pibor ISO SA
The event will take place from 1.30 PM to 5 PM on Thursday 6 October 2022 @ Pibor ISO SA (Route de la Transjurane 20, 2855 Glovelier).
Discover how Pibor ISO SA, one of the historical actors in the watchmaking industry has collaborated with 3D PRECISION SA and the startup InnoSpina, to create implants to treat back pain. These three companies are bringing together their know-how and unique expertise to create a state-of-the-heart Medtech solution.
Programme
⚠️ The event's official language is French. 
1.30 PM – Participants Welcome
2 PM – Welcome address by the canton of Jura and BioAlps Association
2.10 PM – Presentations (Pibor ISO SA, InnoSpina, 3D PRECISION)
Dominique BEUCHAT, co-founder and CEO of PRECISION SA

Cédric BOURQUARD, Managing Director Pibor ISO SA

Gwenael HANNEMA, co-founder and CEO of InnoSpina

Christophe ZANNATO,Technical Director Pibor ISO SA
4.15 – Visit of the Pibor ISO SA facilities
5.15 PM – Networking Cocktail organised by Pibor ISO SA
Pibor ISO SA
Pibor ISO SA is an independent family company founded in 1952 in Glovelier, in the heart of the Jura and in the Watch Valley. It currently employs 135 people on a surface of 8 500 m2. With a verticalized production including more than forty professions, all dedicated to the design and manufacture of watch case components, jewelry components, MEDTECH and microtechnology. Today, Pibor is positioned as one of the world leaders in the development of its field.
Seventy years of research, studies and developments provide Pibor engineers with all the knowledge and know-how to accompany designers and creators in the realization of creations that draw the universal fashions and trends. Constant investment in new machines and technologies has allowed Pibor to reach a high degree of verticalization of its production line. This allows perfect control of its processes to satisfy the needs of its customers.
InnoSpina 
InnoSpina provides safe and intuitive guiding instruments together with novel implants empowering spine surgeons and interventional pain management specialists in their daily procedures. The company designs and develops new motion preserving and fusion technologies for disorders of the spine enabling the practitioner to treat chronic back pain in less than 30 minutes. InnoSpina's flagship products are targeting different stages of the LSS disease. The startup has successfully conducted pre-clinical validations that confirmed the safety and effectiveness of our unique guiding instruments and recently gained traction among spine surgeons.
3D PRECISION SA
3D PRECISION SA is a Jura-based company founded in 2014 and specialised in the additive manufacturing (3D printing) of metal parts. 3D Precision SA has developed a unique know-how in the medical and industrial fields to help decision-makers and designers designing and manufacturing their high-added value products. 3D Precision SA has been ISO13485 and ISO9001 certified since 2016 and has been awarded the NEI (New Innovative Company) label by the canton of Jura.
Registration
Registration to the event is mandatory and free of charge.