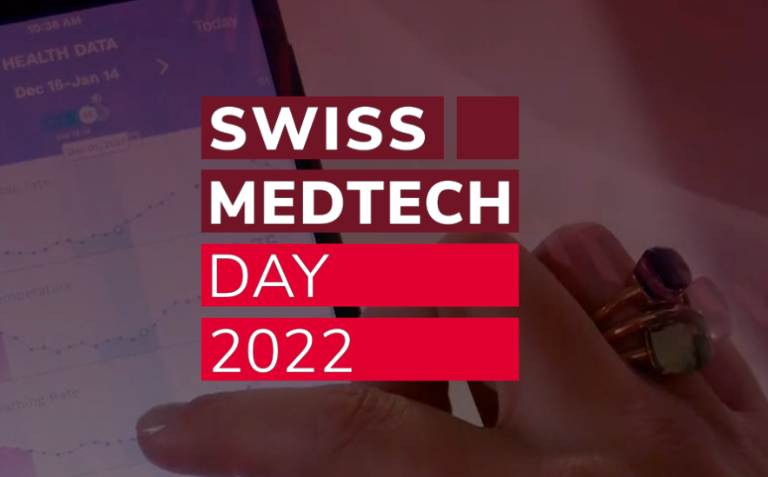 Swiss Medtech Day | 14 June 2022 | Bern

The Swiss Medtech Day will take place on 14 June 2022 in Kursaal, Bern. This year's theme is Digital Health Technology.
The event is bringing together innovators, investors and Medtech companies for a day of conferences and networking. Audrey Tang, Digital Minister of Taiwan, will give the introductory keynote. Federal Councillor Guy Parmelin will also give a speech, as well as Dr Stefan Vilsmeier, CEO of Brainlab AG.
Deep Dive Session
Session 1 – Technology: During this session participants will hear about the extension of existing medical products with new digital features for preventive health care and about challenges of medical data integrity by applying AI methods.
Session 2 – Framework conditions: This session is directed to participants with an interest in framework conditions for modernisation and digitalisation of health care. It will provide profound insights into the framework and boundary conditions fostering the implementation of digital concepts.
Session 3 – Business solutions: Topics around digital health solution design and digital health infrastructure such as requirements for seamless integration in clinics or hospitals, or improvements of patient journeys independent from cost increases are treated in this session.
Session 4 – Best Practice case: In this session, interlocking mechanisms of digitalisation will be discussed through three best practice cases in innovation, among others on the topic of Machine Learning in medical devices.
Session 5 – International focus Taiwan (morning only): A delegation of virtual and physically present panelists will discuss in this session through various case examples how Taiwan is taking advantage of digitalisation in the health care sector.
Swiss Medtech Award
Three startups are competing for the prestigious Swiss Medtech Award 2022.
Alveolix: The Bernese start-up aims to make «Organs-on-Chip» the new standard for preclinical decision-making in order to accelerate the development of new drugs, offer alternatives to animal testing and, in the long term, create new model systems for the field of personalised medicine.
Biospectal: The Lausanne-based biosensor software company has developed Biospectal OptiBP, a smartphone app and data platform that makes remote, omnipresent, and accurate blood pressure monitoring and management a reality.
Haelios: The Basel-based company develops smartphone technology for patients with multiple sclerosis (MS). DreaMS is an app-based programme that assesses patients' neurological function as they perform their daily activities