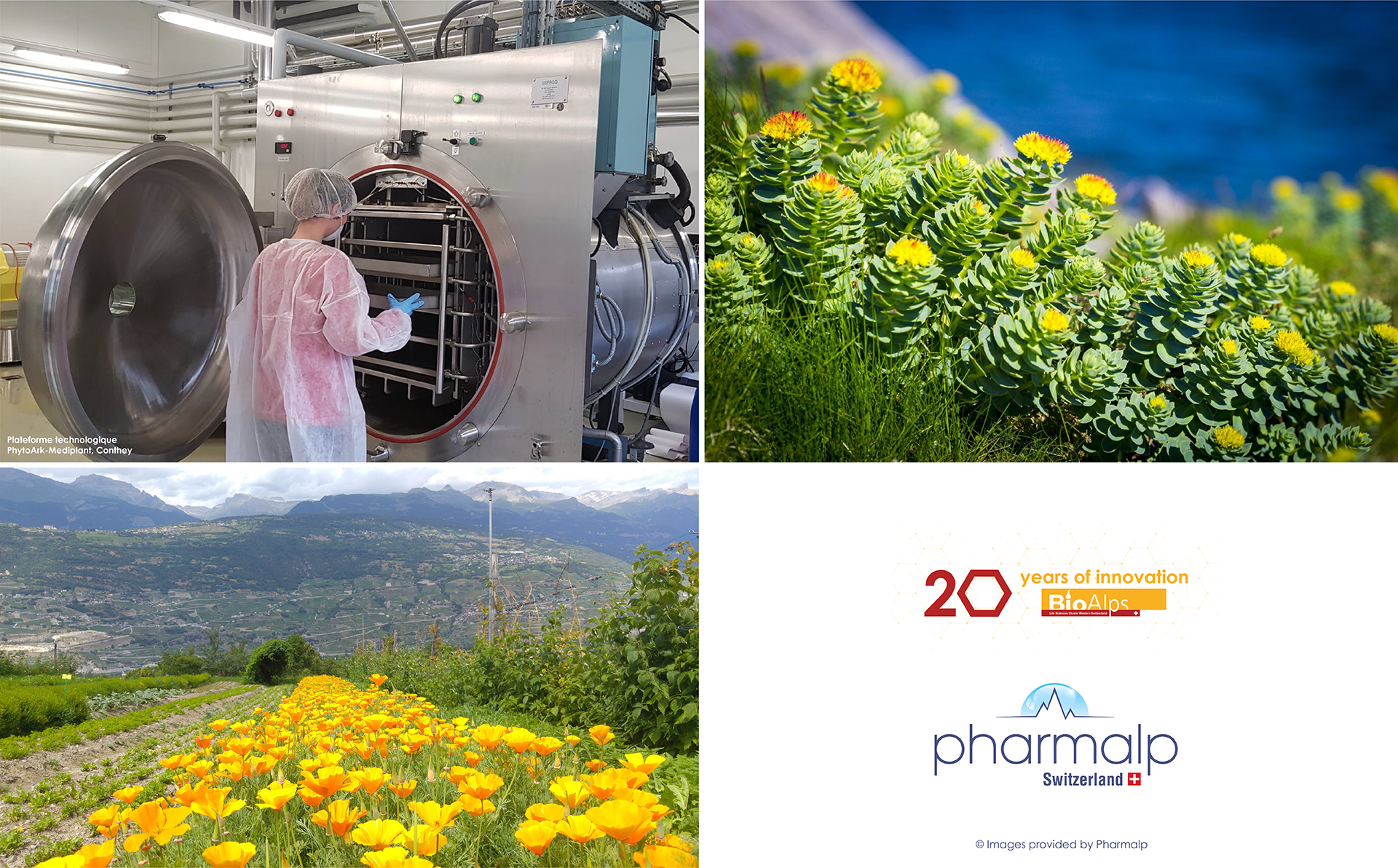 BioAlps | 20 years of innovation | Pharmalp

Developing and distributing efficacious natural healthcare products
We are pleased to share with you our new testimonial series as part of our ecosystem's 20th anniversary celebrations. The series aims to provide a platform for regional Life Sciences key players to present themselves, share their perspectives on the development of Western Switzerland's Life Sciences ecosystem and their outlook on upcoming challenges and opportunities. The following article is presented to you by Pharmalp.
Presentation of Pharmalp's activities
PHARMALP SA was incorporated in April 2012 thanks to The Ark Foundation (Valais) and was elected 3 years in a row amongst the 100 best Swiss startups. As a SME, our vision is to develop and distribute useful and efficacious products of natural origin to people concerned by their health.
Major Life Sciences trends and developments in Western Switzerland and Pharmalp's contribution
Consumers and patients are increasingly concerned by their own health. They favour natural, safe, and efficacious products in the fields of gut and mental health as well as immunity. Pharmalp developed and launched 7 successful products into the Swiss market, in those fields amongst its portfolio of 13 products. Our success is mainly linked to the quality of our product and training offered to health professionals. Being a Swiss company, doing its R&D with Swiss academics, cultivating medicinal plants with local organic farmers and organising its logistics with Polyval, a Swiss foundation employing people in reintegration, is also perceived by our consumers as a great competitive advantage.
Significant foreseeable trends and challenges in Life Sciences
The trends in health will remain around immunity and our ability as humans to boost and maintain an immune system in good health. Mental health, especially the gut-brain axis, will continue to be an issue. However, besides oncology, cardiovascular health will remain at the top of the list as the first cause of mortality in the western world. At Pharmalp, we recently launched an innovative product HIBISCOL® that contains a combination of plant polyphenols useful to maintain good cholesterol and arterial tension levels, to prevent the need of medication. We will continue to develop food supplements and phyto-drugs in the above-mentioned fields.
Major events which have contributed to the development of Life Sciences
Numerous factors such as the high quality of our academics, the development of incubators and cantonal aids including Eclosion (Geneva), Innovaud (Vaud), The Ark (Valais), as well as the GGBa and BioAlps networks, have contributed to the development of Life Sciences in Western Switzerland.
How will Pharmalp evolve to meet the new demand for personal health

Pharmalp will continue to develop high quality products of natural origin backed by sound science in the fields of immunity, gut and mental health, women's health, and cardiovascular health. Digital technology is a trend that is already well installed in the market, not only for e-commerce but also to enable access to health information for both professionals as well as consumers. We will increase our presence in social networks and close-to-consumers information.
Pharmalp's recommendations
Swiss networks in Life Sciences should provide more concrete support to Swiss SMEs to help them develop their innovations (patents) and products at an international level and put less focus on attracting large companies to Switzerland. Our economic growth in terms of tight network and job increase will thus be more "physiological".