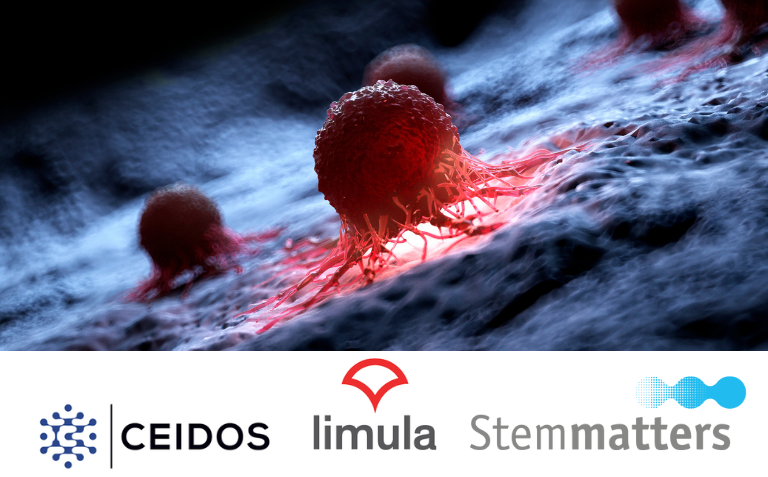 EUR 1 million Eurostars grant for Limula and Ceidos

The two swiss biotech startups signed an agreement with Stemmatters in Portugal. They received a Eurostars grant of EUR 1.14 million to merge their expertise to develop platforms for the automated production of cell and gene therapy products.
Chimeric antigen receptor (CAR) T-cell therapies have shown exceptional clinical efficacy for the treatment of multiple forms of incurable cancers. However, most eligible patients may never receive these life-saving treatments as there are still significant hurdles in manufacturing these therapies at scale.
Limula is offering an automated technology for end-to-end production of CAR T-cell therapies that carries out all steps of the manufacturing process in a single self-contained device. The technology can take the costs down while minimizing manual interventions.
A joint project aims to augment Limula's solution by leveraging technology and expertise from two companies, Ceidos and Stemmatters. Ceidos is a Sion-based startup developing C-NETICS, an automated system for continuously monitoring cell density and viability in a non-destructive way. C-NETICS comprises a single-use cartridge that allows cell counting and characterization using microelectrodes and image analysis using an embedded digital microscope. Artificial Intelligence is used to extract rich information from real-time data. Stemmmaters is a private regenerative medicine company providing contract development and manufacturing services for cell-based products and biologics.
The project will combine Limula and Ceidos' closed-loop real-time cell culture monitoring into a complementary product offering while leveraging Stemmatters's expertise in cell therapy process development and cGMP manufacturing towards fully closed and automated manufacturing of cell-based immunotherapies.
The proof-of-concept financed by the Eurostars EUR 1.14 million grant will demonstrate the value of a modular platform, addressing the needs of organizations involved in developing new CGT products, from preclinical research to commercialization. Building such a complex device requires a highly interdisciplinary team. "We were determined to bring the right partners on board to maximize chances of success. With Ceidos and Stemmatters, we have the expertise required to achieve this technological feat," says Luc Henry, CEO of Limula.
Beyond the collaboration, Limula will be responsible for the commercialization of the integrated technology to deliver a scalable and cost-effective manufacturing platform as soon as possible to help bring more CGT products into the clinic for the benefit of patients.
(Source : press release)