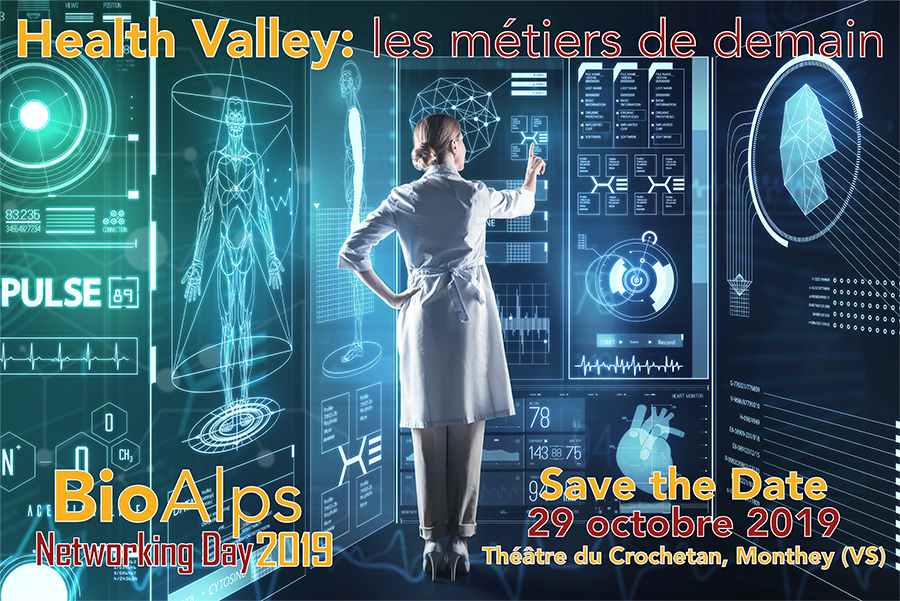 Save the Date : BioAlps Networking Day 2019

The event will take place on 29 October 2019 @ Théâtre du Crochetan, Monthey (VS).
Our afternoon event will focus on the future of jobs within the healthcare industry. Speakers from academia, industry, startups and research institutions will gather to discuss how new technologies are shifting the professional and educational paradigms in life sciences.
The format of BioAlps' traditional annual gathering of members from the life sciences community is changing. As a participant, you will be taken on a journey through western Switzerland's strengths and challenges in life sciences. Speakers will be challenged by a professional host and the event will be interspersed by short videos, describing how technologies are used today by key regional actors. You will also have a chance to discover some VR technologies first hand through a live demonstration. Coffee breaks and the standing cocktail will provide perfect opportunities for you to network with speakers and participants from the community.  During the event, the traditional BioAlps Awards will also be presented to prominent academic and industrial actors from the Health Valley. The event's official language is French.
More information about the programme and registration will be available on the event page in the coming months.