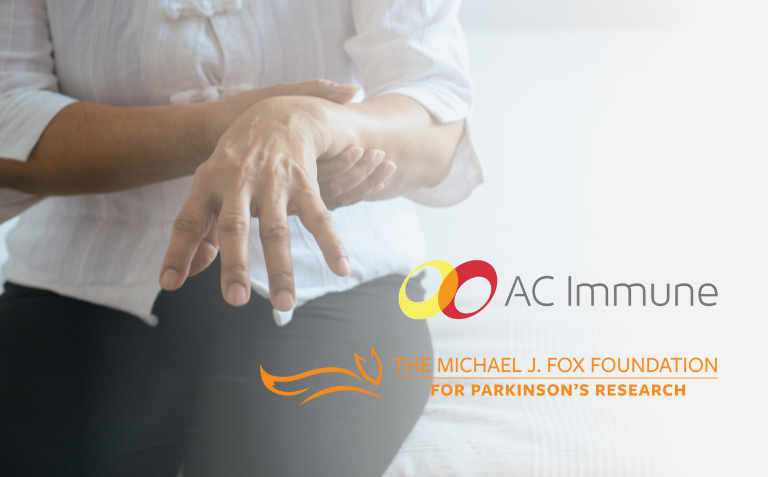 CHF 500 000 for AC Immune

Michael J. Fox Foundation for Parkinson's Research (MJFF) and Target ALS Foundation (Target ALS) provide more than USD 500,000 in additional non-dilutive capital to the Swiss company
AC Immune SA, a clinical-stage biopharmaceutical Swiss company pioneering precision medicine for neurodegenerative diseases, announced prestigious new grants from The Michael J. Fox Foundation for Parkinson's Research (MJFF) and Target ALS Foundation (Target ALS) supporting research programs to enable diagnosis of TDP-43 (TAR DNA-binding protein 43), recognized as an important target in multiple neurodegenerative diseases (NDDs) such as amyotrophic lateral sclerosis (ALS) and frontotemporal lobar degeneration (FTLD) and as a prominent co-pathology in Alzheimer's and Parkinson's diseases.
Dr. Andrea Pfeifer, CEO of AC Immune SA, commented: "It is an honour to have the support of MJFF and Target ALS, two leading international organizations that recognize the pressing need for diagnostics to detect pathological TDP-43. There is currently no single test to confirm the presence of TDP-43 pathology, and diagnosis is complicated by overlapping motor and clinical symptoms. We firmly believe that a sensitive and accurate diagnostic will represent a breakthrough for the field and will accelerate clinical development of therapeutic candidates against this novel target. Given the heterogeneity and irreversible nature of neurodegeneration, our Precision Medicine approach represents the most promising strategy to identify the right patients and treat them earlier."
Dr. Jamie Eberling, Senior Vice President of Research Resources at MJFF, said: "Brain imaging agents uncovering aggregated pathological protein hold great promise to enable earlier and more accurate diagnosis of NDDs, and we are pleased to be expanding our relationship with AC Immune to support its TDP-43 tracer program. AC Immune and its collaborators recently demonstrated their expertise in developing cutting-edge PET imaging agents by providing the first images of alpha-synuclein. With this new grant, we hope to make similar progress in the development of a TDP-43-PET tracer."
Dr. Manish Raisinghani, CEO of Target ALS, said: "We are delighted to support the collaborative consortium in which AC Immune is participating. Our approach to encourage multi-disciplinary and cross-sectoral collaborations continues to accelerate ALS drug discovery. In a disease such as ALS, early diagnosis is critical for timely access to disease-modifying therapies. The development of a TDP-43 specific biofluid-based diagnostic test has the potential to more rapidly enable confirmed early diagnosis."
The MJFF and Target ALS grants collectively provide more than USD 500,000 in additional non-dilutive capital to support the advancement of diagnostic programs targeting TDP-43. The MJFF grant will support AC Immune's TDP-43 positron emission tomography (PET) tracer program, which could deliver the world's first imaging agent capable of accurately detecting and monitoring the progression of TDP-43-related diseases. AC Immune's TDP-43-PET tracers have demonstrated target engagement and selectivity on TDP-43 neuropathology in brain tissue and a clinical candidate is expected to be declared in H1 2023. The Target ALS grant supports a world-class consortium comprised of AC Immune, Barrow Neurological Institute, Kansas City University, and the International Center for Engineering and Biotechnology, which aims to accelerate the development of an immuno-assay to detect pathological species of TDP-43 in biofluids.
Last September, MJFF provided AC Immune another USD 500,000 grant, bringing to USD 4.2 million the total amount The Michael J. Fox Foundation awarded the Swiss company.
Source: Press Release