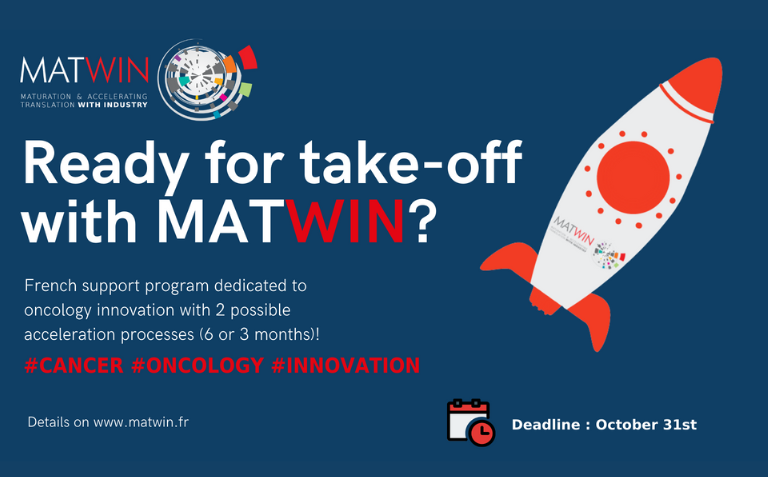 MATWIN call for projects in Oncology

Apply before 31 October 2022 to present your oncology innovation
MATWIN offers an accelerator programme designed to maximise the transfer potential of oncology innovation. By relying on the ecosystem in place in France (cancer research centers, SIRICs, development structures, clusters, etc.) and Unicancer's preclinical and clinical network, MATWIN selects and supports excellent research projects in oncology with high development potential. The support offered helps optimize the industrial structure of the project and accelerate its development.
The program is now open to European applicants (Swiss applicants are welcome), academic team or start-up who can demonstrate collaboration with a French academic team or company.
▶️ Classic track (6 months): application until 31 October 2022 at the latest; application to be completed (downloadable below)
▶️ Fast-track course (3 months): application until 28 February 2023. Application in the form of a presentation (5 slides max) with audio support.
Benefits
international expertise (academic and industrial)
personalized coaching to optimize the industrial structuring of the project and enhance its development potential
access to a network of partners (pharmas / biotechs / investors) looking for projects with high transfer potential, with possible accreditation by the MATWIN International Board
About MATWIN
Unique in Europe, MATWIN (Maturation & Accelerating Translation With Industry) is part of a French open-innovation approach to develop translational research in oncology and shorten the time it takes to transfer innovations to patients. Its main objective is to support innovative projects with high development potential by promoting early industrial partnerships.