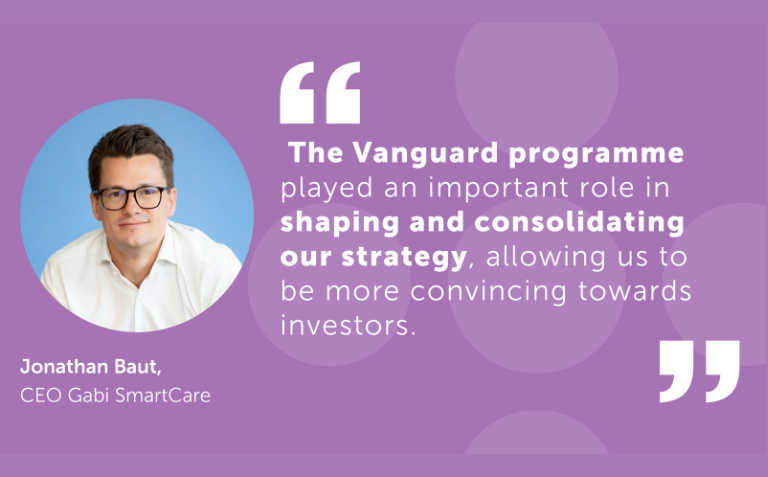 Biopôle Vanguard Accelerator

A six-month accelerator for business acceleration
The Vanguard Accelerator is a free six-month programme, run by Biopôle SA and its partners, to help promising digital-health-oriented projects supercharge their innovation and take their business strategy to the next level. Apply before 14 October 2022.
This immersive programme is a unique opportunity for early-stage start-ups to work with diverse and experienced digital health experts, who can advise on business plans and strategies. They include clinicians, nurses and pharmacists, alongside regulators, investors and IT specialists, all ready to offer their expertise. Any start-ups selected for the accelerator programme will benefit from exclusive real-world insights for business hypothesis testing and networking support to bring their innovation in digital health to life. In addition to enjoying six months of desk space at Biopôle, companies profit from the support of a dedicated programme manager, who makes sure they have the resources they need to build momentum and achieve their goals.
BENEFITS
Companies enrolled on the Vanguard Accelerator benefit from:
constructive feedback from the Vanguard experts
personalised follow-up from at least one Vanguard expert about a specific business strategy
regular meetings coordinated by the programme manager for broader access to the healthcare network and digital health stakeholders
six months of free access to the Digital Health Hub infrastructure, with up to two desks in an open workspace and use of the meeting rooms
discounted access to the DH2 infrastructure for the six months following the programme (subject to the approval of the Vanguard experts)
dedicated support from partner organisations for financing, business modelling, coaching, etc. (if applicable).
COMMITMENT
The start-ups commit to:
being physically present at the Digital Health Hub on a regular basis for the full six months of the programme
following up with the experts they've been introduced to
mentioning the support they've received from the Vanguard Accelerator on their website throughout the time they are on the programme.
Next Application Deadline : 14 October 2022
More information