Reinforcing multidisciplinarity

If recent trends in major cancers are seen globally in the future, the burden of cancer will increase to 22 million new case each year by 2030. This represents an increase of 75% compared to 20081. The BioAlps region is uniquely placed as a hub of multidisciplinary innovation in the field: pharmaceutical and biotechnology research and development, fundamental and clinical research, mechanical and informatics research and platforms all cross-fertilise to bring the best to healthcare systems.
The different universities in the cluster have world class research ranging from fundamental to clinical and translational research. Notably, two well-respected cancer treatment drugs used internationally, oxaliplatin and triptorelin, were developed by Lausanne-based company Debiopharm. Merck Serono's state-of-the-art facility near Vevey produces another cancer drug, cetuximab.
OF THE CHF 4.86 BILLION2 SWISS MEDICINES MARKET, 9.8% ARE ONCOLOGY DRUGS. TODAY, 36.7% OF CANCER DRUGS IN SWITZERLAND ARE BIOTECHNOLOGY-DERIVED3.
The National Center of Competence in Research (NCCR)4 in Molecular Oncology, a Swiss net work research programme, aims to strengthen basic cancer research in Switzerland and to explore, in cooperation with partners in different university hospitals and the pharmaceutical industry, the possibilities for new cancer therapies. Led by the Swiss Institute for Experimental Cancer Research (ISREC) at the EPFL in Lausanne in close collaboration with several partner institutes, the programme is funded by the Swiss National Science Foundation.
The Swiss Group for Clinical Cancer Research (SAKK)5, consists of a network of 20 clinical cancer research groups across Switzerland, with a coordinating centre in Bern. One of its projects is entitled "New Anticancer drugs", with an innovative model to discover new remedies.
The Swiss Cancer Centre, based in the Lausanne University Hospital (CHUV) is a joint effort of the CHUV, UNIL, EPFL and the ISREC Foundation.
It will accommodate 400 researchers and clinicians on 11'500 m2 as early as 2016, bringing ing together scientists and practitioners under one roof. It will pool resources in an effort to combat the disease: ground-breaking progress in understanding the mechanisms specific to each pathology, optimised management of targeted therapies, networking of advances ben efiting patients under treatment6.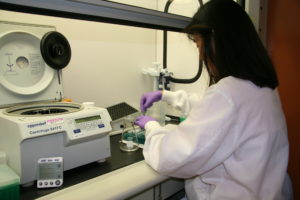 GENOMIC HEALTH: LEADERSHIP IN GENOMIC CANCER DIAGNOSTICS
Founded by biotech industry veteran Randy Scott in 2000 to develop efficient oncology diagnostics, United States-based Genomic Health started expanding out of the US and into worldwide markets eight years later.
Geneva attracted the company in 2009, representing a place with easy access to technologies, knowledge and infrastructure.
Genomic Health conducts sophisticated genomic studies and research to develop and commercialise clinically-validated molecular diagnostic tests, which provide individualised information on response to certain types of cancer therapy and the likelihood of disease recurrence. The company has commercially available tests for breast, colon and prostate cancer patients: the Oncotype DX for invasive breast, DCIS, colon, and prostate cancer assays are unique diagnostic tests that help patients and their physicians make more informed, individualised treatment decisions.
Selected on several occasion to present in the "Best of Oncology" sessions at ASCO, Genomic Health's cancer assays are currently used all over the world.
Multidisciplinarity a unique advantage
Cancer research benefits from the many disciplines available in Western Switzerland. The proximity and dynamism of the region's research institutions, teaching and research private and public hospitals, commercial companies and technology platforms, provide an environment capable of bringing strong innovations to world markets.
The lists below are non exhaustive and showcase some examples of the work being done in the region.
Find more information in our extensive databases: bioalps.org/community and, for the six Alpine regions, alpslifesciencesearch.com
Academic institutions at the forefront of oncology in western Switzerland
Department of Radio-oncology
Radiodiagnostics and interventional radiology
Department of Pathology and Immunology
Geneva University UNIGE & Geneva University Hospitals HUG
Centre de Recherche Clinique
Phase I-III clinical trials and physiopathology, including cancer trials
Ecole Polytechnique de Lausanne EPFL
ISREC (Swiss Institute for Experimental
Cancer Research)
Cell signaling in tumour development and metastasis; tumour angiogenesis; tumour immunity and cancer immunotherapy
CSEM (Centre Suisse d'Electronique et de Microtechnique)
Mechanical probing of cells; spectroscopy and microscopy of cancer cells
Department of Medicine
Clinical Research
Ovarian, hepatic, metastatic, pediatric oncology
Dr Joseph Steiner Cancer Research
Foundation
Cancer research: new basic concepts, new diagnostic or therapeutic approaches and preventive methods
Bern University Hospital INSELSPITAL
University Clinic for Medical Oncology
Mechanisms of cancer development: solid tumours, lymphoma, melanoma
University Clinic for Radiotherapy
External beam radiotherapy, intensity-modulated radiotherapy
University of Lausanne UNIL
Department of Biochemistry
Discovery and functional characterization of pathways that govern cell division, cell differentiation, cell death and membrane fusion
University Hospital of Lausanne CHUV
Cancer research and treatment (ambulatory oncology; oncology treatment; clinical investigation; experimental and translational research)
UNIGE, UNIL, EPFL, CHUV, HUG
CIBM (Centre d' Imagerie BioMédicale)
Sample list of large and small companies involved in oncology in the Bioalps cluster
ADC THERAPEUTICS
Antibody drug conjugates for treatment of solid and hematological cancers
STEMERGIE BIOTECHNOLOGY
Treatments and diagnostics by targeting cancer-initiating cells
The fact sheet provides a view of the key players in the sector at any given time; it is not comprehensive and is subject to regular updates.
This current edition was produced in Autumn 2019.