Putting breaking medical news into practice

Immunology is the complex and exciting branch of biomedical science concerned with the physiological responses of the body's immune system, the recognition of self and not self, and all the biological, serological, and physical chemical effects of immune reactions. The field covers autoimmune disease, hypersensitivities, immune deficiency and transplant science among others.
IT IS NO SURPRISE THAT THE BLOCKBUSTER DRUG TO TREAT MULTIPLE SCLEROSIS, REBIF ® , WAS DEVELOPED IN WESTERN SWITZERLAND.
One of the most diverse and dynamic biopharmaceutical market, immunology is forecast to reach over $138 billion in worldwide sales by 2016, with a compound annual growth rate (CAGR) of 2.3 percent and is expected to account for nearly 20 percent of the global pharmaceutical market by 20161. Recent bibliographic studies rank Switzerland first for the number of publications in immunology, and second and third respectively in molecular biology and pharmacology2, demonstrating the vibrancy of research in the country. It is no surprise that the blockbuster drug to treat multiple sclerosis, Rebif®, was developed in Western Switzerland.
Emerging diseases, micro-organism drug resistance, as well as personalised medicine and changing public health priorities provide a wealth of opportunity in the immunology field. The BioAlps region is uniquely poised, with its combination of fundamental research and applied sciences, to bring to market innovations in diagnostics, vaccines, monoclonal antibody and drug therapies.
The field of immunology converges with the field of oncology and research in the NCCR Molecular Oncology3 and the Ludwig Institute for Cancer Research, which are researching tumour immunology and immunity, and cancer immunotherapy. Multinational companies such as UCB, who recently built a CHF 300 million production unit in the region, and Merck, market leading products in immunology, notably autoimmune disease, which are manufactured in state-of-the-art facilities in Switzerland. Founded by the previous head of Nestlé Global Research, the startup AC Immune is developing innovative therapeutics with "best in class" potential against Alzheimer's Disease and other conformational diseases along three axes: vaccines, antibodies and small molecules.
NovImmune, founded by cDNA cloning inventor Bernard Mach, specialises in discovering and developing compounds to treat the underlying causes of inflammatory diseases and immune-related disorders and AC Immune is a biopharmaceutical company and a leader in Alzheimer's disease (AD) drug development, developing innovative therapeutics against AD along three axes: vaccines, antibodies and small molecules, was elected by the World Economic Forum as Technology Pioneer 2009 for its accomplishments as an innovation leader and for its breakthrough technologies.
It is this particular blend of academic knowhow and commercial savvy that is the reason why molecular diagnostics and point of care testing are specialties of the region, with companies like Abionic, Augurix and Biocartis working closely with leading academic institutions to leverage knowledge and science.
The Swiss Institute of Bioinformatics (SIB) manages several bioinformatics core facilities that help scientists around the world conduct their research and analyse their data, helping scientists under stand cellular biology and systems.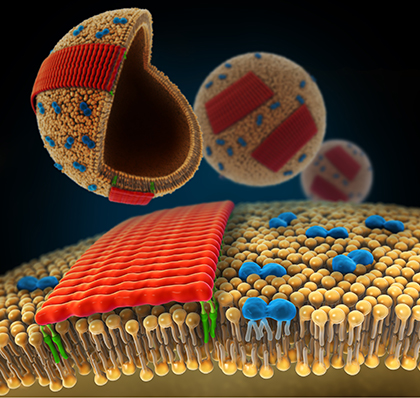 AC IMMUNE Leader in precision medicine of neurodegenerative diseases
Co-founded in 2003 by CEO Prof Dr Andrea Pfeifer, recognised in 2009 as Technology Pioneer by the World Economic Forum and other recognitions such as the BioAlps Award 2013, AC Immune is dedicated to improve the lives of patients suffering from Alzheimer's and other neurodegenerative diseases. AC Immune closed with their partner Genentech an exclusive out-licensing agreement ($300 million) for its anti-Abeta antibody in 2006 and a second exclusive worldwide license agreement, research and commercialisation collaboration for anti-Tau antibodies ($418 million) in 2012 and a licensing agreement for anti-Tau therapeutic vaccine ($509 million) with Janssen Pharmaceuticals in 2015. Following its initial public offering on the NASDAQ in 2016, they raised approximately another USD 57.8 million. The Company's pipeline features nine therapeutic and three diagnostic product candidates to address a broad spectrum of neurodegenerative indications to prevent and modify diseases caused by misfolding proteins, such as Alzheimer's disease with four candidates in clinical trials.
Ground-breaking research leads to the market
The complex field of immunology benefits from the cutting edge research available in Western Switzerland, offering the opportunity to discover new products. The combined strength of the region's research institutions, teaching and research hospitals, and technology centres, provide an environment conducive to research and development, with to bring new diagnostics, vaccines and treatments to world markets.
The lists below are non exhaustive and showcase some examples of the work being done in the region.
Find more information in our extensive databases: bioalps.org/community and, for the six Alpine regions, alpslifesciencesearch.com
Academic institutions at the forefront of immunology in western Switzerland
Department of Pathology and  Immunology
Cell biology, T-lymphocytes, growth factors, role of interleukin, general immunology and immunopathology
University Hospital Geneva HUG
Department of Medical Specialties, Division of Immunology and Allergy
Immunologic mechanisms and clinical outcome associated with living donors, ABO-incompatible grafts and xenotransplantation
Ecole Polytechnique de Lausanne EPFL
Host-pathogen interactions, innate and acquired immunity, HIV, tuberculosis and malaria
University of Bern UNIBE and University Hospital Bern (Inselspital)
University Institute of Immunology
Antbodies, antigens, growth factors
B-cell, antibody, T-cell and lymphokine research
University of Lausanne UNIL and Ludwig Institute for Cancer Research LICR
The Ludwig Center for Cancer Research of the University of Lausanne (LICR@UNIL)
Cancer immunobiology and immunotherapy
University Hospital of Lausanne CHUV
Immunology and Allergy Research (IAL) and
Antiviral immunity, tolerance in allergy and transplantation, mucosal immunity, T-cell activation and signal transduction and vaccine
Vaccine and Immunotherapy Center (VIC)
Vaccinology and translational research
University of Lausanne UNIL , University Hospital of Lausanne CHUV Ecole Polytechnique Fédérale de Lausanne EPFL, Ludwig Institute for Cancer Research LICR
Swiss Vaccine Research Institute (SVRI)
Immunology, HIV, malaria, TB and cancer vaccine development, of virology and of adjuvant/delivery technology
Sample list of large and small companies in the immunology field in the Bioalps cluster
AC IMMUNE
High affinity ligands and misfolded Abeta protein, SupraAntigenTM Technology and the chemical MorphomerTM platform
MERCK
Novel therapeutic based on drugs modulating pathogenic mechanisms in rheumatologic diseases and autoimmune pathologies
ADC
Antibody drug conjugates (ADCs) for treatment of solid and hematological cancers
NOVIMMUNE
Therapeutic monoclonal antibodies for the treatment of inflammatory diseases and immune-related disorders
DEBIOPHARM
Drugs for indications in therapeutic areas: immunology, metabolism, infectious diseases
UCB FARCHIM
Innovative medicines and solutions to treat severe diseases of the immune system or of the central nervous system
VIFOR PHARMA
Fermentation, isolation and purification processes for bacterial products, analytical and immunopharmacological characterisation
The fact sheet provides a view of the key players in the sector at any given time; it is not comprehensive and is subject to regular updates.
This current edition was produced in Autumn 2019.