High innovation and strong growth

Medical technology, often called medtech, has the highest density ratio per inhabitant of companies in the sector1, with some 3'700 companies employing 51'000 people in the whole of Switzerland. On average, over the last ten years medtech has contributed 2% to Swiss GDP and 5.5% total export value, while 13% total revenue in the field was invested in R&D. For example, the world's first cardiac stent was developed in Switzerland. In 2011, Switzerland ranked third in the Europe in terms of absolute numbers of medtech patent filings2.
IN 2011, SWITZERLAND RANKED THIRD IN THE EUROPE IN TERMS OF ABSOLUTE NUMBERS OF MEDTECH PATENT FILINGS.
The BioAlps cluster gathers together the competences and know-how of many leading academic institutions; these initiate many medtech research projects with the industry. There are numerous world class medtech companies in the field of implants, hearing aids, lab instruments and non invasive surgical systems in the country. About 10% of the medtech companies based in Switzerland are located in the BioAlps cluster, close to leading academic institutions.
More specifically, multinationals such as Medtronic, Edwards Lifesciences, Beckman Coulter, Agilent, Biosensors Europe and Johnson & Johnson have settled their research, development, production, sales and market ing operations within the BioAlps cluster. A multitude of startups are active in fields as varied as cardiovascular health, orthopaedics, oral care, ophthalmology, neurology, metabolic diseases and intensive care. They benefit from the proximity to research projects such as the translational programme on Neuroscience and Neuroengineering at the Ecole Polytechnique Fédérale de Lausanne (EPFL), jointly run with Harvard University. The Inselspital in Bern, Lausanne University Hospital (CHUV) and the Geneva University Hospitals (HUG) regularly set up clinical studies with medical technology partners, with teams dedicated to both research and training.
In the medtech sector, the Western Switzerland region builds on its traditional microtechnology skills to create new products. Such companies as Valtronic or De Puy Groups are situated in traditional watchmaking areas to be able to leverage this very particular expertise.
Furthermore, the National Centre of Competence in Research (NCCR) Robotics3, launched by the Swiss National Science Foundation, is a nation-wide center with the common objective of developing new human-oriented robotic technology for improving our quality of life, has chosen EPFL as the home institution.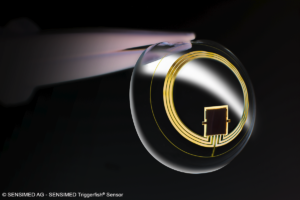 SENSIMED LEVERAGES THE BIOALPS NETWORK
Winner of the 2012 PriceWaterhouseCooper "Coup de Coeur" award and 2010 R&D magazine USA's Award for being one of the top 100 most technologically significant products on the market, Sensimed is revolutionising glaucoma management with its lens to monitor fluctuations of intraocular pressure in glaucoma treatment, the Sensimed Triggerfish® system. Based on research carried out in the EPFL in Lausanne, Sensimed is a spin-off of the institution. The project was initiated after a meeting between ophthalmologists and researchers Matteo Leonardi and Sacha Cerboni. Sensimed Triggerfish® is currently in restricted commercialisation in various countries.
Sensimed has also set up a collaboration with Nidek in Japan to develop the registration path for Sensimed Triggerfish® in Japan and has obtained a CPT-III code in the USA, and is currently in the clearing process with the FDA. Since its creation, the company has successfully raised more than CHF 53 million from venture capitalists within the cluster and abroad.
Cross-fertilisation leads to success
Medtech prospers at the intersection of research, technology and medical need to create innovative products for world markets. Western Switzerland offers a close-knit network of research institutions, teaching and research hospitals, and technology centres, enabling cutting edge research to take place.
The lists below are non exhaustive and showcase some examples of the work being done in the region.
Find more information in our extensive databases: bioalps.org/community and, for the six Alpine regions, alpslifesciencesearch.com
The leading academic medtech research in western Switzerland
Geneva University UNIGE & Geneva University Hospitals HUG
Department of Medicine
Department of Cardiology
Cardiac devices such as heart valves, stents, biodegradable mitral ring, hydrogel product to prevent epipericardiac adherences.
Geneva University UNIGE & Geneva University Hospitals HUG
Faculty of Medicine
Department of visceral surgery
Robotic surgery and endoscopy
Transplantation
Gastric rings and bands
Ecole Polytechnique de Lausanne EPFL
Faculty of Life Sciences Neuroprostheses Centre (CNP)
Cortico-spinal neuroprosthesis, cochlear implants, dexterous hand prosthesis, Rehabilitation using advanced technologies (robotics, electrical stimulation, virtual reality)
Ecole Polytechnique Fédérale de Lausanne EPFL
Faculty of Life Sciences Institute of Bioengineering
Interventional and diagnostic biomedical micro-devices and image processing tools Sensory and motor neuroprosthetics
University of Berne UNIBE/ISTB/IEFM
MEM Research Center Institute for Surgical Technology and Biomechanics & Institute for Evaluative Research in Orthopaedic Surgery
Research, discovery, and invention in the area of biomedical engineering
University of Berne UNIBE & Bern University Hospital (Inselspital)
ARTOG Center for Biomedical
Engineering Faculty of Medecine & Bern University of Applied Sciences
Electronic implants, Biomedical acoustics Tissue engineering, Rehabilitation  engineering
Centre Suisse d'Electronique et de Microtechnique CSEM
MEMS (including Optical MEMS,
BioMEMS, PowerMEMS, RF-MEMS)
Nanotechnology Integrated and Wireless systems
Product concepts such as artificial retinas and hearing aids.
A wide variety of medtech companies in the Bioalps cluster
The fact sheet provides a view of the key players in the sector at any given time; it is not comprehensive and is subject to regular updates.
This current edition was produced in Autumn 2019.