Adapting nature for mankind

Around 100 years ago, simple materials were used for human health and were essentially limited to natural substances such as gold for teeth and cotton for bandages. In today's complex and scientifically advanced world, biomaterials are varied in both origin and use. Biomaterials are used for manufacturing prostheses, implants, stents and drug delivery, as well as wound healing, plastic surgery, tissue engineering, ophthalmology, and neurology. They can be natural (e.g. collagen, cellulose) or synthetic (e.g. metallic, alloy, ceramic, plastic). Biomaterials encompasses a broad band of disciplines in science such as medicine, biology, chemistry, tissue engineering and materials science. Biomaterials must be compatible with the body. Like other health products, they are subject to extensive requirements from the regulatory authorities before being authorised to enter the market.
THE GLOBAL BIOMATERIALS MARKET IS ESTIMATED TO REACH$88.4 BILLION BY 2017. WITHINTHE DENTAL BIOMATERIAL MARKET, SWITZERLANDISDRIVING GROWTH WITHDENTAL BIOMATERIAL PRODUCT
The global biomaterials market is estimated to reach $88.4 billion by 2017 from $44.0 billion in 2012, growing at a CAGR of 15%. Sales of orthopaedic biomaterials are expected to grow about 10% annually and could surpass $10 billion in 2016 with hyaluronic acid viscosupplementation as the largest segment. Within the dental biomaterials market, Switzerland is driving growth with dental biomaterial products such as dental bone graft substitutes, dental membranes, and tissue regeneration materials.
Switzerland is the only country whose population has voted to approve the use of embryonic stem cells for research. The Swiss Stem Cells Network (SSCN), involving seven institutions across Switzerland, focuses on stem cells and regenerative medicine. While some teams investigating animal research, others are carrying out applied research for human health. Stem cells are already used in cosmetology and indeed, biomaterials such as hyuralonic acid and collagen are also contributing to the increase of market share. The neat fit of highly qualified professionals, world class clinics and continuing research makes the area of Western Switzerland particularly attractive.
The Swiss National Science Foundation (SNSF) granted nearly 18 million francs over a four year period to the "MARVEL" project, led by the Ecole Polytechnique Fédérale de Lausanne (EPFL), to develop innovative materials, including in Life Sciences. While the institutions in the region span fundamental and applied research, many companies have developed from high precision technology knowhow combined with scientific ability, providing a combination unique to the BioAlps region. For example, Dentsply Maillefer, a dental supply company, was founded by a watchmaker. It is also this combination that has brought many multinational companies to the region, including Johnson&Johnson, Medtronic and Stryker.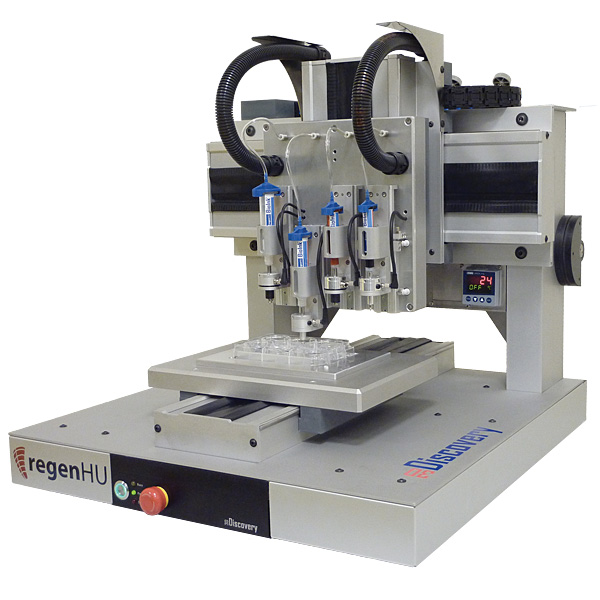 REGENHU - THE BIOSYSTEM ARCHITECT FOR 3D BIO-PRINTING
Based in the canton of Fribourg and led by Marc Thurner, cutting edge company REGENHU resulted from the joint venture between Delta Robotics Ltd and the CPA Group Ltd. A pioneer in its field, REGENHU acts as a biosystem architect exploiting novel bio-manufacturing solutions. It creates biologically relevant tissue models using 3-D tissue engineering that mimics natural morphologic environments of cellular components and organotypic tissue models that demonstrate optimal biological relevance. REGENHU benefits from exclusive patented technologies resulting from many years of research within local and international universities and partners.
Its first activity, in the dental field, resulted in spino company Vivos Dental, whose first 3-D bone graft should be CE marked in 2014. Backed by the CPA Group, REGENHU benefits from the knowhow within the group as well as the close proximity of universities, research labs and business opportunities within the BioAlps cluster. Building on research in Bienne, Geneva and Fribourg, REGENHU delivers products worldwide.
Pushing the boundaries of knowledge and expertise
Biomaterials require cross-cutting research and knowhow, which are available in the many disciplines present in Western Switzerland. Using knowledge from technology, material engineering, high precision manufacturing, biology and chemistry, the region's research institutions, teaching and research hospitals, and technology centres provide an environment conducive to research and development, with a
sharp focus on innovations to bring to world markets. The lists below are non exhaustive and showcase some examples of the work being done in the region.
Find more information in our extensive databases: bioalps.org/community and, for the six alpine regions, alpslifesciencesearch.com
Academic institutions at the forefront of drug delivery devices and development in western switzerland
University of Lausanne UNIL
Unit of Regenerative therapy, Plastic Surgery
Burnt and wound treatment, cell therapy and tissues engineering
Eye Hospital Jules-Gonin Lausanne
Unity of Gene Therapy and Stem Cell Biology
Optical stem cell and regeneration
University of Geneva UNIGE and University Hospital Geneva HUG
Faculty of Medicine Department Dental Medicine
Stem cells and regenerative medicine Wound healing, orthopaedic applications endoscopic bulking agents
Department of Opthalmology
Injectable optical implants
Ecole Polytechnique Fédérale de Lausanne EPFL
Laboratory of Powder Technology (LTP)
Bone substitution materials, templates for bone tissue engineering, and carriers for sustained drug delivery systems
Institute of Bioengineering (IBI)
Micro and nanobioengineering, biomechanics, mechanobiology, prosthetics/neuroengineering, molecular, cell and tissue engineering
Laboratory for Regenerative Medicine & Pharmacobiology (LMRP)
Biomaterials for regenerative medicine and tissue engineering
University of Bern UNIBE and University Hospital Bern (Inselspital)
ARTORG Center for biomedical engineering and Research
Artificial hearing research
Haute Ecole d' Ingénierie du Valais HES-SO Valais
Institut Life Technologies (ITV)
Biopolymers from Syngas fermentation
School of Engineering and Architecture
of Fribourg
Institute of Applied Research in Plasturgy ( iRAP)
Sampling list of large and small biomaterials companies in the Bioalps cluster
ANTEIS (MERZ PHARMA)
Wrinkle-filling gels, resorbable implants and cutaneous rehydration gels
CENDRES + METAUX
Micromechanical, customer-specific (OEM) components from high-quality materials
EXCELLNESS BIOTECH
Cell culture imitating the viscoelastic properties of tissues in the human body
The fact sheet provides a view of the key players in the sector at any given time; it is not comprehensive and is subject to regular updates.
This current edition was produced in Autumn 2019.