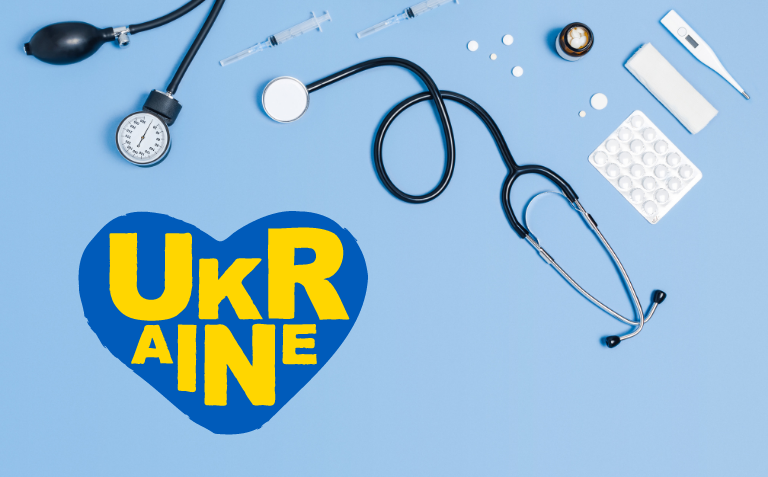 Medical devices for Ukraine

The Ukraine Embassy launches an appeal for donations
Collection points in Switzerland
The war in Ukraine has thrown millions of people into exile and the health situation there is dramatic. There is a shortage of medical devices needed for basic care, transport and treatment of the wounded, and intensive care. In this context, the Ukrainian Embassy has launched an appeal for donations of medical equipments and medicines. Two collection points in Bern are open:
For medicines and foodstuffs
Fischermätteli 6, 3008 Berne, from 8:00 am to 7:00 pm
For large quantities of goods
BERN EXPO, Bern, from 9 am to 5 pm.
Ideally, the goods should arrive already palletized in foil and with an accompanying card describing the contents. Further transport to Ukraine is assured.
In Geneva, the Humanitarian For Empowerment Foundation is also collecting medical devices and supplies that can be brought to the Permanent Mission of Ukraine. 
Donations of medicines from individuals are not desirable. But the general public can participate by donating money to la Chaîne du Bonheur. The organization works in partnership with Swiss organizations, which in turn collaborate with NGOs in the field, who know the needs of the population concerned.
Mobilization of Western Switzerland's hospitals
In the canton of Jura, 450 kilos of medical equipment were sent on Monday. "Four pallets were loaded, with medicines, disinfectant, gloves, gowns, flashlights and batteries, etc. These items are currently missing and meet the announced needs on the ground to treat the population," wrote the Jura Hospital in a post on its LinkedIn account.
For its part, the State Council of Vaud has released 800,000 francs for emergency medical equipment for Ukrainian hospitals. On March 4, the University Hospital of Vaud (CHUV) sent a first shipment of 60 pallets. Another shipment is scheduled for Thursday morning. Several batches of medicines have also been sent to Lviv, Poltava and Kharkiv. In Fribourg, a collection of material is underway.
The HUG, which has a team of professionals trained in humanitarian emergencies, has also made personnel available.
Contacts:
Ukraine Embassy, Bern, Mrs Alona Bidnova.
Humanitarian For Empowerment Foundation, Geneva, Dr Naiken Surennaidoo