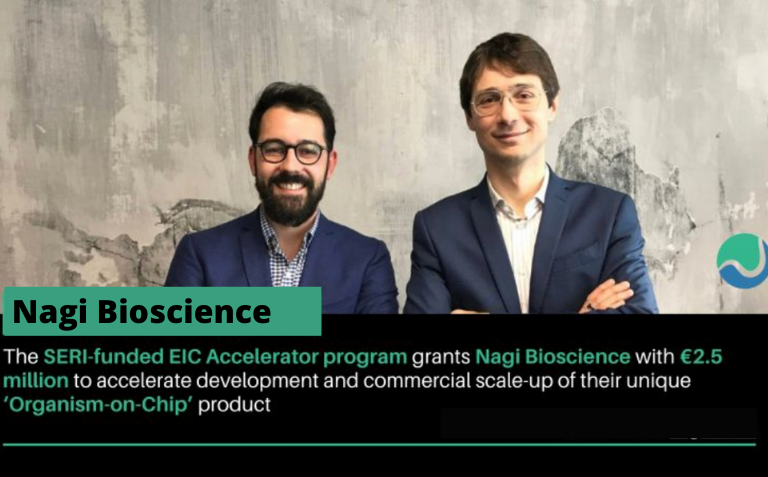 Nagi Bioscience won a € 2,5 million grant from the EIC Accelerator

The company revolutionizes pre-clinical testing with its pioneer Organism-on-Chip technology
Nagi Bioscience has been bestowed the prestigious and highly selective EIC Accelerator Grant supporting breakthrough innovation in Europe, funded by the Swiss State Secretariat for Education, Research and Innovation (SERI) for Swiss Startups, for its pioneer Organism-on-Chip technology.
The EPFL spin-off uses C. elegans, a small worm about one millimeter long, which shares 70% of its genetic material with humans, to run pre-clinical tests.
Nagi develop scalable and customizable assay systems using C. elegans and other microorganisms within miniaturized chips as a new sustainable alternative to traditional animal testing, in a fully automated and standardized way to provide drug and chemical discovery with in vivo biological data.
The solution aims to challenge the current biological testing standards while reducing costs, delays and ethical impact of product development pipelines across multiple industrial segments.
The EIC Accelerator Grant will help the Lausanne-based company accelerate the development of its biological testing devices, and to make them available to a broader group of toxicology testing laboratories and biopharma companies.
Founded in 2019, Nagi Bioscience started as a spin-off of the Ecole Polytechnique Fédérale de Lausanne (EPFL) pioneering the alternative biological testing landscape for the past 10 years. With its innovative Organism-on-Chip technology, Nagi aims to revolutionize the way new substances (drugs, cosmetics, chemicals, etc.) are tested today using microorganisms (C. elegans).
The SERI-funded EIC Accelerator program provides financial and networking aid for project development and scaling up costs. The program is known to be not only highly competitive but also to have a notably challenging application process in order to guarantee quality and success rates.