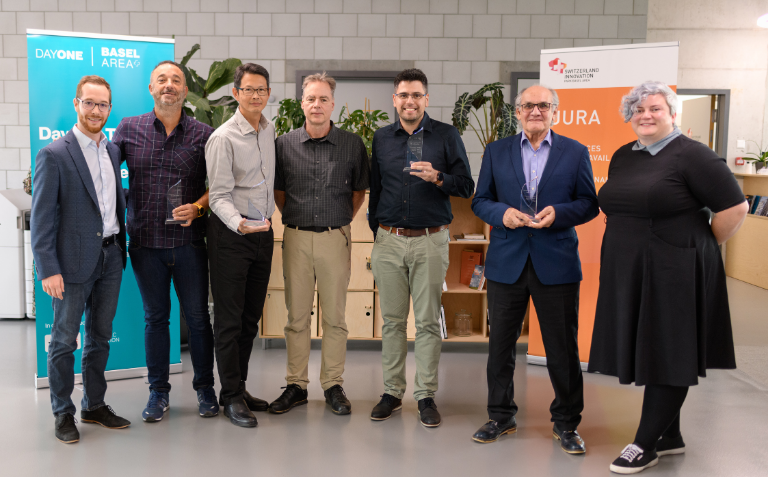 4 new Medtech Start-Ups join the DayOne Tech Accelerator in Canton of Jura

The DayOne Tech accelerator for medtech project is a pillar of the Jura's medical technology economy. Four new start-ups joined the programme and the six companies already involved in Courroux. They begin a 12-month acceleration programme with expert support. The aim is to propel them into the ranks of successful companies.
Xana Smart Neurostimulation  is a medical company developing intelligent non-invasive neurostimulation systems to treat a wide range of neurological diseases. The XanaStim team is made up of world-class medical and scientific experts and is supported by a strong advisory group within prestigious international bodies.
AIMorphous Health SA develops a medical device powered by artificial intelligence to alleviate the health and social burden of cardiovascular disease and unwanted blood clots (aka thrombosis). The company's devices and expertise help healthcare professionals and patients at the point of care to monitor and predict the risk of thrombosis before a stroke or heart attack occurs.
OncoSwab is revolutionising the way we detect lung cancer by developing an accessible and cost-effective pre-screening system. The company's innovative approach uses body fluids to detect cancer biomarkers in the early stages of the disease, enabling early intervention and reducing the use of expensive X-rays. By offering an affordable and accurate alternative, the company aims to facilitate the early detection of lung cancer in several countries, reducing the costs and burden on healthcare systems.
ClotX Sàrl develops a revolutionary medical device that eliminates thrombi and emboli from blood arteries, in particular venous thrombosis. It stops the flow of blood during clot removal to prevent embolisms. The device is indicated for the removal of fresh thrombi and organised thrombi blocking the artery, vein or inside stents.
The canton of Jura is determined to boost the region's medical sector, thereby reducing the dependence of local industry on the economic cycles of the watch market. Companies operating within the Switzerland Innovation Park Basel Area, based in Courroux, have fostered fruitful collaborations with Jura subcontractors as well as with regional institutes such as the HE-Arc and the CSEM. Several projects and investments supported by Innosuisse have already seen the light of day, testifying to the undeniable development of this fast-growing ecosystem.
Source: Press Release
▶️ More information about the accelerator