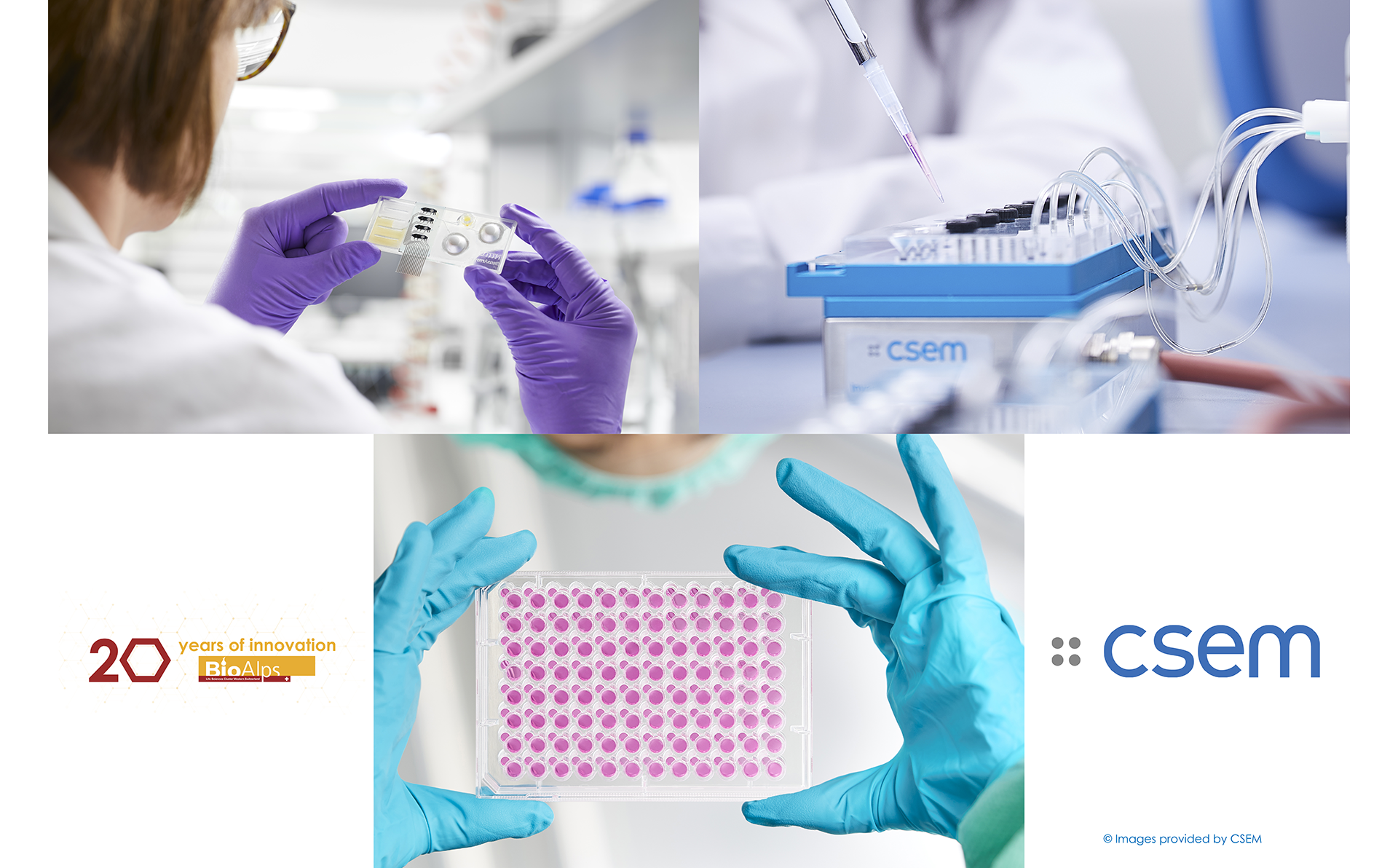 BioAlps | 20 years of innovation | CSEM

Supporting the Life Sciences industry with cell-tech, biomonitoring and lab automation know-how
We are pleased to share with you our new testimonial series as part of our ecosystem's 20th anniversary celebrations. The series aims to provide a platform for regional Life Sciences key players to present themselves, share their perspectives on the development of Western Switzerland's Life Sciences ecosystem and their outlook on upcoming challenges and opportunities. The following article is presented to you by CSEM.
Presentation of CSEM's activities
CSEM is a Swiss research and development center active in the fields of precision microfabrication, digitalisation, and renewable energy. In Life Sciences, our focus is on cell technologies, biomonitoring, and laboratory automation. From concept to prototyping and validation in biosafety level II laboratories, CSEM helps industry innovate and develop new Tools for Life Sciences, which target patient-centered healthcare.
Major Life Sciences trends and developments
Personalised medicine is on the verge of revolutionising the healthcare system by considering not only individual gene variability but also your health history, gender, or even lifestyle. In addition to advanced genomics methods, this trend is fuelled by progress in point-of-care diagnostics and digital health, which are improving at-home monitoring, as well as advancing organ-on-chips and organoid technology that model and mimic the response of individual organs or a group of organs in reaction to therapies.
Furthermore, regenerative medicine is constantly developing, acquiring new solutions from emerging technologies. Combining micro- and organoid technologies, CSEM develops automated and standardised tissue engineering platforms. The rising complexity of biological processes and smaller batch sizes have led us to shift our development from high throughput towards flexible systems that can dynamically reconfigure to changing conditions. CSEM combines its expertise in micro- and digital technologies to deliver next-generation laboratory systems.
CSEM's contribution to Life Sciences in Western Switzerland
From concept to prototyping and validation in biosafety level II laboratories, CSEM supports Western Switzerland's industry in innovating and developing new products for the Life Sciences domain. Examples of companies supported by CSEM: Aktiia, Advanced Microfluidics SA, SUN Biosciences, INVENesis, REGENHU, Testmate Health, Bionomous, Adamant Innotech, and many others…
Significant foreseeable trends and challenges in Life Sciences
We are all unique. Personalised medicine is a modern approach to healthcare that considers the individual genetic makeup of each patient. Today, CSEM converges precision manufacturing and digital technologies with Life Sciences to enable new solutions. Moving healthcare towards a predictive, participatory, and preventive system represents a major opportunity for the Swiss industry. Currently, the main risk lies in the unclear relationship with the European Community and in particular the access to the EU market for Swiss startups.
Major events which have contributed to the development of Life Sciences
The Swiss Point-of-Care symposium organised alternatively in Western and Eastern Switzerland is a must event for the community. We saw also the need for a new event series: Next Gen Organ-on-Chip and Organoids. The first two editions were in Neuchâtel and Geneva with the wish to change locations to serve the whole Swiss ecosystem (including Western Switzerland).
How will CSEM evolve to meet the new demand for personal health in a growing, interdisciplinary market?

CSEM has realised that new Life Sciences solutions increasingly require a convergence of medicine/biology with technology. To be quick in developing new solutions, the Life Sciences industry (and particularly startups) need strong technological partners with innovative but mature technology platforms. CSEM has recognised this need and defined three technology platforms to support the Swiss Life Sciences ecosystem. CSEM is investing strongly in these platforms to respond to the challenges of tomorrow and is positioning itself as a leading partner for innovation in the field of Life Sciences.
CSEM's recommendations
Innovation in Life Sciences increasingly requires a multidisciplinary approach. Working with the right partners, including across organisational boundaries is often a must for success.