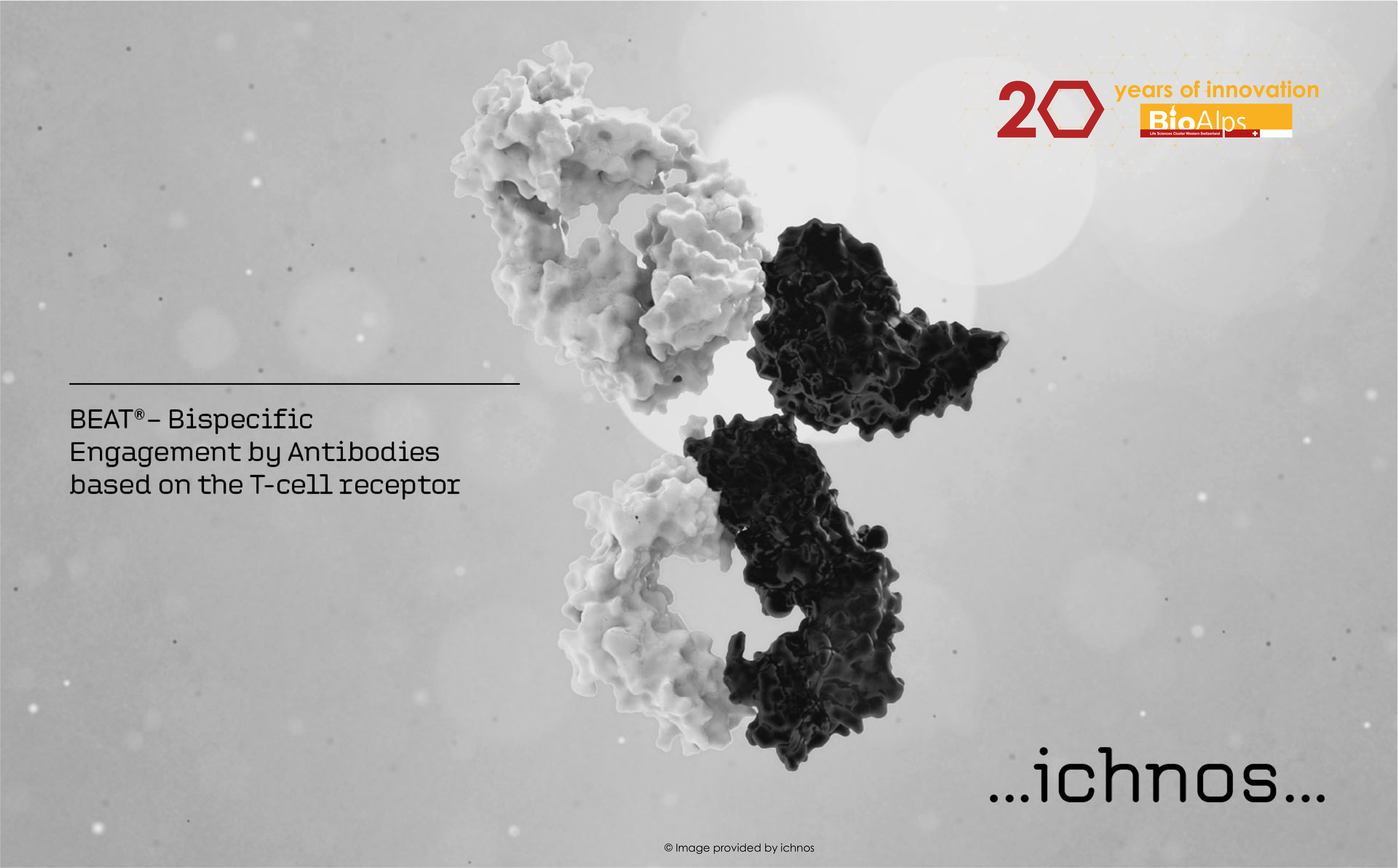 BioAlps | 20 years of innovation | Ichnos

Developing first-in-class bi-/trispecific antibodies to treat cancer patients
We are pleased to share with you our new testimonial series as part of our ecosystem's 20th anniversary celebrations. The series aims to provide a platform for regional Life Sciences key players to present themselves, share their perspectives on the development of Western Switzerland's Life Sciences ecosystem and their outlook on upcoming challenges and opportunities. The following article is presented to you by Ichnos.
Presentation of Ichnos' activities
Ichnos is a clinical stage biotechnology company focused on developing first-in-class bi-/trispecific antibodies to treat cancer patients using our proprietary BEAT® platform[i]. We're forging a new course that looks at disease holistically and helps create solutions that address all its effects, bringing the courage to take scientific risks and pursue the greatest of challenges.
[i] Bispecific Engagement by Antibodies based on the T-cell receptor
Major Life Sciences trends and developments
Using artificial intelligence, we now have the ability to identify new targets in cancer much more rapidly and efficiently than in the past. This creates an enormous opportunity for companies such as Ichnos, enabling us to quickly create and produce new bi-/trispecific antibodies that are truly unique and have enormous potential for creating more complete and durable responses in hematologic cancers and solid tumors.
Ichnos' contribution to Life Sciences in Western Switzerland
In addition to our development arm in the US, Ichnos employs approximately 200 scientists across our two locations in Switzerland, one in La Chaux-de-Fonds, and the second in Epalinges. This facilitates Ichnos' objectives of playing an active role in the Life Sciences sector in Western Switzerland, and creating an environment that enables the tremendous talent pool in the region to really shift medicine forward.
Significant foreseeable trends and challenges in Life Sciences
As we emerge from the pandemic, the trend towards focusing on quality of life and stability in terms of employment and government will continue. In Western Switzerland the culture is one that facilitates a great lifestyle and beautiful environment. This, coupled with the inherent stability and long-standing tradition of precision, make the area an ideal place for Life Sciences companies to be located.
Major events which have contributed to the development of Life Sciences
In the past, there was a strong biopharma presence in Basel with Novartis and Roche. In the past 15-20 years the industry has broadened as the foundation expanded to biotech centers of excellence that leverage the long-standing scientific tradition of Switzerland.  In turn, this created more interest and excitement, attracting talent and investment. We expect this trend to continue.
How will Ichnos evolve to meet the new demand for personal health?

We aim to develop highly differentiated products for cancer patients who have few options. An extraordinary level of innovation needs to be unlocked for these patients, and Ichnos' mission is to provide not just hope, but cure for as many of them as possible.  We are committed to using our BEAT® platform to evolve with the science to take great leaps forward in oncology.
Ichnos' recommendations
I believe that BioAlps has an opportunity to facilitate further growth in the sector in the region by engaging a broader range of companies in terms of geography. By highlighting the talent pool, excellent quality of life, and thriving scientific community, we can accelerate and expand the investment and activity in the region.