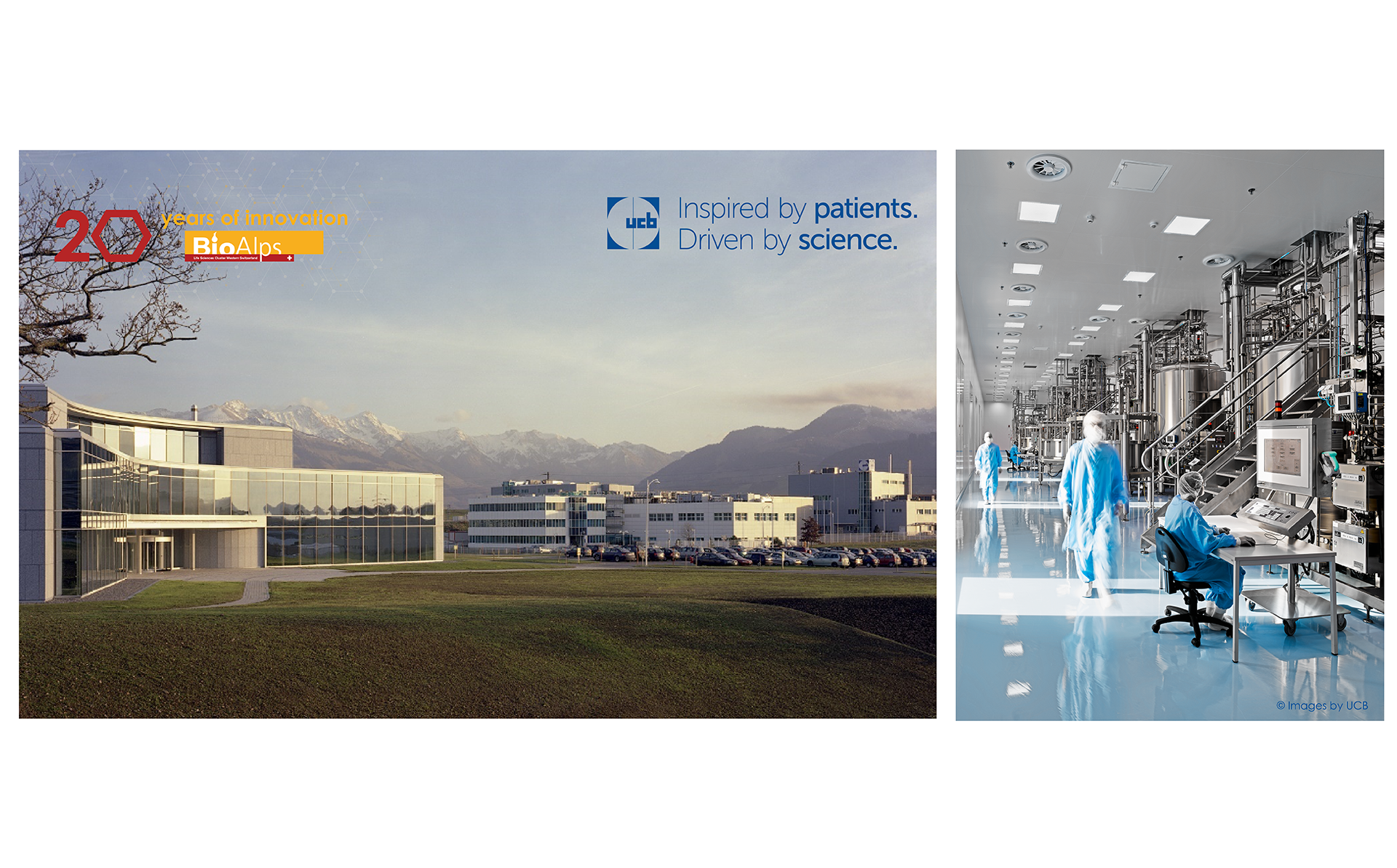 BioAlps | 20 years of innovation | UCB

UCB | Creating value for patients now and into the future
We are pleased to share with you our new testimonial series as part of our ecosystem's 20th anniversary celebrations. The series aims to provide a platform for regional Life Sciences key players to present themselves, share their perspectives on the development of Western Switzerland's Life Sciences ecosystem and their outlook on upcoming challenges and opportunities. The following article is presented to you by UCB.
Presentation of UCB's activities
At UCB, everything we do starts with one simple question: How will this create value for people living with severe diseases?
UCB is a global biopharmaceutical company, focusing on neurology and immunology. Founded in 1928 and headquartered in Belgium, UCB employs more than 7'600 people including 550 in Switzerland. The total revenue of UCB grew to €5.3 billion in 2020.
Manufacturing plant in Bulle (canton of Fribourg)
Since 25 years (1996), UCB has invested more than 600 million CHF in its plant in Bulle (canton of Fribourg) for the construction and the installation of industrial equipment on the cutting edge of techonology and innovation of which 345 million in the biotechnology, becoming a strategic site for UCB thanks to the manufacturing of the main core UCB medicines.
The new biotech manufacturing plant in Bulle inaugurated in 2014 and operational since 2015 allow UCB to deliver a treatment to patients suffering of chronic inflammatory autoimmune diseases such as rheumatoid arthritis, psoriatic arthritis or Crohn disease.
About 140 new employees were hired in Bulle to ensure the production and the technical support of this new product.
Major Life Sciences trends and developments in Western Switzerland and UCB's contributions
Development: The UCB pipeline is very rich with huge potential for people suffering of severe diseases where there are critical unmet needs. Rather than starting researching any new drug with the science alone, we want to better connect patients with science and science with patients. Our researchers are developing a range of novel chemical entities (NCEs) and novel biological entities (NBE) to improve people's lives. Thanks to spare capacity on the Bulle site, a new drug substance in the neurology field will be shortly produced on Bulle Site in addition to the 5 first products in the field of neuroloy, immunology and allergy.
Also this year, the biotech manufacturing plant in Bulle is preparing to integrate a new product which has been in the pipeline for several years in the field of lupus, an inflammatory disease caused by a deficiency in the immune system which affects 2 million people worldwide. This development reflects the UCB commitment to increasingly targeted products for populations suffering from serious and complex diseases.
Significant foreseeable trends and challenges in Life Sciences
Challenges for the next 10 years : with the emergence of the gene therapy, the curative therapy will certainly evolve the world of the pharma indsutry. At UCB, we are already moving towards medicines intended for very specific populations, with increasingly targeted production.
UCB's recommendations
Education: Switzerland is well known as a country with high levels of expertise and education, which makes a critical difference. Productivity, which is very high in Switzerland, is another factor, especially for a company like UCB in the high-tech and high-value business. The training of young people in biotech professions is crucial for the future of this sector in Switzerland.
At UCB, we are Inspired by Patients. Driven by Science.