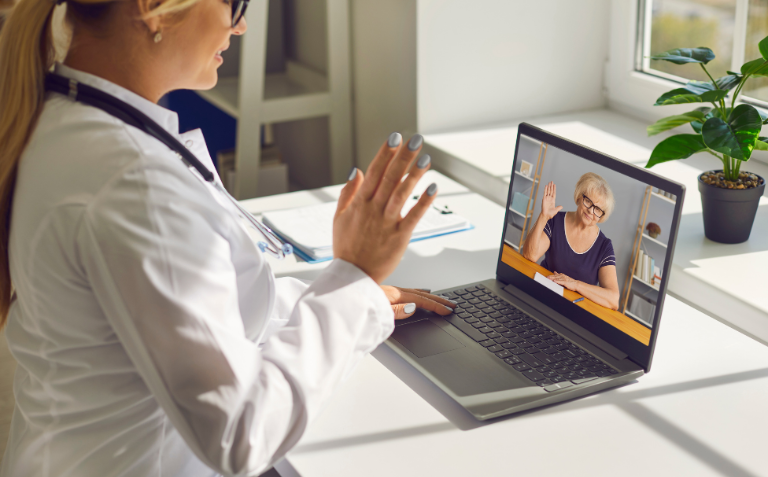 CHUV@home: an application to monitor patients after surgery

Nearly 1,800 people have already used the CHUV@home application since it was launched in 2021. Patients who have undergone surgery can benefit from 24-hour remote monitoring by the nursing team at the CHUV's Centre de télésuivi.
Getting patients home safely is a priority for the CHUV. The CHUV@home application provides support and assistance to patients returning home, giving them the benefit of personalised advice from a nursing team. This new tool is available to patients in several hospital specialities, following hospitalisation or outpatient care.
The application can be used on a smartphone, tablet or computer. Data confidentiality is guaranteed by a secure connection system, and the data exchanged is stored on the CHUV's servers. Downloading is free of charge, and any services rendered are billed in accordance with the rates set by the Swiss Federal Health Insurance Act (LAMal).
Reassuring patients and identifying potential complications at an early stage
Patient monitoring is based on simple, targeted questionnaires, developed by specialists in each discipline according to clinical situations. Their state of health is monitored remotely, for example for pain or the progress of a scar. Patients receive questions every day for around 7 days via the app. If one of the answers generates an alert, the nurses at the remote monitoring centre are immediately informed and quickly contact the patient and the doctor in charge.
CHUV@home can also be used to send photos and ask questions by e-mail. An operated patient receives a lot of information in a short space of time, and sometimes doesn't retain it all," says Loetitia Accrombessi Adjaoute, a nurse at the Remote Monitoring Centre. The application allows them to send a message with their questions and get answers quickly, which is reassuring. For example, one patient couldn't remember when he was supposed to start physiotherapy after his operation. I got back to him within the hour. Patients are reassured by the fact that they can be in touch at any time, both personally and professionally.
Thanks to this new channel of communication, doctors and nurses can detect complications at an early stage and avoid re-hospitalisation or a trip to emergency. "For example, someone who couldn't tolerate their medication was able to receive a new prescription for an alternative treatment very quickly," says nurse Ms Accrombessi Adjaoute.
Specialists available 24/7 from the remote monitoring centre
Initiated in visceral surgery in 2021 and then gradually extended to other specialties, remote monitoring has shown very convincing results in the pilot experiment, particularly in terms of patient satisfaction and reduced use of emergency departments. For this reason, the CHUV@home application is gradually being extended to other medical specialties. For example, it will soon be used in pre-anaesthesia. Currently, 8 surgical specialties at the CHUV are using this digital tool.
The 5 nurses who work at the remote monitoring centre have a variety of careers and backgrounds, and their complementary skills ensure that patients receive responsive and appropriate care. If necessary, they contact the specialist doctors responsible for patients in each discipline directly.
For François Décaillet, head nurse of the CHUV@home project, "this remote monitoring is really the future. It facilitates the transition to home by focusing on the patient's well-being. Few hospitals use it so extensively. As well as responding to needs and questions, the various interactions enable us to take preventive action".
Source: CHUV Press Release