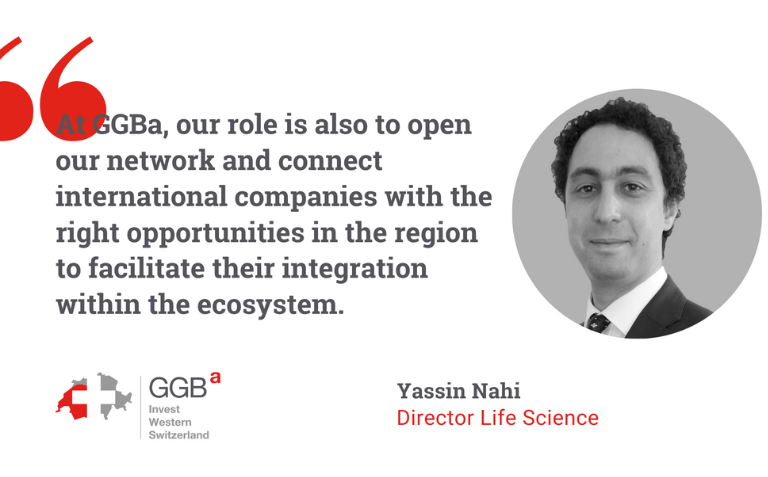 Driving Growth and Innovation: Yassin Nahi's Insights on the Biotech Cluster in Western Switzerland

The Swiss Biotech Report 2023 recently unveiled an impressive portrait of Switzerland's thriving biotech sector. With record revenues of CHF 6.8 billion (USD 7.5 billion), and fundraising of CHF 1.3 billion (USD 1.5 billion), the report highlighted the remarkable growth and resilience of Switzerland amidst global challenges. Indeed, with approximately 47,000 employees, the industry serves as a vital cornerstone of the Swiss economy, contributing to over one-third of the country's economic growth in the past decade.
Primarily driven by the country's strong focus on research and innovation, in comparison to other nations, the Swiss pharmaceutical industry stands out for its high productivity, reliability of its industrial output, and the quality of the batches produced by pharmaceutical and biopharmaceutical companies.
Yassin Nahi, the Director of Life Sciences at Greater Geneva Bern area (GGBa), Western Switzerland's investment promotion agency, assists international companies operating in the Life Sciences sector in establishing their foothold in the region.
Yassin, what are the key factors that make Western Switzerland an attractive destination for Biotech companies?
Switzerland's unique combination of factors makes it an attractive destination for life sciences companies: it has a strong academic and research ecosystem with world-leading universities and research institutions that have generated more than 25 Nobel prizes and field medals. Additionally, Western Switzerland has a favorable business environment, including supportive government policies, integrated life sciences campuses with state-of-the-art infrastructures, access to funding, and a well-developed healthcare system with three out of the five Swiss university hospitals and numerous specialized private clinics.
What specific advantages does Western Switzerland offer international Life Sciences companies compared to other regions or countries? How does your agency leverage these advantages to attract and retain investments in the sector?
Switzerland exemplifies a culture of innovation in both industry and entrepreneurship. The country stands out as the headquarters for 20% of all biotech companies in Europe, showcasing its vibrant biotech sector. With access to exceptional talent, Western Switzerland has witnessed the successful emergence of university spinoffs, some of which have achieved the esteemed status of unicorns, or are listed on the NASDAQ.
One notable advantage is the availability and training of talent for the manufacturing of advanced therapies and the development of bioprocesses. In this field, Switzerland takes the lead, with frequent collaborations between companies and universities to remain at the forefront. A notable instance is Lonza, a major biopharmaceutical company in the area. During the Covid-19 pandemic, Lonza generated 1,200 additional positions at its Visp site to produce Moderna's Covid-19 vaccine. This came after a ten-year agreement with Moderna to provide ingredients for a potential annual production of up to one billion doses of their Covid-19 vaccine worldwide, excluding the United States.
Furthermore, the region's strategic location at the crossroads of Europe provides easy access to global markets. At the GGBa, our role is also to open our network and connect international companies with the right opportunities in the region to facilitate their integration within the ecosystem.
Can you share some success stories or notable achievements in terms of attracting investments, fostering research and development, or creating employment opportunities in the region?
The Life Sciences cluster in Western Switzerland has witnessed several notable achievements and success stories in recent years. Some noteworthy investments include:
Incyte Corporation, an American company, establishing its European headquarters and the first in-house biomanufacturing production facility in Yverdon-les-Bains.
CSL Behring, an Australian company, expanding its production and research and development capabilities for the Northern Hemisphere in Bern.
Thermo Fisher Scientific inaugurating a new biomanufacturing mega site in Lengnau, encompassing a state-of-the-art facility spanning 1.5 million square feet. The site offers Contract Development and Manufacturing Organization (CDMO) services.
CanSino Biologics, a China-based company, establishing its European office within the Global Health cluster of Geneva. This move allows them to collaborate with the World Health Organization (WHO), GAVI, and the Global Fund on the development of new vaccine technologies.
These investments have not only created job opportunities but have also contributed to the advancement of healthcare solutions and to the development & production of innovative therapies for patients across the world.
About GGBa
GGBa actively supports international companies to establish their presence in the region through a range of tailored services. For companies in the Life Sciences sector, the agency provides comprehensive information on the local scientific and corporate ecosystem, market opportunities, and regulatory frameworks. It also facilitates introductions to key stakeholders, such as academic and research institutions, potential business partners, and government authorities.
 Yassin Nahi, Director Life Science GGBa. ©GGBa