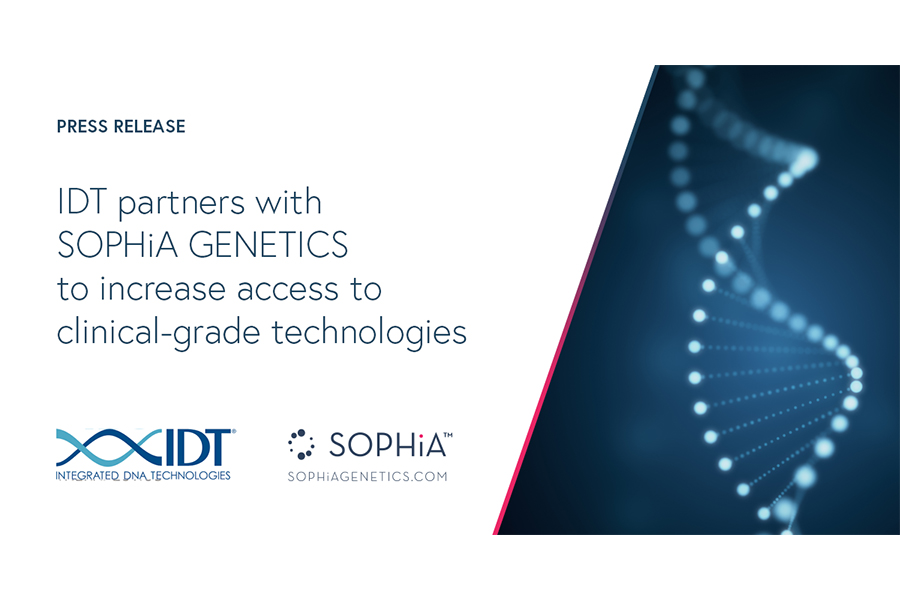 IDT partners with SOPHiA GENETICS | Press Release

IDT partners with SOPHiA GENETICS to increase access to clinical-grade technologies
Leading genomics solutions, combined with advanced analytics, provide benefits to hospitals and patients.
CORALVILLE, IA (January 15, 2020) – Integrated DNA Technologies (IDT), a leading comprehensive genomics solutions provider, announced an expanded global partnership with SOPHiA GENETICS, a leader in Data-Driven Medicine.
Together, the superior enrichment products of IDT combined with SOPHiA GENETICS's universal analytics platform and advanced multimodal solutions, provide powerful solutions for clinical researchers.
When bundling IDT's reagents with the SOPHiA Platform, researchers will benefit from sophisticated analysis technology and the collective intelligence of the SOPHiA community. It will help accurately detect and characterise genomic variants and share insights in the healthcare ecosystem. In addition, users can also take advantage of the SOPHiA Set-Up Program which is designed to support the implementation of Next-Generation Sequencing (NGS)-based testing for genetic diseases. The Set-Up Program is an efficient and reliable process that establishes and demonstrates the analytical performance of a test prior to adoption. The inclusion of superior enrichment products from IDT's NGS portfolio, which meet the highest standards of quality and performance, plays an essential role in bringing accurate and precise solutions to hospitals globally.
More information on IDT and SOPHiA GENETICS websites.