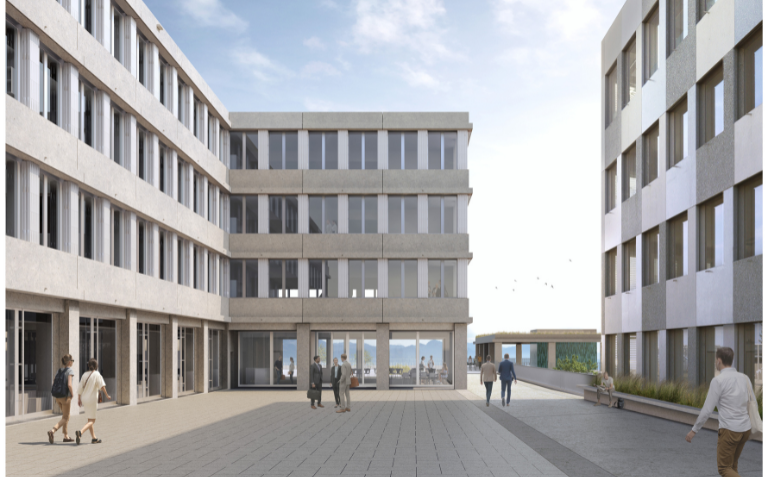 Ludwig Cancer Research and Canton of Vaud Partner to Build a Research Centre

The new centre will be dedicated to synthetic immunotherapy and immune engineering on the Biopôle site in Epalinges.
The building covers more than 9,000 square meters; the future premises will be divided into two main areas, one dedicated to hosting research groups and the other to various platforms, including tools for cell imaging, cytometry and genomics.
It will accommodate 250 researchers by 2024.
The head of the Department of Health and Social Action, Rebecca Ruiz, laid the foundation stone of this building and sealed a time capsule in its foundations, during a ceremony held on Wednesday, March 29, 2023, in the presence of the international representatives of the LICR, Edward McDermott and Chi Van Dang, and the director of its Lausanne branch, Professor George Coukos, head of the Department of Oncology UNIL-CHUV.
Canton of Vaud invests in life sciences
Different sites work in synergy to support life sciences: concentration of basic research forces on the Dorigny campus, grouping of research in immunology, cell therapy and vaccinology in Epalinges and development of clinical and translational research on the CHUV hospital campus (Bugnon site). Several credits granted between 2015 and 2022 will allow the expansion of the dedicated real estate, including the building under construction in Epalinges and two other new buildings, one also planned in Biopôle and the other in Dorigny, as well as the renovation and reallocation of an existing building on the UNIL university campus. The investments approved by the Vaud Grand Council amount to approximately CHF 270 million.
About Ludwig Cancer Research
Present in the canton of Vaud since 1973, the LICR is an international non-profit organization, based in New York, with a capital of over 1 billion USD. The annual income generated by this endowment is entirely devoted to cancer research. The developments of the UNIL and the CHUV in the field of oncology and immunology, their collaboration with the University of Geneva, the Geneva University Hospitals and the EPFL within the "Swiss Cancer Center – Lausanne", confirm the influence of this Lausanne group of scientific and clinical competences, which is now internationally recognized and whose developments have been followed with particular interest by the LICR.
Source: Press Release