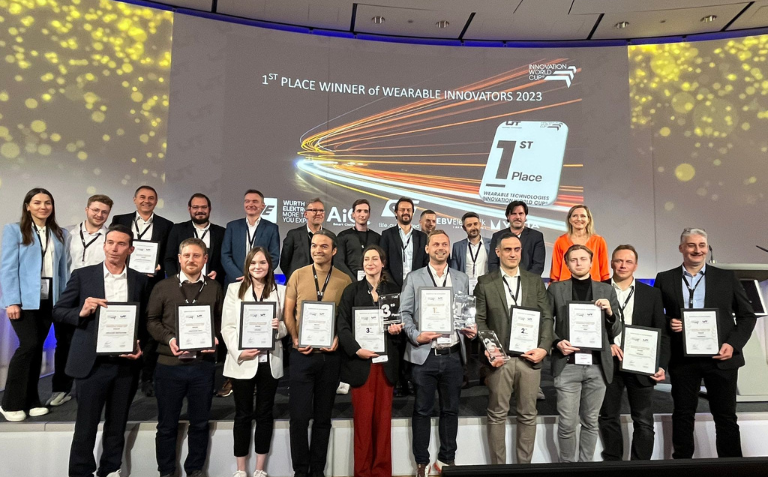 machineMD wins Innovation World Cup 2023

machineMD, a Bern-based medtech company, was awarded the top prize at the prestigious Innovation World Cup® 2023, hosted during the 43rd Wearable Technologies conference in Munich on 24 April 2023.
Europe's Top12 wearables startups gathered for the official WT Innovation World Cup® 2023 Pitch & Award ceremony. These Top12 techpreneurs were selected from over 600 startups, scale-ups, and ground-breaking tech founders and SMEs worldwide who submitted their solutions.
The jury, led by Dr. Sonja Sulzmaier, Managing Partner at Navispace, included senior representatives of Würth Elektronik, EBV Elektronik, HTGF, CSEM,  VARTA AG, and Luxottica. Winners were selected based on their level of innovation, technology, market approach, and sustainability impact.
"This award recognizes the huge potential of machineMD to radically improve the early diagnosis of brain disorders" said Phil Norris, Head of Commercial Strategy, who accepted the award on behalf of machineMD. "Our ambitious goal is propelled to reality through the pioneering work of our team and partners who share our vision." 
machineMD was joined on the podium by HealthTech techpreneurs from Robomed and Noxon. Together, they will now officially be part of the prestigious Innovation World Cup® Hall of Fame and will be promoted by the Innovation World Cup®, WT | Wearable Technologies, along with the IWC Series community partners worldwide. What is more, they will receive significant support from global leading tech experts, potential investors and business partners to advance their innovative solutions in the market.
About The Innovation World Cup® Series
The Innovation World Cup® Series is the world's leading open innovation platform that supports breakthrough innovations to become reality and connect techpreneurs with international tech corporations. The Innovation World Cup® Series was initiated by Navispace GmbH in 2003. Current and previous partners include STMicroelectronics, EBV Elektronik, Würth Elektronik, Microtronics, VOSS Automotive, AiQ Smart Clothing, VARTA Microbattery, Google, Intel, Swisscom, Ericsson, Telefonica, Gemalto, Samsung, and many more.
‍
About machineMD
machineMD is a Swiss medical device company, founded in 2019, that develops innovative solutions to radically improve early detection of brain disorders such as stroke, multiple sclerosis and brain tumors. The company combines Virtual Reality and Artificial Intelligence to empower neurologists and ophthalmologists with reliable diagnostic data.