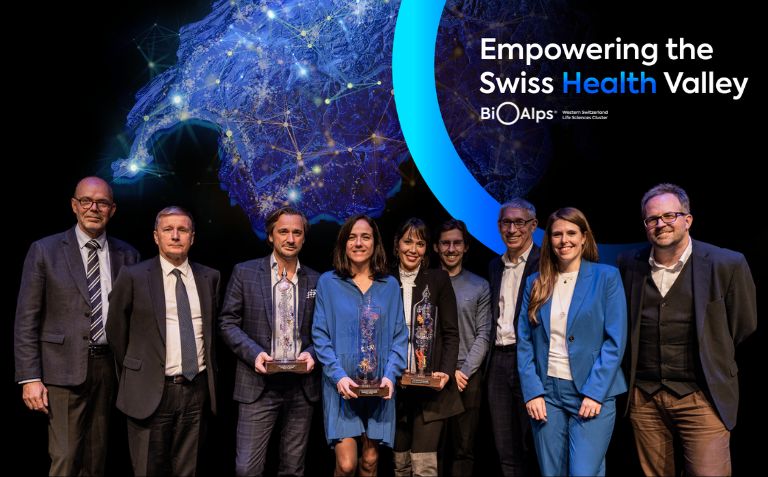 Prof. Jocelyne Bloch and Prof. Grégoire Courtine receive the BioAlps Academia Award, and Incyte the BioAlps Industry Award.

The ceremony closed the BioAlps Networking Day on 24 November 2022 in Neuchâtel, in front of 250 key players of the Health Valley Region.
BioAlps Academia Award 2022
As a teenager, Grégoire Courtine was a Superman fan. The hero was played at the time by Christopher Reeves. A riding accident left the famous actor quadriplegic. The young Grégoire is passionate about neuroscience and decides that one of his quests will be to help paralyzed people walk again.
Jocelyne Bloch, on the other hand, took interest in neuroscience at the age of 15 or 16, when she discovered an article in the magazine Sciences et Vie on new treatments for Parkinson's disease. She decided then to become a doctor.
The duo met in 2012. Jocelyne Bloch was then an accomplished neurosurgeon at the CHUV in Lausanne. Grégoire Courtine was heading a team at EPFL that had just published the results of a study in which paraplegic rats were able to walk again.
The two scientists started the .NeuroRestore research center in partnership with the CHUV in Lausanne, and the EPFL. They initially targeted a partnership with Medtronic to advance their project: making paralyzed people walk again by stimulating the spinal cord with electrodes. But they eventually decided to launch their own start-up: ONWARD.
Their technology, the ARC-EX Therapy system, is designed to deliver targeted, programmed stimulation of the spinal cord to restore movement and other functions in people with spinal cord injury.
Moreover, on 9 November 2022, .NeuroRestore published a study in Nature to unveil that their scientific team had identified the type of neuron that is activated and remodeled by spinal cord stimulation. 9 patients regained motricity after the neurorehabilitation process was completed and when the electrical stimulation was turned off. This suggested that the nerve fibers used for walking had reorganized.
Grégoire Courtine says : "Jocelyne and I share a love for translational research, and we want the results of our studies to be shared as widely as possible. It is an honor to receive the BioAlps Academia Award."
BioAlps Industry Award 2022
Incyte Biosciences International is an American company founded in 1991. The European Headquarter was established initially in Geneva in 2015. Then, with the acquisition of Ariad Pharmaceutical, a company based at Biopôle in Epalinges (VD), Incyte's headquarters were moved to the canton of Vaud's capital.
The company chose the former Pastagala pasta factory in Morges as the location for its new European headquarters. Its production center, based in Yverdon, has been operational since last year, with an investment of more than 150 million Swiss francs. Today, Incyte is present in 14 countries and represents some 2000 jobs, 300 of which are in Western Switzerland.
Michael Morrissey, Head of Global Technical Operations, says: "The establishment of a company like ours is not a coincidence, whether it is in Geneva or the canton of Vaud. It is thanks to all of you here. You have built this pole of competence and knowledge that we call the Health Valley, which allows us to build and flourish. We are the latest to arrive, and we hope that our company will bring as much to the territory as it has already received."
Picture (left to right) – ©Quentin Bacchus
Prof. Antoine Geissbuhler (moderator of the day), BioAlps President.

 

Michael Morrissey, Executive Vice President and

 

Head of Global Technical Operations – Incyte

Prof. Grégoire Courtine, Director, .NeuroRestore (Ecole polytechnique fédérale de Lausanne and CHUV), Chief Scientific Officer, ONWARD
Prof. Jocelyne Bloch – Neurosurgeon CHUV / Centre hospitalier universitaire vaudois
Axelle Magne de la Croix, Senior HR Director Incyte
Nikola Kostic, Human Resources Coordinator Incyte
Jonathan Dickinson, General Manager Europe Incyte
Magali Bischof, Secretary General, BioAlps Association
Raphaël Conz, Economic Development Officer, @Canton de Vaud