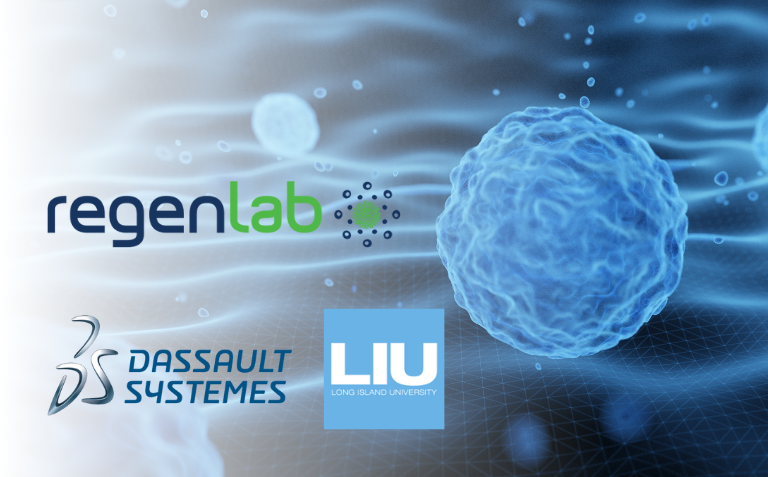 Regen Lab partners with Dassault Systèmes Group

Regen Lab, a Swiss commercial-stage medical technology company specializing in the research, development, registration, manufacturing and commercialization of proprietary tissue engineering products announces that its US subsidiary, RegenLab USA LLC, has entered into a collaboration agreement with Long Island University (LIU) and Dassault Systèmes Group (3DS).
This agreement is the result of an earlier collaboration between LIU and Regen Lab as part of the BioBridge Foundation, a global platform promoting scientific research and medical education specializing in the applications of regenerative medicine, which held its first annual conference at LIU New York last November.
Under the terms of the agreement, LIU and RegenLab USA will share resources to create an industrial innovation accelerator that is a new center of excellence dedicated to regenerative medicine and tissue engineering, the FabLab. Validated and managed by RegenLab USA, this GLP (Good Laboratory Practice) certified accelerator will benefit from the "digital twin" imaging technologies of the "Dassault Systèmes Centre of Excellence" dedicated to Life Sciences, and in particular its Medidata subsidiary specialising in the management of clinical studies, whose notable innovation is the "synthetic" control group thanks to Artificial Intelligence (AI).
Launched by Professor Mohammed Cherkaoui and scheduled to open in September 2023 on the LIU university campus, the FabLab run by RegenLab USA LLC will have two main objectives:
– Carry out pre-clinical biocompatibility assessments and characterization tests and validate new patented processes for growing somatic or stem cells, proteins and biological tissues in an cGLP compliant laboratory;
– Develop implantable processes and biomaterials using new 3D printing and electrospinning equipment, dedicated to minimally invasive medicine and surgery.
"This research partnership brings together LIU's scientific knowledge, Regen Lab's medical expertise and the artificial intelligence developed by our group Dassault Systèmes 3DS, with the aim of activating numerous synergies to improve patient treatment in the field of regenerative medicine," said Jean-Philippe Laguerre, Director of Dassault Systèmes Group.
"We are delighted to be working with such prestigious partners as Dassault Systèmes and Long Island University. The accelerator, which materialises this agreement, will enable us to bring industrial innovations in the field of regenerative medicine to market more quickly, for the benefit of patients," adds Antoine Turzi, CEO of Regen Lab.
`In addition to meeting Regen Lab's innovation priorities in the fields of precision medicine, regenerative medicine and the development of medical devices and innovative therapies, this agreement also includes the setting up of an education program with LIU through the establishment of a Master of Engineering in Regenerative Medicine. This program will promote teaching and research in this branch of medicine at LIU and encourage the development and application of scientific knowledge by the Regen Lab group.
"This three-party agreement strengthens LIU's educational and research program and, together with the FabLab, speeds up the transition from concept to clinical application for the students and companies partnering the accelerator," stated Prof. Mohammed Cherkaoui, Vice President for Scientific Research at LIU University.
About Regen Lab
About Dassault Systèmes
About Long Island University