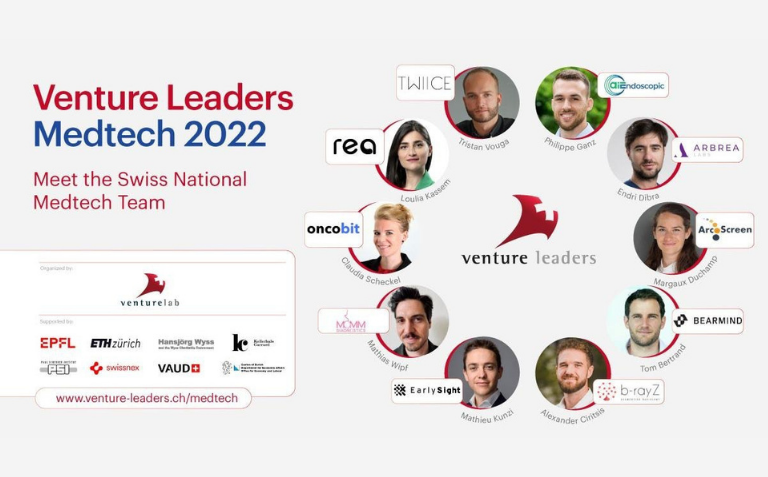 Venture Leaders Medtech Team 2022

Ten startups have been chosen by a jury of investors as the Swiss National Startup Team for Venture Leaders Medtech 2022.
The designated entrepreneurs fly to Boston for a one-week roadshow in June 2022 to accelerate their expansion into the US market and build an exceptional business network through meetings with top-notch investors and industry leaders in the Boston area. 5 Western Switzerland companies are part of the cohort:
ArcoScreen SA : this EPFL (Ecole Polytechnique Fédérale de Lausanne) spin-off developed a new cell membrane receptor screening platform based on microfluidic readout systems and focusing on G Protein-Coupled Receptors also called GPCRs.
Bearmind SA: helps sports clubs control the number of concussive and sub-concussive hits athletes receive, therefore mitigating the risk of long-term brain damages.
EarlySight: a medical device to help doctors detect and treat eye diseases at an early stage thanks to precise measurements of the eye condition with an instrument able to provide a ten times more precise image of the retina than the standard of care.
Rea Diagnostics SA: a wearable, in the shape of a sanitary pad, that tracks biochemical markers of preterm birth (PTB)
TWIICE SA: a modular and customizable exoskeleton for walking assistance that allows people with paraplegia to regain independence in their daily activities
You can also follow aiEndoscopic AG, Arbrea Labs AG,  b-rayZ AG, EarlySight, MOMM Diagnostics, Oncobit AG.
Venture Leaders Medtech is organized by Venturelab and supported by EPFL, ETH Zurich, Hansjörg Wyss, Kellerhals Carrard, Paul Scherrer Institut, swissnex Boston, University of Zurich, Canton Vaud and Canton Zurich.
Over the past 17 years, Venturelab has selected the Swiss National Startup Teams and helped more than 455 entrepreneurs to build their vision and achieve success. Venture Leaders Life Sciences alumni comprise high-flying startups such as AVA, CUTISS, Lunaphore and Volumina Medical