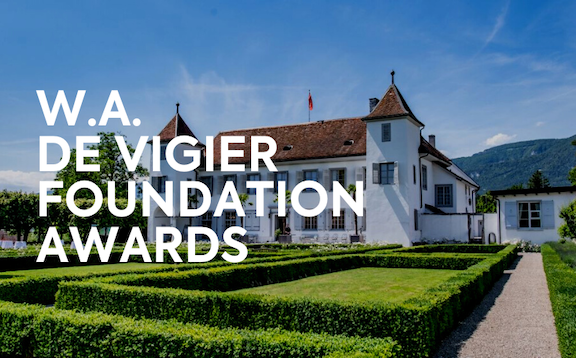 W.A. de Vigier Awards 2023: 7 Western Switzerland Life Sciences Startups Selected

15 startups were selected among 300 projects. 5 of them are set to win CHF 100,000. The Award Ceremony is scheduled on 20 June 2023.
The Top 15 will now be further assessed through in-depth interviews with the foundation board as well as expert reports. The Top 10 are subsequently selected during two presentation days. Mid-May, the ten finalists will be chosen and are going to present their highly innovative ideas at the award ceremony. 7 Western Switzerland life sciences projects are still in competition.
biped AG from Epalinges (VD)
Independence for the Visually Impaired
270 million visually impaired people worldwide face challenges in their daily mobility, like avoiding obstacles and finding their way. biped is a small harness, worn on the shoulders, equipped with cameras. Just like a self-driving car, it can detect and predict all obstacles and play a short "beep" in bluetooth headphones to warn the user. biped is on a mission to support visually impaired people to spend time outdoors stress-free, and ultimately help them discover new places independently.
Gaia Technologies GmbH from Bern (BE)
Turning Agro-Waste into Valuable Ingredients 
Agricultural waste contains a plethora of resources that could replace synthetic compounds used in the cosmetic and food industries, however, this waste mostly gets discarded without being valorized. ETH-spinoff Gaia Technologies is building scalable solutions to enable the industry to replace harmful chemicals with renewable biocompounds. The core of their IP is a fully biodegradable sorbent that can be regenerated several times before serving as soil amendment.
HekeTiss AG from Plan-les-Ouates (GE)
Healing Chronic Wounds with Stem Cell Skin Patches
More than 3 million people in the EU and US alone suffer from severe chronic wounds that do not respond to conventional therapies. HekeTiss has developed TrophiPatch, a skin patch that incorporates fat-derived stem cells obtained from healthy donors, modified through a proprietary technology to increase their healing potential. TrophiPatch works by restoring a functional wound vasculature, a requirement for achieving superior healing in severe patients. This product revolutionizes the field of chronic wound care by improving patients' quality of life while reducing the economic burden on healthcare systems.
Isospec Analytics AG from Denens (VD)
Empowering Biotechnology Through Molecular Intelligence
The analysis of molecules represents most of the workload in clinical labs and is key to early disease diagnosis. However, current databases only cover a small fraction of known molecules, whichlead s to a high percentage of ambiguous results. By using the vibrations of a molecule as a unique fingerprint, Isospec can conclusively assign a molecule's structure via a proprietary database that the EPFL-spinoff develops. This enables the discovery of new disease biomarkers, accelerates the development of therapeutics, and transforms the future of clinical nutrition.
Limula SA from La Tour-de-Peilz (VD)
Cell and Gene Therapy Made Easy
Cell and Gene Therapies (CGT) can save the lives of people with previously incurable conditions, including aggressive cancers. Unfortunately, the production of these highly personalized 'living drugs' is still so complex and expensive that only a small fraction of eligible patients has access to a treatment. Limula is developing a fully automated device that enables manufacturing of high-quality cell therapies at lower costs, on demand and at scale, with the potential to dramatically increase their accessibility.
Lymphatica Medtech SA from Lausanne (VD)
An Implant to Successfully Treat Lymphedema Patients
As cancer treatments get better at saving lives, a disabling side effect is gaining attention: Lymphedema is the chronic and painful swelling of one limb, due to the accumulation of liquid under the skin. No cure is available today, only massages, bandages or ineffective surgeries. Lymphatica engineered LymphoDrain, an implant to replace the function of the damaged lymphatic vessels via a subcutaneous micropump/catheter-based drainage system, controlled by a wearable device. This solution allows cancer survivors to recover from Lymphedema and drastically improve their quality of life.
MachineMD AG from Berne (BE)
Improving the Early Diagnosis of Brain Disorders
Brain diseases need to be treated as early as possible to prevent irreversible damage. Instead, patients face long wait times for appointments, examinations aren't automated, and the diagnosis is often not accurate. MachineMD is developing neos®, a fully automated non-invasive diagnostic device that will measure eye and pupil movements – important biomarkers to diagnose neurological disorders. Eight neuro-ophthalmic examinations will be performed within ten minutes. Today's manual examination that takes about 45 minutes. neos® can be operated by medical assistants, and the analysis will be possible via telemedical services.
About the W.A. de Vigier Awards
The W.A. de Vigier Award is the oldest award for young entrepreneurs in Switzerland and, with annual prize money of up to CHF 500,000 (five times CHF 100,000), is one of the most highly endowed startup prizes in Switzerland. Over the past 34 years, the foundation has distributed over CHF 14 million of seed money. The results are over 100 flourishing startups, successful IPOs, multiple company exits and above all, many newly created jobs.