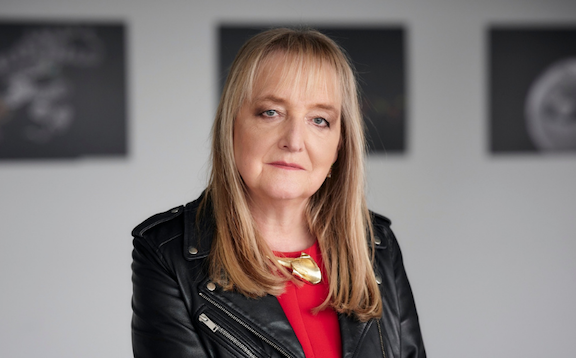 Dr. Andrea Pfeifer received the Aenne Burda Award

The CEO and Director of AC Immune SA was recognized for her work to find treatments for Alzheimer's disease
AC Immune SA (NASDAQ: ACIU), a Lausanne-based clinical-stage biopharmaceutical company pioneering precision medicine for neurodegenerative diseases, announced that Dr. Andrea Pfeifer, CEO and a Director of AC Immune, was awarded the prestigious Aenne Burda Award for Creative Leadership during the 22nd DLD Conference held in Munich, Germany, on 20-22 May, 2022.
Martin Weiss, CEO of Hubert Burda Media, commented: "Aenne Burda, was a trailblazing role model for women at a time when they were first emerging as professional leaders. We are honoring Dr. Andrea Pfeifer, with this award which recognizes her leadership as CEO and Founder of AC Immune, and her pioneering work, determination, and influence in the field of neurodegenerative diseases, such as Alzheimer's and Parkinson's, which have profound health, social and economic impacts on our global society."
Prof. Monika Bütler, Member of the Board of Directors at AC Immune said: "We are proud that our CEO, Andrea Pfeifer, received this prestigious award. She is a globally recognized strategic leader, opinion maker, a catalyst in the challenging field of neurodegenerative diseases, and a source of inspiration to us all. Most importantly, we welcome this influential award as an act of advocacy to support efforts worldwide to address the global pandemic of neurodegenerative disease with urgency."
Two decades of battling Alzheimer
The Aenne Burda Award for Creative Leadership stands for courage, creativity, optimism, and the uncompromising belief in realizing creative goals. These attributes distinguished Aenne Burda as a female entrepreneur who is a source of inspiration for women of all generations. It is the first time a leader in Biotechnology will be honored with this award.
Dr. Pfeifer was recognized for her role in developing AC Immune, a company she has led since 2003, into a global pioneer of new diagnostics and treatments for neurodegenerative diseases, including Alzheimer's and Parkinson's diseases. Neurodegenerative diseases are a silent, worldwide pandemic that increasingly impacts health, lifestyle and global economics.
In leading AC Immune, Dr. Pfeifer has overseen the integration of deep scientific knowledge, cutting-edge technology platforms and industrial drug development capabilities, enabling the development of one of the largest and most promising pipelines focused on neurodegenerative diseases in the industry, including multiple investigational vaccines, antibodies, small molecule drugs and diagnostic agents. Her global influence and dedication in the search for treatments for neurogenerative disease are widely acknowledged.
About AC Immune SA
AC Immune SA was founded in 2003 by Dr. Andrea Pfeider in Lausanne and is a clinical-stage biopharmaceutical company, that aims to become a global leader in precision medicine for neurodegenerative diseases, including Alzheimer's disease, Parkinson's disease, and NeuroOrphan indications driven by misfolded proteins. The Company's two clinically validated technology platforms, SupraAntigen® and Morphomer®, fuel its broad and diversified pipeline of first- and best-in-class assets, which currently features ten therapeutic and three diagnostic candidates, six of which are currently in clinical trials. AC Immune has a strong track record of securing strategic partnerships with leading global pharmaceutical companies including Genentech, a member of the Roche Group, Eli Lilly and Company, and Janssen Pharmaceuticals, Inc., resulting in substantial non-dilutive funding to advance its proprietary programs and >$3 billion in potential milestone payments.