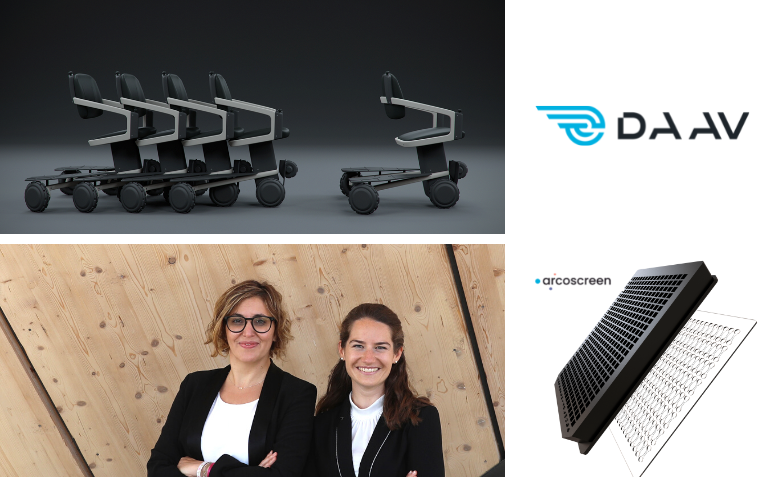 ArcoScreen and DAAV are FIT

ArcoScreen and DAAV both receive a Tech Seed loan of CHF 100'000 from the Foundation for Technological Innovation (FIT).
ArcoScreen provides a solution to simplify the identification of promising drugs and DAAV develops a wheelchair to facilitate mobility for people with mobility issues in places such as airports.
ArcoScreen
Arcoscreen's mission is to help pharmaceutical companies identify promising G protein Coupled Receptor (GPCR) drugs in primary cells to get faster from research to clinical trials. The GPCRs (G protein-coupled receptors) regulate multiple functions in humans, and are the most effective drug targets for treating diseases such as cancer, Parkinson's and Alzheimer's.
The ArcoFlow technology revolutionises GPCR screening by identifying a drug's mode of action (i.e., the effect of a drug inside a cell) in a single assay directly performed in-vitro on patient cells and not in standard cell cultures. Compared to conventional tests, this technology allows the identification of GPCR-activating molecules in just a few minutes by directly identifying the mode of action of the compound tested. The use of primary cells increases the predictability of clinical trial results by 50%. The earlier failure is identified, the less time is lost and the lower the costs are.
The CHF 100'000 FIT loan will be used in combination with other fundings for the industrialization of the company technology, through the generation of a first industrial prototype, its evaluation and ultimately the acquisition of their first customers.
DAAV
DAAV is an EPFL spin-off is on the mission to enhance the quality of life for people with disabilities and provide inclusion to simply enable users to have an equal chance for enjoying their lives when they travel. The company developed an autonomous electric wheelchair that provides the highest level of maneuverability for its users: they can move in any direction desired without changing course.
Over 400M people worldwide have a mobility impairment today, and this number is rising as the population ages. Every year, aviation companies spend a significant amount of money to provide services for people with reduced mobility and these services are all too often unsatisfactory for the passengers and costly for the companies. Top 10 European airports are spending more than CHF 100M on providing PRM services.
The FIT loan will finance DAAV's market entry as well as test drives at Zurich airport and the recruitment of talents.
Source: Press Release