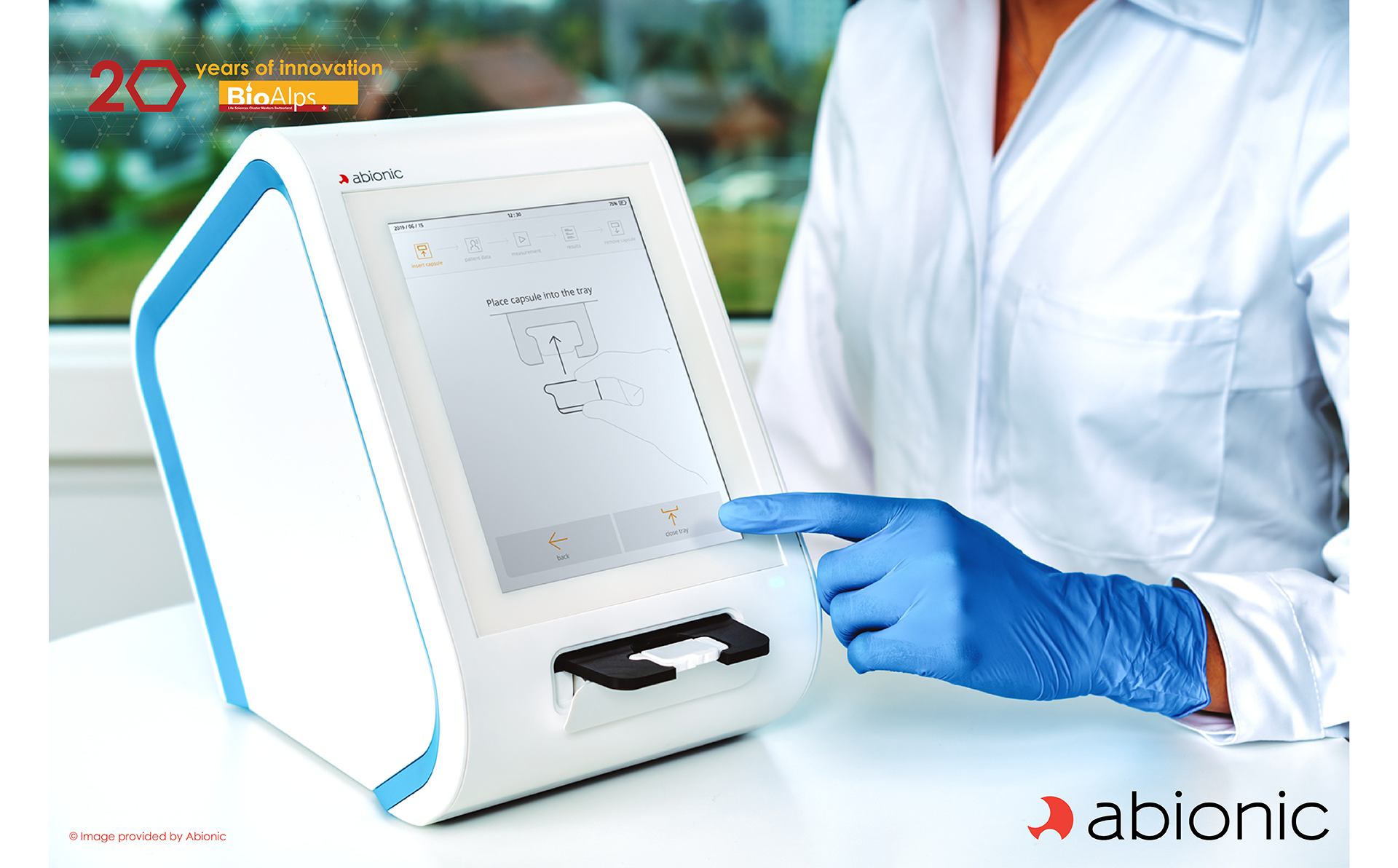 BioAlps | 20 years of innovation | Abionic

Nanotechnology to detect sepsis in 5 minutes from one drop of blood
We are pleased to share with you our new testimonial series as part of our ecosystem's 20th anniversary celebrations. The series aims to provide a platform for regional Life Sciences key players to present themselves, share their perspectives on the development of Western Switzerland's Life Sciences ecosystem and their outlook on upcoming challenges and opportunities. The following article is presented to you by Abionic.
Presentation of Abionic's activities
Swiss-based scale-up Abionic has developed a nanotechnology, which makes it possible to detect sepsis in five minutes, from a drop of blood, 24 to 72 hours earlier than current methods. The company helps prevent sepsis and septic shock, which is responsible for 11 million deaths worldwide each year.
Major Life Sciences trends and developments
The major trends in the field of in vitro diagnostics in recent years have been marked primarily by the COVID-19 crisis. The testing strategy was a key part of the solution. Molecular and antigenic tests quickly gained acceptance and the public who discovered them became aware of their importance. Rapid antigenic tests, which were primarily referred to as pregnancy tests, are now used for a wide range of diagnostic and screening purposes. The simplicity of this technology has allowed many companies, especially Chinese, to manufacture millions of tests and to have them used outside hospitals and healthcare centres. However, regulations have also evolved, becoming more and more restrictive for manufacturers. By meeting these increased requirements and by benefitting from the easier access to testing methods, Abionic has been able to position itself as a future leader in medical diagnostics field. The future of diagnostics is to provide highly accurate, cost-effective, on-site results as quickly as possible. The medical revolution is underway and Abionic has an important role to play.
Significant foreseeable trends and challenges in Life Sciences
The challenges for the next 10 years will mainly be linked to the current environment which is unfortunately not very favorable to new technologies. Indeed, the field of Life Sciences is by definition an extraordinary field of opportunities, but it also contains risks. And as the environment is becoming more and more risk-averse, it becomes more difficult to develop new technologies and bring them to market, as commercial products. Access to finance also remains a problem as investors perceive the field of diagnostics as less attractive in terms of short-term return on investment, especially considering the risks inherent in product adoption and registration. Western Switzerland has a real opportunity however, thanks to its rich pool of talents and experts in this industry. Unfortunately, it is in competition with more dynamic entrepreneurial environments and should not be content with its current position as a world leader in innovation.
Major events which have contributed to the development of Life Sciences
No single event is responsible for the success of Life Sciences in our region, but rather a multitude of actions from several actors and associations who have succeeded in bringing in multinational companies, federating key people around projects and associations including BioAlps, HealthValley, etc. However, we should not rest on our laurels and on the contrary should massively invest. Local success stories will then reinvest in the local ecosystem. On the contrary, what we see currently is a systematic exodus of companies when they start to grow, because their commercial development exclusively comes from foreign markets (in Switzerland, the adoption of medical technologies is unfortunately very long and very complicated).
How to evolve to meet the needs of "health accessible to all" in a growing, interdisciplinary market?
"Health accessible to all" is indeed the trend to follow and it will be necessary to find a way to "force" doctors and other actors in the health field to accept this change. Today, it is clear that they are clinging to their status, trying to keep a maximum level of competences and do not accept the trend of democratisation of medical knowledge. The patient who educates himself on the Internet and who is guided by Google or a medical chatbot should not be considered as a fully diagnosed patient. But it is an important part of the process that should take him to the right specialist in order to receive the right treatment as soon as possible. Today, too many patients are hearing "do not look on the internet, trust me" from doctors scared of losing their status.
Abionic's recommendations
Re-establish agreements with the European Union, which remains our first commercial partner, to facilitate the export of medical and IVD products, create incentive schemes to encourage investors to invest in startup and scale-up companies, and above all, encourage the health sector to adopt new technologies. Moreover, the state should invest massively in this key sector in order to attract talented entrepreneurs from all over the world, and to keep our gold nuggets once they reach their growth phase (stop the exodus of successful companies).