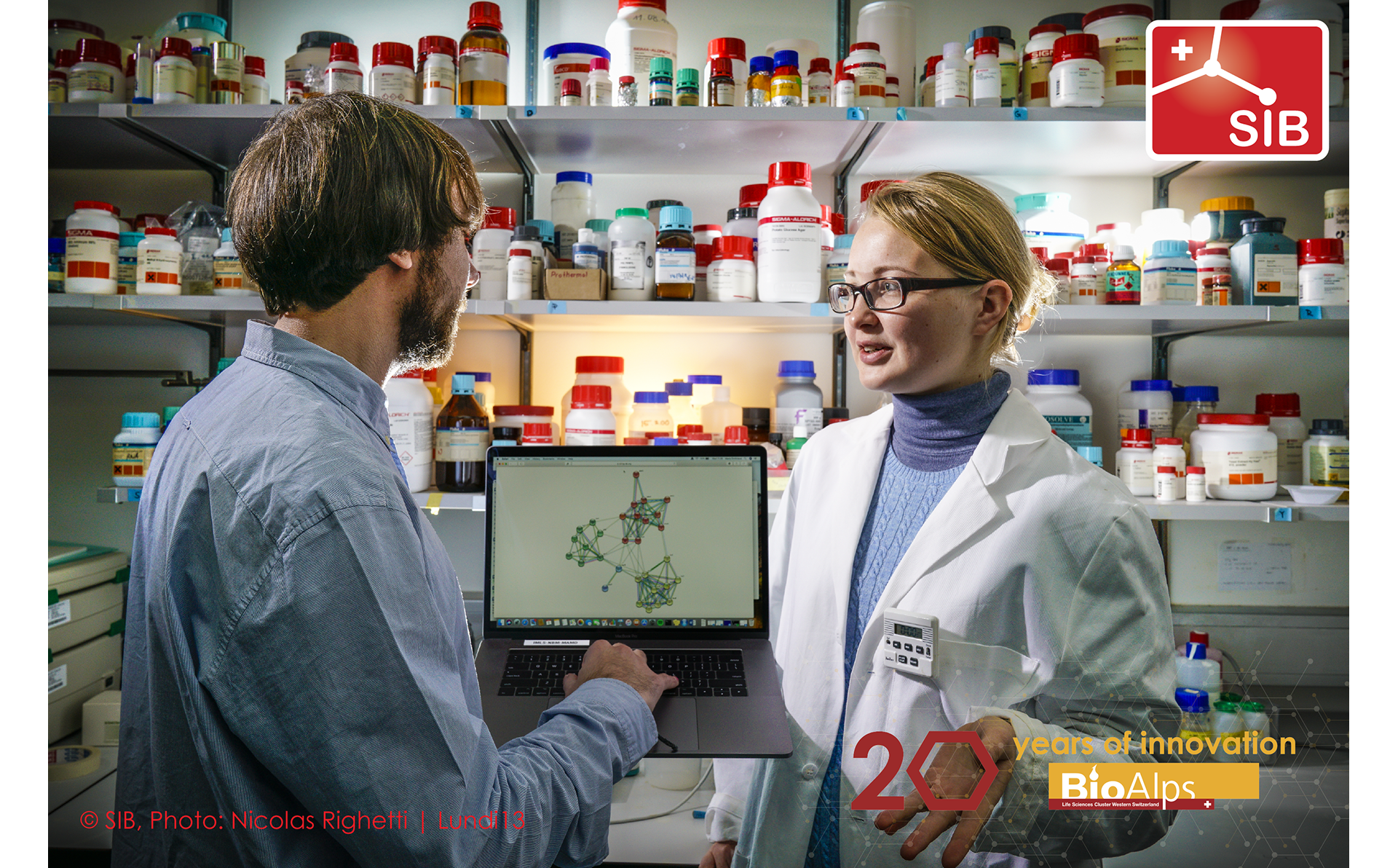 BioAlps | 20 years of innovation | SIB Swiss Institute of Bioinformatics

SIB | Supporting the Life Sciences community with Computational Biology and Bioinformatics know-how
We are pleased to share with you our new testimonial series as part of our ecosystem's 20th anniversary celebrations. The series aims to provide a platform for regional Life Sciences key players to present themselves, share their perspectives on the development of Western Switzerland's Life Sciences ecosystem and their outlook on upcoming challenges and opportunities. The following article is presented to you by SIB Swiss Institute of Bioinformatics.
Presentation of SIB's activities
SIB is the nationwide organisation dedicated to biological and biomedical data science. Life scientists and clinicians from academia or the industry come to us with complex questions related to medicine, biodiversity, or evolution. Our data scientists help them converting these questions into solutions, through databases and software, computational biology know-how and training courses.
Major Life Sciences trends and developments and SIB's contribution
Technologies of data generation have undergone such a revolution over the past decades, that Life Sciences has now become indissociable from bioinformatics. We're talking here about next-generation sequencing, proteomics, metabolomics, imaging, 3D modelling, etc. leading to large-scale heterogenous data that need to be standardised, organised, stored, shared and retrieved seamlessly, in a way that is compliant with Open Science standards, and in a secure and ethical way when it comes to sensitive data. SIB's activities, which have dramatically expanded from its inception, support researchers from Switzerland and abroad every step of the way.
Significant foreseeable trends and challenges in Life Sciences
Harnessing the power of AI in a way that is respectful of the individual which benefits the society at large is one such challenge. Our collective responsibility as data scientists is to ensure that findings from health research benefit to all – including those minorities less commonly represented in the data compiled for clinical studies or research studies. Our activities in teaching best programming practices for instance, and our expertise in curating data of vetted quality into public databases which feed AI algorithms contribute directly to addressing these challenges.
Major events which have contributed to the development of Life Sciences
The excellent collaboration of all the players in the Health Valley, spearheaded by BioAlps, has greatly contributed to further recognise the importance of bioinformatics, after the initial creation of SIB in 1998, and its fast development in French-speaking Switzerland at first, then in the whole country.
How will SIB evolve to meet the new demand for personal health in a growing, interdisciplinary market?
Through the Swiss Personalized Health Network, which we are co-steering with the Swiss Academy of Medical Sciences, we aim to make data-driven medicine a reality, for all. Projects related to data-driven medicine at SIB include for instance tailoring treatments to individual patients, or a more precise and earlier diagnosis based on the identification of biomarkers. In addition to setting up SPHN, we are also co-steering nationwide public-health projects such as the Swiss Pathogen Surveillance Platform (used to coordinate COVID-19 variant surveillance in Switzerland), the Swiss Variant Interpretation Platform (offering clinicians a harmonised interpretation of cancer variants) and taking part in large European consortia (Innovative Medicines Initiative) aiming to fight diabetes by identifying early biomarkers for instance, enabling better prevention and early diagnosis.
SIB's proposal
The COVID crisis showed how crucial it is that we – deciders, funders, researchers – recognise the value of Life Sciences infrastructure, and ensure its long-term support. What we mean by infrastructure here are the means to facilitate the production, standardisation, integration, analysis and sharing of large biological datasets. This has been SIB's mission for over two decades, in particular by sustaining key data resources. In the Biology Roadmap for Research Infrastructures 2025–2028, we contributed, together with partners, to lay out a sustainable proposal for biological data. Called SwissBioData (p.32), this nationwide research infrastructure would build on the expertise within SIB, as well as the existing -omics platforms and local bioinformatics core facilities.