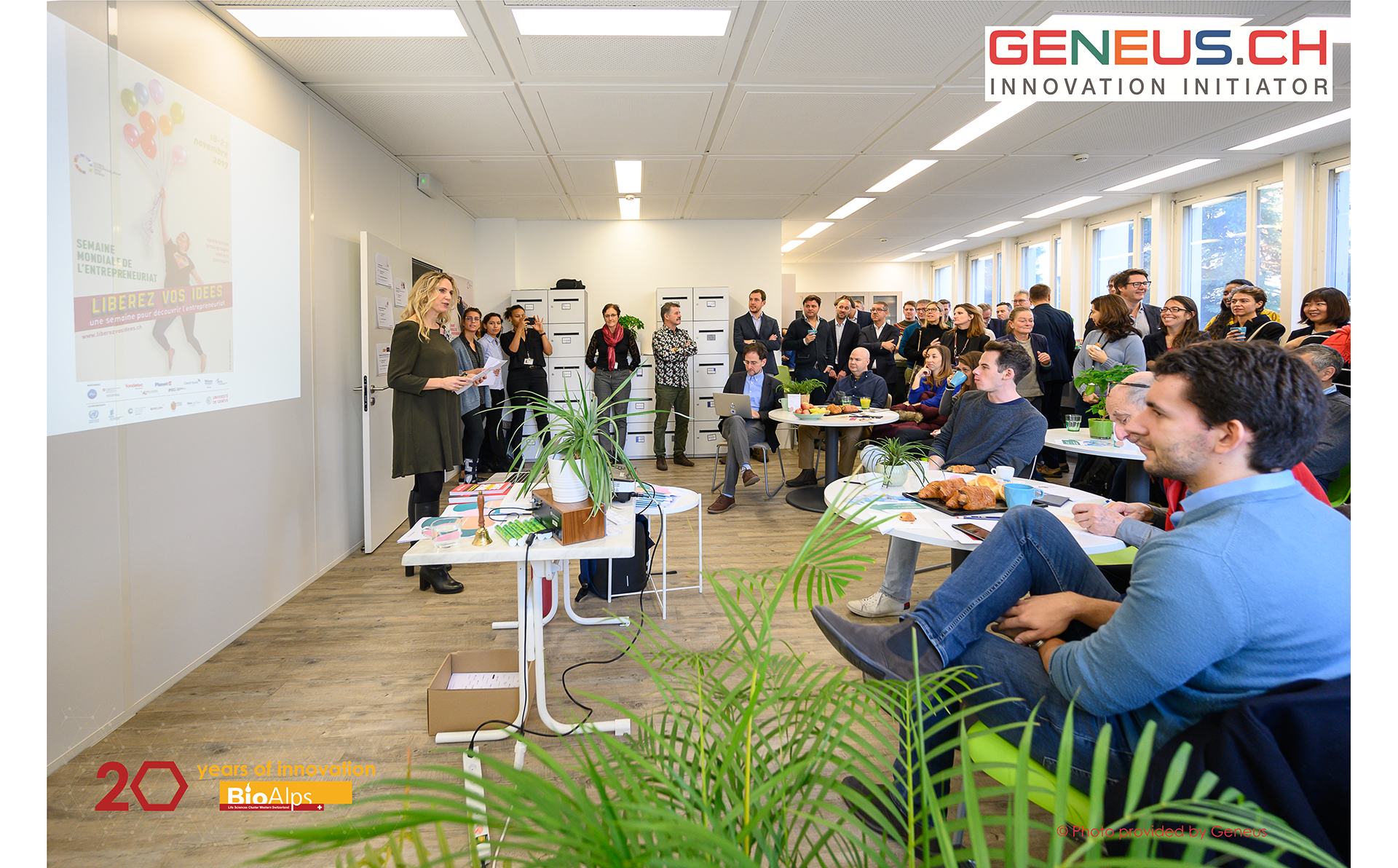 BioAlps | 20 years of innovation | Geneus

Life Sciences innovation initiator | Transforming ideas & research into startups
We are pleased to share with you our new testimonial series as part of our ecosystem's 20th anniversary celebrations. The series aims to provide a platform for regional Life Sciences key players to present themselves, share their perspectives on the development of Western Switzerland's Life Sciences ecosystem and their outlook on upcoming challenges and opportunities. The following article is presented to you by Geneus.
Presentation of Geneus' activities
Geneus is a Life Sciences innovation initiator. We support innovators in transforming their ideas and research into viable startups. Geneus is a program established in 2016 by EPFL Innovation Park, Eclosion and Fongit. We provide coaching, network and space at the heart of Campus Biotech Innovation Park. Every year we support 25 new projects.
Major Life Sciences trends and developments and Geneus' contribution
The Swiss startup scene continues to grow and scale-up – in terms of number of companies founded, investment raised and exits. Successful serial entrepreneurs, serial investors, and savvy supporters all actively contribute to the region's Life Sciences innovation community. With success building on success, there has been a professionalisation of the startup industry. This expertise and confidence mean that our startups can go further, faster than ten or twenty years ago. The quality of outsourced startup support also has enabled leaner, more cash efficient structures.
With this evolution has also come a greater political understanding of the importance of startups' ability to renew the economy, and contribute to the local society. In parallel, academia is becoming more comfortable and effective with spinouts, and scientists become more friendly with startups and entrepreneurship. In the Life Sciences field this interaction is crucial as around two thirds to three quarters of new product candidates were initially discovered and developed by the external innovation partners.
As Switzerland's startup competences grow, there still remains a gap between the academic expertise and the commercial world. Researchers are faced with questions concerning the viability of their projects. Geneus provides a bridge between these two worlds, enabling researchers to shape and derisk their projects. We help them side step the most common startup failure modes which are not technical – but rather from poor product market fit and unbalanced teams. We connect the different competences and innovation communities which are key to a build a successful Life Sciences startup.
Significant foreseeable trends and challenges in Life Sciences
We expect the trends of digitisation and interdisciplinarity to continue. We certainly see a broadening of the definition of what a Life Sciences startup can be. This can be best illustrated by some of our successful alumni including: OneDoc – a platform for booking medical appointments. We also see breakthrough tools coming from the field of Life Sciences research and then moving to different applications – Imverse which started in the field of neurosciences and now enables live 3D holograms in video conference calls.
In terms of challenges, many Life Sciences innovation projects have strong technical founders, but lack experienced commercial co-founders. We are working with the other ecosystem builders to connect these two competences at an early stage. One option would be to connect startups with senior Life Sciences experts from industry, who seek innovation, know the market needs and in what form it should be delivered. This mentoring could shape projects more efficiently, and bring innovation faster to market. However, it would need to be governed by strong standard IP and secrecy agreements, and be facilitated by the existing support structures.
Major events which have contributed to the development of Life Sciences
Although there have been major successes, the Swiss Life Sciences startup scene is more a story of continual evolution and growth. Rather than focusing on one large peak, we see this as a mountain range – and are currently only in the foothills.
If we are to choose some important steps along the way, we might select: the creation of Innosuisse – the federal agency for innovation – whose startup trainings, coaching and grants have been invaluable to our Life Sciences startups, the foundation of startupticker.ch – the Swiss startup news channel – which has been pivotal in creating a forum for the community; and the launch of the VentureKick competition – which has boosted many deep-tech projects on their path to startup success.
How will Geneus' startup community evolve to meet the new demand for personal health in a growing, interdisciplinary market?

Startups' strategic strength lies in their agility and their ability to adapt to market needs. They have limited legacy that can hold them back. As such they are well positioned to address these challenges. Since innovators and investors live close to the future, and close to the market, we expect to see the number and quality of startups continuing to grow.
Geneus' recommendations
We hope that innovation might be included in the scientific and technical curriculum of every Swiss university.
Let's keep on growing our innovation nation, and building the future together.