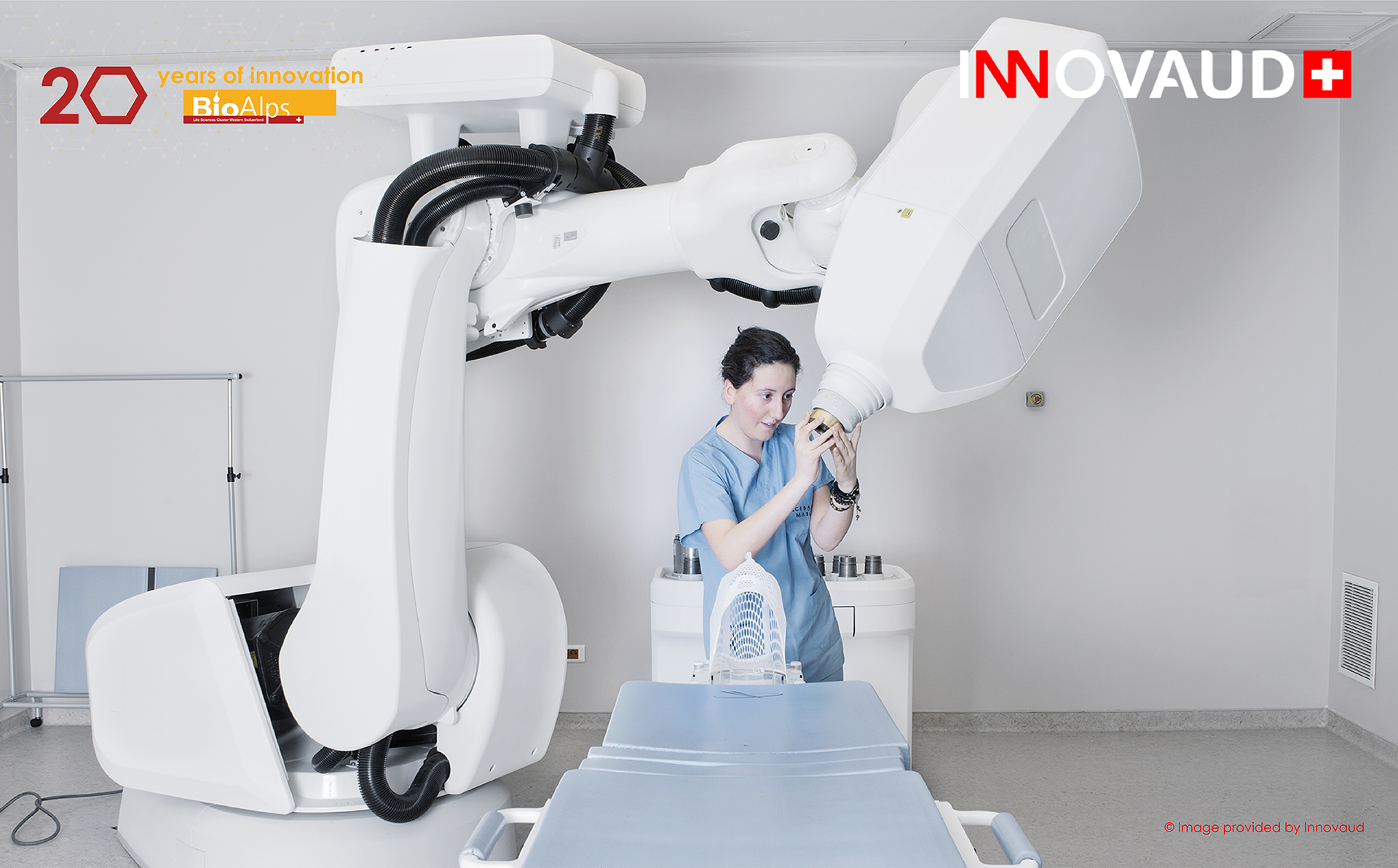 BioAlps | 20 years of innovation | Innovaud

Connecting tech-oriented companies | Supporting cross-cutting innovation
We are pleased to share with you our new testimonial series as part of our ecosystem's 20th anniversary celebrations. The series aims to provide a platform for regional Life Sciences key players to present themselves, share their perspectives on the development of Western Switzerland's Life Sciences ecosystem and their outlook on upcoming challenges and opportunities. The following article is presented to you by Innovaud.
Presentation of Innovaud's activities
Innovaud is the innovation and investment promotion agency for the canton of Vaud, in Western Switzerland. We help tech-oriented companies – including startups, scale-ups, SMEs, corporates, and multinationals – develop their businesses and carry out innovation projects. We also serve as a one-stop shop for foreign companies wanting to set up in our region.
Our innovation-support services naturally extend to the field of Life Sciences, as Vaud is home to a number of biotech companies and clusters. By promoting these organisations and connecting them with each other and the broader business community, we help create a fertile ground for cross-cutting innovation.
Supporting the trends towards digital technology and drug discovery  
Within our region we've seen two main trends emerge in the Life Sciences industry over the past few years. First, the increasing incorporation of digital technology. Digital-based systems will play an important role in the future of healthcare; we already see examples of this in diagnostics, radiology, and data-driven analytics. This trend goes hand in hand with the shift towards innovation by convergence, as cross-disciplinary collaboration becomes a growing vector for technological advancement. Second, Vaud is increasingly active in drug discovery. There has been a subtle transition from medtech in general to biotech and drug discovery in particular, especially in the fields of oncology and immuno-oncology. This is reflected in the groundbreaking work being done at Biopôle, the Ludwig Institute, the ISREC, and many of our region's other research centres.
At Innovaud, we're supporting these trends in three key ways: by facilitating access to public-sector support programmes and state-of-the-art research infrastructure; by putting businesses in contact with the experts they need, largely through our expansive innovation-oriented network; and by providing visibility to companies and their technology, through marketing activities and events that allow them to communicate their target applications. SOPHiA GENETICS, MindMaze, Abionic, AC Immune, ADC Therapeutics, Ferring, Medtronic or Merck, to name just a few, are great examples of Life Sciences companies that contribute to shape Vaud's innovation ecosystem.
Structuring the innovation ecosystem
Our agency plays an essential role in structuring the local innovation system. We find that businesses often think in terms of verticals, whether for their own product development or for potential applications. By bringing together companies and clusters from a variety of industries, we aim to cross-fertilise those verticals and leverage synergies, unlocking even more value. We help researchers forge ties across disciplines, such as between life scientists and microengineers, between geneticists and AI programmers, and between product developers and clinical practitioners.
The biggest change we've seen in the past decade is that efforts in this area have stepped up considerably, most notably through expanded funding programs like FIT grants and loans. When the FIT opened up its tech and growth grants to all universities and teaching institutions – including the CHUV and UNIL – that was a real shot in the arm for the local Life Sciences industry.
Uniquely Swiss challenges and advantages
Looking ahead to the next ten years, one of the biggest challenges this local industry will face relates to the future of the bilateral agreements with the EU. We'll need to help companies obtain and maintain market access, and to comply with the EU's Market Devices Regulation. Swiss Life Sciences firms in particular face another challenge stemming from our country's small size – obtaining datasets large enough to develop and test their technology. This ties in with the trend towards digital healthcare, and especially AI-based and data-driven systems. On the other hand, we enjoy a unique advantage in the field of digital healthcare thanks to our neutrality and reputation for data privacy. Switzerland has a real card to play when it comes to personal data protection, such as for personal health records, genetic data, and patients' medical files.
In general, we believe the key to success in Life Sciences innovation will be to always take a holistic approach. That is, to consider not just the nuts and bolts of the technology, but also how it will be used, by whom, how it fits in with existing clinical protocols, and how it will be perceived by patients. That's why we place so much emphasis on cross-disciplinary collaboration and building bridges among scientists, developers, practitioners, and end users.
Read more about Innovaud and Life Sciences and Health in the canton of Vaud