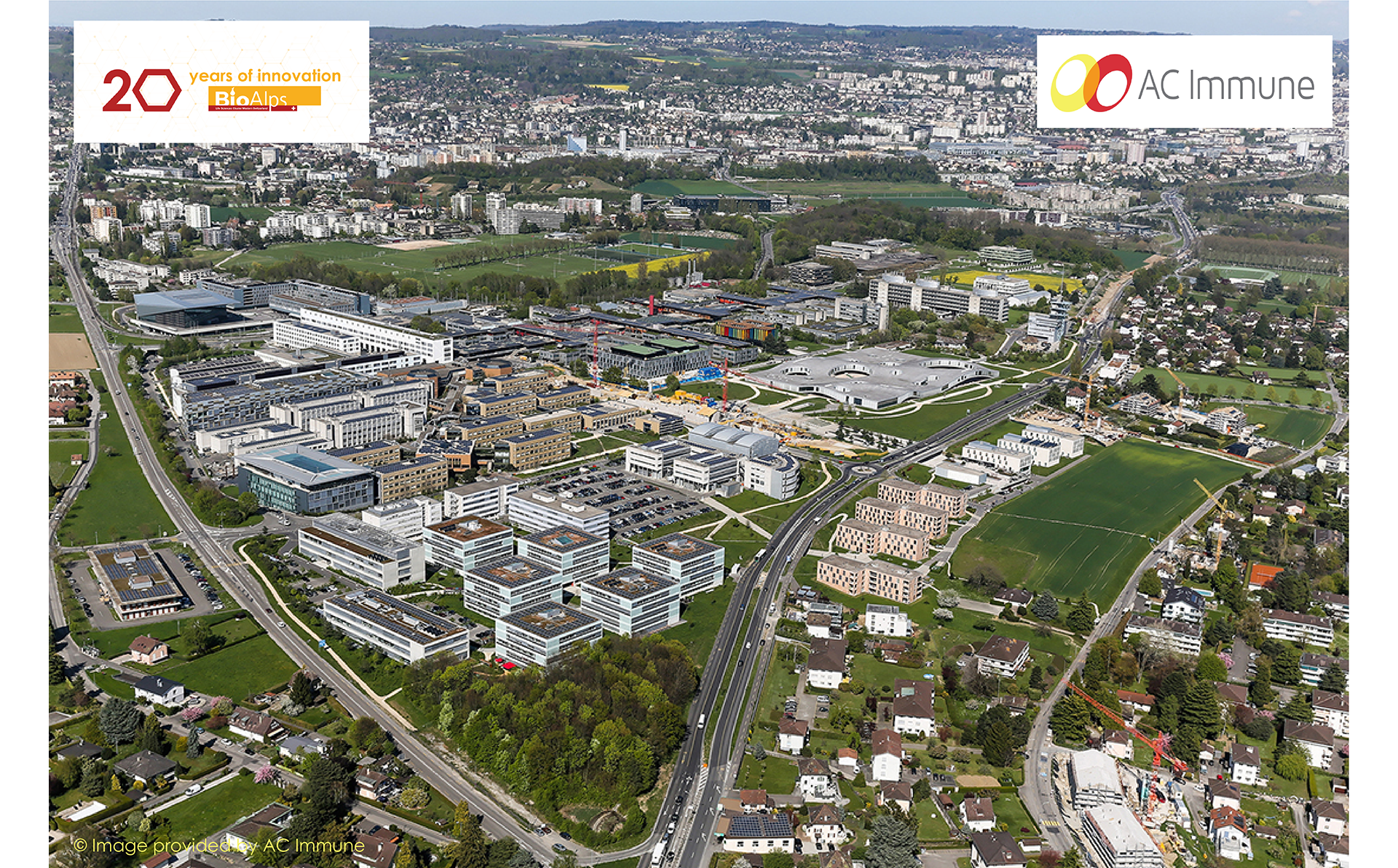 BioAlps | 20 years of innovation | AC Immune

Addressing the slow pandemic of neurodegenerative diseases
We are pleased to share with you our new testimonial series as part of our ecosystem's 20th anniversary celebrations. The series aims to provide a platform for regional Life Sciences key players to present themselves, share their perspectives on the development of Western Switzerland's Life Sciences ecosystem and their outlook on upcoming challenges and opportunities. The following article is presented to you by AC Immune.
Presentation of AC Immune's activities
AC Immune was founded at the EPFL Innovation Park in Lausanne in 2003, a location specifically chosen to benefit from its infrastructure, scientific excellence and skilled workforce. The biotech company discovers and develops diagnostics and therapeutics to address neurodegenerative diseases, based on its two proprietary technology platforms, SupraAntigen® and Morphomer®.
Major Life Sciences trends and developments
The incidence of neurodegenerative diseases is increasing rapidly as the population ages. These are complex conditions with multiple causes and disease drivers that can vary from patient to patient. After decades of failure, this year the US Food and Drug Administration (FDA) approved the first disease modifying treatment addressing Alzheimer's disease, developed by the US biotech company Biogen. This approval brings hope for millions and represents a positive signal for the industry.
"We are in a similar situation comparable to the early stages of development of oncology or HIV treatments. The approval of the first drug for Alzheimer's disease is just the start and we, as an industry and a company, have many opportunities to bring safer and more efficient treatments to patients in the coming years," says Andrea Pfeifer, CEO and co-founder of AC Immune. "Together with our leading pharmaceutical partners, AC Immune is advancing one of the industry's broadest, most diversified therapeutic pipelines targeting neurodegenerative diseases, with potentially best-in-class small molecule, antibody, and vaccine therapeutics, five of which are in Phase 2 clinical testing."
At the forefront of R&D in neurodegeneration
Thanks to the tremendous progress in neuroimaging, neurophysiology, molecular genetics and bioinformatics, researchers have come to better understand the proteinopathies behind neurodegenerative diseases. Inspired by the success of such an approach in oncology, AC Immune is pioneering a personalised medicine approach for neurodegenerative diseases, by creating state-of-the-art diagnostic imaging agents that enable early detection of multiple disease pathologies and tracking of disease progression, to deliver the right therapy to the right patient at the right time.
AC Immune fully benefitted from the synergy of the Lake Geneva network to develop its business and eventually grew from 4 employees in 2003 to over 150 today. In 2016, to further support its growth and increase investment, AC Immune achieved a successful initial public offering (IPO) on the US NASDAQ exchange. This enabled AC Immune to bring in more capital from the markets to advance its fast-developing clinical programs. With 17 active preclinical and clinical programs, AC Immune addresses all major pathological proteins present in neurodegenerative diseases: Alzheimer's disease, Parkinson's disease, Limbic predominant age-related TDP43 encephalopathy (LATE), and progressive supranuclear palsy (PSP).
Competing with San-Francisco and Munich
Over the past 20 years, Western Switzerland has provided an exceptionally fertile environment for the Life Sciences industry. Today, the Lake Geneva cluster is globally recognised as ranking among the top three most active areas on the planet after San Francisco and Munich. But there is much more to be done to support this innovative and rapidly developing industry. Our local ecosystem is mainly supported by investments coming from abroad, and there is domestic competition from Basel and Zurich/Zug. Further cross-regional collaboration initiatives, and higher interest and investments from local sources, are needed to further develop Switzerland as a Life Sciences location and bring the country to the level of the US, or recently Germany, in terms of innovation. If we can unite and work together, Switzerland has everything it takes to succeed.
Preventing neurodegenerative diseases on a global scale
With the COVID-19 pandemic, the world has witnessed the benefits of vaccines to address unmet medical needs in a large population, reviving interest in vaccine technology for large indications. Alzheimer's disease affects 50 million people worldwide and the incidence is expected to triple by 2050 – it is truly a silent but creeping pandemic. Thanks to progress in imaging and biomarkers, it is now possible to detect neurodegenerative diseases early and use a vaccine approach to prevent the onset of the disease before the neurons are depleted. This is a focus of AC Immune's approach to personalised medicine, developing diagnostics and the first vaccines for neurodegenerative diseases.
A first vaccine for neurodegeneration stemming from the Lake Geneva region would be testament to the work of visionaries such as Patrick Aebischer and Benoît Dubuis, who have supported the development of cross-fertile collaborations and innovations through initiatives such as the creation of BioAlps 20 years ago.